SC BACH, THE BOHEMIAN CAFE & HORIZON RECORDS are proud to announce another special performance by some wonderful classical players on Monday, April 8th at 7pm (doors at 6pm).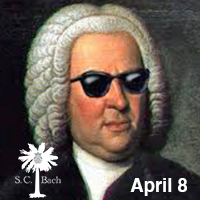 Once again, the magic of J.S. Bach's music and the comfy confines of The Bohemian Cafe conspire to bring you the lovely sounds of Baroque in our neighborhood. Admission is free, but donations are welcome.
Musicians:
Barb Weiss, harpsichord
Andrea Pettigrew, violin
Brian Seaton, oboe
Performing the music of JOHANN SEBASTIAN BACH (1685-1750):
CONCERTO VIOLIN & OBOE c minor BWV 1060, Moderato, Adagio
BWV 1031 Eb – Siciliano; violin, harpsichord 
CANTATA #12 SINFONIA
CANTATA #21 SINFONIA
PARTITA #2 D minor BWV 1004, Gigue – violin solo
ARIA "St. Matthew Passion" (Erbarme dich: violin, soprano oboe, harpsichord): 
CANTATA #156 – ARIOSO: violin, harpsichord 
CONCERTO VIOLIN & OBOE c minor BWV 1060, Allegro
About SC Bach Shorts:
A series of free concerts open to the public, designed to welcome a new audience to the works of Johann Sebastian Bach. At these shows, all are welcome and we encourage those unfamiliar with Bach's music to attend.
About SC Bach:
S.C. Bach is South Carolina's premier performing arts organization that focuses on quality performances of the music of Johann Sebastian Bach and his contemporaries.  S.C. Bach's mission is to promote Bach's music through affordable concerts, lectures, and educational events throughout the state.  S.C. Bach seeks to engage with schools and communities in ways that energize and ennoble audiences. Click HERE to visit their website.