Horizon is thrilled to welcome guitar wizard LIAM GRANT to our humble abode for an in-store performance THIS SATURDAY, MAY 7th at 3pm, joined by the amazing MIKE GANGLOFF (PELT, BLACK TWIG PICKERS) and GRAYSON MCGUIRE. Mike will be playing a brief opening set before Liam and Grayson join in for the full trio show.
Join the Facebook event HERE.
If you're a fan of eccentric six-string gurus like JOHN FAHEY or JACK ROSE, you won't want to miss this show!
Liam Grant's guitar playing is a homage of sorts to the music he loves and some of the key players he has collected it from. His new album, SWUNG HEAVY: GITARR FOR FANATICS spends over half its run time to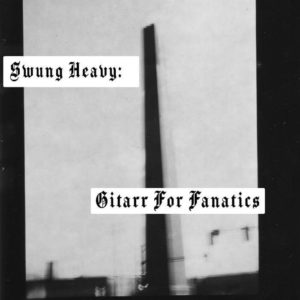 heavyweights of the blues, bluegrass and ragtime genres. Like Son House, Charlie Patton and Jack Rose, Liam is an unpretentious player with plenty of skill and clout. He has allowed these songs to stand by themselves with minimal tampering, giving them an immediacy and very real sense of authenticity. Indeed, he foots his press release with 'absolutely no overdubs – play loud!', discerning advice that effectively brings out the best in this music and lends it a warmth that is hard to achieve with too much fiddling.
Take the live version of Son House's "Walking Blues," with Wayne Middleton's harmonica accompanying. You can hear the audience's chat and the odd howl throughout the song; a wickedly played humid slide number, which just enhances the listening pleasure. Charley Patton's "A Spoonful Blues" is another sweet slide piece, this time played with more attack.
Although Liam's skill is clear, you also get the impression that he's not precious about musical perfection. His almost offhand style is endearing; the odd muted string can be heard, and the pacing is human rather than computer accurate. Although Jack Rose was a stickler for technique, the casual energy of his live shows is reminiscent in Liam's playing. Jack's sunny "Gage Blues" features here, as does his and the Black Twig Pickers' "All Over the Floor," which has a cracking banjo part by Grayson McGuire. The intensity and driving rhythm of the song is maintained beautifully by the two players here. Old favorite "Linden Avenue Stomp" is another killer track, this time featuring Grayson's banjo along with Vivian Provost's washboard.
Of course, there are original songs too, bookending the covers, with "Pyke" opening. A swinging slide piece with a lazy tempo and casual swagger starts the album breezily before "Repaying Old Debts" kicks in. A faster-paced song, this one brings to mind some of Fahey's early chipper music. More unusual in its style is "Aroostook," an anomaly here in that it feels completely original in places and far less in keeping with past styles and genres. A very low picked intro leads into a quite disparate first half before a more patterned and rhythmic second picks up. This tune, underpinning the piece, is lovely, with wide-eyed innocence and playfulness.
The whole album is a real pleasure to listen to, and we'll have it in-stock for Liam's in-store on May 7th!