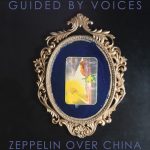 GUIDED BY VOICES, Zeppelin Over China (2xCD/2xLP)
After dedicating all of last year to the release and support of one (just one) album, the late-career masterpiece Space Gun, Robert Pollard and his gang plan on upping the ante for 2019 with three LP's and a slew of EP's on tap. This is standard operating procedure for Pollard though. Bob still writes a dozen songs before lunch. Now fully comfortable with each other after four albums and extensive touring, this version of the band is muscular and hard-rocking but without forsaking the weirdness that has always been a big part of Pollard's sonic palette. Once again, this lineup (which includes Doug Gillard, Kevin March, Mark Shue and Bobby Bare, Jr.) attacks each song like it's the last thing they'll ever play. The subtle production of Travis Harrison breathes life into songs that already bristle with energy. Unlike its mighty predecessor, Zeppelin has an expansiveness of spirit – similar to (gasp) The White Album. Each of its four sides represents a different side of Guided By Voices but still functions quite well as a unified whole. Side One is the most direct and archetypal. It starts with 69 seconds of brilliance called "Good Morning Sir." It's the perfect warmup for the marathon ahead. The first huge hook arrives shortly thereafter with "Carapace." There's krautrock feel as the band locks into the groove and refuses to let go. The sludge-filled "Holy Rhythm" closes the side with the most unlikely earworm imaginable. Side Two is the "acoustic" part as many of the songs here are stripped down and slightly folksy. But don't get confused: two of the best songs on the album reside here and they both slay. "The Rally Boys" shows GbV can rock out even with strings backing them up while "You Own The Night" is yet another one of those perfect songs that Pollard can still crank out with startling regularity. It's strange arrangement adds enormous power to the final chorus, a chorus I've been singing aloud now for days. We might as well call Side Three the Prog side as three of the songs actually hit the three minute mark. The slow burning "Nice About You" has a decidedly Chairs Missing era Wire vibe that I enjoy. "Einstein's Angel" boasts a lovely melody, interesting chord changes and easily could have been a lost track from Choreographed Man Of War. Later we have Pollard reflect on his hearing loss (which he also addressed on the first Cash Rivers LP) on the aptly-titled "The Hearing Department." Next up is my personal favorite tune from the set: "Questions Of The Test" – referencing Pollard's previous job as a fourth grade school teacher, perhaps. With his affected vocals in full effect, the jangling guitars eventually give way to an exuberant explosion of rock 'n roll, baby. The final side is harder to define but no less enjoyable. Highlights include "Cold Cold Hands" which shows Pollard can still hit the high notes and the gorgeous "We Can Make Music" which borrows some of Space Gun's orchestrational zeal. "Vertiginous Raft" closes things out quite majestically and, once done, begs the listener for another round – exactly what it should do! One thing that most fans can agree about: Pollard is a master at sequencing. It truly is astounding that Guided By Voices are still at the top of their game. There is no logical explanation. And unlike many of their 90's contemporaries who likewise reformed, GbV is relevant and releasing material every bit as good as their heyday. Hell, maybe this is their heyday. There is no doubt that this is the most talented group Pollard has ever put together. They seem to be enjoying this and also seem to know how good they are. I'm okay with that. They have earned it. Where, then, to place this monster within the panoply of Pollard releases? It's heft challenges like August By Cake. It's sheen and overall quirkiness though align it more closely to Space Gun. And that is a very good thing.

GIRLPOOL, What Chaos Is Imaginary (LP)
From their snarling punk-folk beginnings, the LA duo of Cleo Tucker and Harmony Tividad have always carried a disarming honesty to their music. Across two albums, 2015's Before The World Was Big and Powerplant in 2017, Girlpool have nestled themselves in a cozy twee-pop corner of light grunge nostalgia and teenage kitchen sink melodrama. What Chaos Is Imaginary has a certain graceful maturity, more so than those previous records, with a laissez-faire slacker rock easy flow that Mac DeMarco fans will enjoy and some inverted alt-folk balladry, delivered with a Jesus & Mary Chain knack for crystalline shoegaze on a cinematic scale – albeit brought into a focus by crisp percussion and shimmering production. "I thought I looked with both my eyes, that life is only half my size," they pine on "Joseph's Dad," showing that despite the more widescreen vision, it's still all anchored by intimacy and vulnerability. "Everything's overrated," the gossamer and heavenly title track concedes, resigned to an anxiety of "rehearsing what's reality" and "what chaos is imaginary". The grunge fuzz meets subtle electronica "Chemical Freeze" perhaps makes for the most experimental moment of the record, while "Minute Of Your Mind" best captures the dreamy aesthetic. Highlight "Swamp And Bay" offers a rare hook-laden respite with a country-ish radio jangle and scuzz-rock climax, but everything stays consistently true to the core of the record: a very human and honest partnership, in a universe all of their own.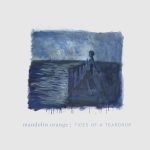 MANDOLIN ORANGE, Tides Of A Teardrop (CD/LP)
After a 30-second bath of warm acoustic instrumentation, Andrew Marlin opens Mandolin Orange's sixth album with a few perfectly tone-setting words: "Just like an old friend, kinder than expected…" It's clear, basically instantaneously, that you're in for maximum comfort; Tides of a Teardrop is engineered to settle worried minds, slow the blood and lend an empathetic ear. Nothing the North Carolina folk-pop duo does from there contradicts that notion, but Tides of a Teardrop still strikes a deceptively tricky balance: It's palliative but never boring, sweet but never cloying, worn but never tired. Over these 10 songs, Marlin and bandmate Emily Frantz lay out a bittersweet series of odes to holding precious memories close ("Golden Embers"), seeking protection from others ("The Wolves"), slowing down and letting life come to you ("Time We Made Time"), and so on. These are songs about life lessons that feel lived-in and hard-won. Each of Mandolin Orange's stories gets told amid a soft-focus arrangement that occasionally welcomes in a sweep of strings or sprightly flecks of the band's titular instrument. No matter how they're dispensed, every note seems to sweep in and out on a reassuring breeze — just like an old friend, kinder than expected.

BEIRUT, Gallipoli (CD/LP)
When 19-year-Old Zach Condon first sent the music he'd been making in his bedroom out into the world, people claimed it as their own, having never heard a trumpet, flugelhorn, ukulele, mandolin, accordion and piano combine to such wonderful effect ever before. This outright devotion to Beirut's trademark sound meant that any major changes to it would leave some upset, something Zach Condon was acutely aware of when he decided to ditch his much-loved farziza organ after album number two: "I was almost paranoid of what people's reactions to whatever I put out next would be…I knew I was heading down different roads than before." In album number five Beirut have arrived on a sound that's sure to please everyone, a distillation of the best of the Beirut sound and by far their best record yet. As Condon puts it himself "it's a cathartic mix of all the old and new records and seemed to return me to the old joys of music as a visceral experience", and that joy is evident from the outset. If one song was to epitomise everything that's great about Gallipolli, it would be "Varieties of Exile". The song starts simply enough, but once the instrumentation behins to swell, Condon takes a vocal backseat, gliding effortless, wordless notes over the arrangement. There's a real freedom here. In all Galipolli is the sound of one of our most talented musicians rediscovering his love for what he was born to do. It's Zach Condon's career highlight so far and shows that he's at his best when he enjoys making music and cares less about what critics and fans might think of it. Long may it continue.
METALLICA, Helping Hands…Live & Acoustic At The Masonic (LP)
DONALD LAWRENCE, Goshen (CD)
DEER TICK, Mayonnaise (LP)

CHERRY GLAZERR, Stuffed & Ready (CD)
COMING SOON:
GALACTIC, Already Ready Already (2/8)
LEMONHEADS, Varshon 2 (2/8)
BOB MOULD, Sunshine Rock (2/8)
And don't forget these STILL-NEW platters that matter!

PARLIAMENT, Medicaid Fraud Dogg (CD)
The only antidote for the hell-in-a-handbasket blues is the stankiest of funks, and no one makes it stankier than George Clinton. The good doctor is here to prescribe Medicaid Fraud Dogg, the first album in 38 years from Parliament, the P-Funk empire's more soulful outfit. On the semi-surprise album, Clinton, of course, does not hold back his signature sound ("Oil Jones" is knee-deep in synth-bass), but is also tickled to address the dangers of the modern age ("Antisocial Media") and love by way of the medical industry (the previously released "I'm Gon Make U Sick O'me," featuring Scarface). Original Parliament horn players Fred Wesley, Pee Wee Ellis, Greg Thomas and Benny Cowan all appear on the album. But it's a trip to hear the reflexive influence of the young artists that Clinton's been diggin' lately: "All In" captures a Flying Lotus frenzy, but still drips like gooey honey; there's the Kendrick Lamar-namedropping "Loodie Poo Da Pimp"; Cardi B's flow is all over "Mama Told Me"; "Backwoods" celebrates "[a]ll that s*** coming out of Atlanta," confirming what Clinton said in a wild Reddit AMA. "All that trap s***. I'm trapped in it." There's a lot to ingest with the 21-track, 107-minute Medicaid Fraud Dogg — please consult with your funk doctor for dosage.

BIG STAR, Live On WLIR (CD)
Big Star recorded their second album, Radio City, as a trio, after the departure of founding member Chris Bell. When it came time to tour, original bassist Andy Hummel decided to return to school to pursue his engineering education. With this departure, Alex Chilton and Jody Stephens recruited fellow Memphis native John Lightman to take over on bass duties, and the band readied their live set. That set is on display as Big Star recorded a radio session at Ultrasonic Studios in New York for broadcast on the city's preeminent WLIR. Nearly two decades later, those recordings were issued as Live in 1992. Omnivore Recordings is proud to reintroduce those recordings, restored and remastered from the original tapes, as Live On WLIR, on CD—and, its first official release on LP. The 15 track set features material from the band's two releases, as well as a cover of "Motel Blues" by Loudon Wainwright III (which originally appeared on his classic 1971 sophomore release, Album II). With new, updated liner notes from Memphis writer/filmmaker, Robert Gordon (who won a Grammy® for his essay in 2010's Big Star boxed set Keep An Eye On The Sky) and an interview with John Lightman by Chris Bell biographer Rich Tupica (There Was A Light: The Cosmic History Of Big Star Founder Chris Bell), Live On WLIR enters the Big Star canon in the form it deserves. Because, you know, you get what you deserve.

WILLIAM TYLER, Goes West (CD/LP)
Guitarist William Tyler doesn't just read history, he hears it. He was born and raised in Nashville, where his father worked as a professional songwriter on Music Row, and Mr. Tyler's music is steeped in the past, drawing on a vast array of sounds and traditions without sounding retro. An arrangement or chord progression might recall Appalachian folk or twangy country or even dreamy space rock, but Mr. Tyler has a rare talent for carrying all of those styles into the present moment and turning them into something personal. So far, Mr. Tyler's solo career has demonstrated steady, incremental change, and each record has had its own themes and sonic markers.  With each new project, Mr. Tyler's music has grown more accessible, and that trend continues with the streamlined "Goes West". Mr. Tyler has called himself "a composer who plays guitar," and that orientation becomes more clear with each new release. His compositions have an unusual knack for evoking specific affective states, which lends them a cinematic bent. So the tentative chords and light drone that open "Eventual Surrender" bring to mind a feeling of uncertainty tinged with heartbreak, while the descending melody line on "Man in a Hurry" suggests weary acceptance. "Goes West," an album that exists in the spaces between genres and styles, finds Mr. Tyler taking harmonic and melodic development to a new level. Playing with a full band of guitarist Meg Duffy, bassist and producer Brad Cook, keyboardist James Wallace, and drummer Griffin Goldsmith, Mr. Tyler has crafted the sleekest record of his career, one that boils his approach down to its concentrated essence. This time out, Mr. Tyler plays acoustic guitar only, but he eschews complicated patterns in favor of clean, deliberate lines. The slight tension between his playing, which conveys the emotional heart of each tune, and the work of his supporting musicians is especially important in realizing these pieces. "Rebecca" is the piece most overtly grounded in folk, with an opening refrain that sounds lifted from an ancient mountain ballad that gives way to a sprightly fingerpicked melody, but the careful layering of instruments, including muted piano chords, dislodges the song from any particular era. A quiet organ on "Venus in Aquarius" is felt more than heard, shading Mr. Tyler's marching tune with an uncanny hint of ghostly presence. The guitar out front gives the listener something to remember and later hum, but these subtle accents give the record its character. On "Not in Our Stars," hushed cymbal washes and understated tom-tom rolls are there for texture as much as rhythm, providing Mr. Tyler's lead with a background that feels like a distant thunderstorm. "Our Lady of the Desert," featuring veteran guitarist Bill Frisell, is a country shuffle with a prominent bassline, but the drums suggest the beat more than stating it directly, making it feel like a memory of a rolling highway anthem recalled in calmer times. Mr. Tyler, making the most of subtle contributions from his collaborators, ultimately adds just enough variation to keep you guessing.