MGMT heads up our crop of new stuff this week, along with some a surprise new Franz Ferdinand platter, some glittery country-punk from Bloodshot Records' own Ruby Boots, and more. Read on…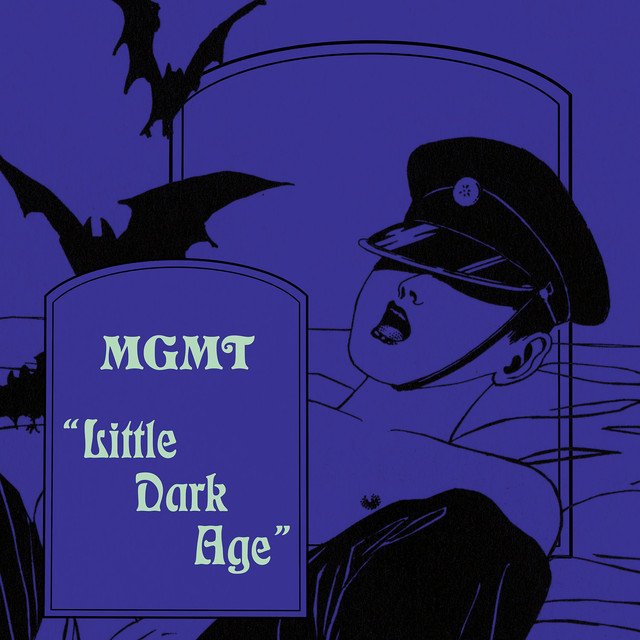 MGMT, Little Dark Age (CD/LP)
For a group with such a major influence on the sound of 2010s alternative radio, MGMT has followed a very '90s career arc. Stop me if you've heard this one before: Weird band scores some fluke hits (in this case, the 2008 smashes "Time to Pretend," "Electric Feel," and "Kids"); weird band follows those hits with even weirder albums (2010's "Congratulations" and 2013's "MGMT"), making abundantly clear their utter disinterest in writing any future hits; casual fans lose interest, while the remaining faithful praise weird band's artistic integrity. It's a narrative admirably out of step with the aspirational nature of modern music culture, but at times it's felt like MGMT was overdoing it, smothering natural melodic gifts in self-consciously "difficult" psychedelic affectations as if afraid they might accidentally write a catchy pop song again. "Little Dark Age" is a logical next step for the Wesleyan-birthed duo of Andrew Van Wyngarden and Ben Goldwasser. Now that they've shed all commercial expectations and proven their freak bona fides, MGMT is free to make mildly warped, '80s-indebted synth-pop just like all the other indie kids. The record makes liberal use of that decade's most obvious sonic signifiers (retrofuturist keyboards, reverb-drenched drums), but while the production isn't exactly lo-fi, there's a similarly faded quality to it, accentuating the uncanny-valley nature of the band's second-hand nostalgia. MGMT has always had a healthy goofball streak, and "Little Dark Age" is no exception. Maybe Ariel Pink is to blame; he co-wrote "When You Die," which would have sounded like a "Scooby-Doo" villain's theme song even without the cartoon ghouls laughing in the background. That sense of art-damaged mischief also pops up on the aerobics instructor spoof "She Works Out Too Much" and "When You're Small," a gentle, "Dark Side of the Moon"-evoking number whose chorus features the immortal observation "When you're small/No, you're not very big at all." Fun as these moments are, "Me and Michael" and "James" get more mileage out of embracing the guileless romanticism that gave '80s ballads their thumping heartbeat.
RUBY BOOTS, Don't Talk About It (CD)
On her Bloodshot Records debut, Ruby Boots continues to map out a polished-yet-fearless, bare-knuckled self, previously hinted at on her last album, Solitude. The album rips right open with "It's So Cruel," strutting through the door with dual harmonic, bawdy, fuzzed-out guitars, reminiscent of a glammy, '70s southern-rock-soaked Queens of the Stone Age. It all captures the meteoric emotional flares of an adulterous relationship destined to fail. The Gentlemen spell a Stetson-hat wearing Wrecking Crew as they lay down dusty gothic vibes in the Nikki Lane co-written "I'll Make It Through," building towards a crescendoing, persevering, bright chorus. (Lane also sings background vocals on the album's title track.) On "Believe in Heaven," doo-wop beats, dark choral echoes, and a plucked string section lead into ZZ Top full-bodied rawk riffage. But the most defining of tones come through in spirit, when on the a capella "I Am A Woman" Ruby reaches towering vocal peaks, shredding raw, putting it all out there.The song could be a traditional spiritual, as she belts: "I am a believer / Standing strong by your side / I'm the hand to hold onto / When it's too hard to try… I am a woman / Do you know what that means / You lay it all on the line / When you lay down with me." Of the song Chilcott says, "'I Am a Woman' was conjured up amid recent events where men have spoken about, and treated women's bodies, the way no man, or woman, should. This kind of treatment toward another human being makes every nerve in my body scream. These kinds of incidents are so ingrained in our culture and are swept under the carpet at every turn—it needs to change. As tempting as it was to just write an angry tirade I wanted to respond with integrity, so I sat with my feelings and this song emerged as a celebration of women and womanhood, of our strength and our vulnerability, all we encompass and our inner beauty, countering ignorance and vulgarity with honesty and pride and without being exclusionary to any man or woman. My hope is that we come together on this long drawn out journey. The song is the backbone to the album for me."
FRANZ FERDINAND, Always Ascending (CD/LP)
It's been 14 years since Franz Ferdinand helped propel indie into the British mainstream with their single Take Me Out, a lustful song that mixed Roxy Music's polished theatrics with the spiky, wry post-punk of Josef K. Yet while the Glasgow group were easy to admire, they were hard to truly love, lacking the sweaty warmth that emanated from their more ramshackle peers. The trade-off is apparent on the titular opener (Always Ascending is a reference to a sonic trick whereby a piece of music seems to be constantly building to a climax), which matches its tightly coiled disco beat to a melody that systemically slackens into something sweepingly poppy. The same goes for Lazy Boy, which is memorable for vaguely creepy lyrics and a highly enjoyable psychobilly riff. It's a style that demands a charismatic voice, and lyrics that walk the fine line between acerbic and heartbreaking. Huck and Jim, in which the band express a desire to export the NHS and DSS to the US, with the help of stormy guitars and a Boy Scout-style chant, sees the two styles collide, while the record climaxes with a duo of stomping disco tracks furnished with pleasingly dour melodies. They hammer home Always Ascending's technical brilliance and visceral emotional connection.
DASHBOARD CONFESSIONAL, Crooked Shadows (CD)
Chris Carrabba made his name at the tail-end of the Nineties singing (and shrieking) about winning (and losing) a girl, and now he returns with Crooked Shadows, his first Dashboard Confessional album in more than eight years, with that same romantic fixation holding the center of his songs. Carrabba's lyrical focus has evolved some in his time away, having disregarded the diaristic "I" for a unified "we," yet emo's heroic paternalism is still present – he's saving, he's dedicated, he won't let the love die. "I'm always going to be/About us" he sings on "About Us." His pledges of allegiance to his marriage are identical to the ones he makes to the scene. Album opener "We Fight" prescribes an understanding of his return – to be an emo singer, the lyrics suggest, is a kind of calling, and it's a matter of duty to never give up on the kids that connect with his music ("We didn't snicker and turn our backs/We just keep digging and giving back," he sings). The song suggests this isn't a capitalizing comeback, Carrabba is merely assuming the mantle; he's still an icon in a relationship with The People, custodially tending emo's we're-all-in-the-same-gang mythology. Every song here says the same thing: I am still here, I never left, and I love "us." His travails of sustained monogamy are cloaked in enough vagaries and hooks that no one's going to be skeeved out by a dude their dad's age panting about the rich rewards of a mature love.
BRIAN FALLON, Sleepwalkers (CD/LP)
Brian Fallon is – in the best possible way – the cosy comfort blankie of modern American guitar music. The erstwhile frontman of The Gaslight Anthem can always be relied upon for a hefty happy hour serving of anthemic rock'n'roll tunes that sound best crackling out of the speakers of a classic car or the jukebox of a dive bar, each pinned down by a voice made of gravel, broken glass and your favourite busted denim jacket. 'Sleepwalkers' is his second solo offering following 2016's 'Painkillers' and though it's hard to track evolution when you've a voice that distinctive, it's true that Fallon has experimented with more than just heartland rock and alt-country here. Opener 'If Your Prayers Don't Get To Heaven' has a bounce lifted straight from the Motown sound while 'Etta James' – rather unsurprisingly – shares a slowburning intimacy with 1960s soul classics, with Fallon paying emotional tribute to the late, great singer of 'I'd Rather Go Blind'. Fallon's longstanding love of British bands such as The Clash is no secret, but on 'Her Majesty's Service' he's jangling like The Kinks and namechecking The Rolling Stones and the Queen like he's just been on a big red double decker bus tour of London. After singing about so much Americana for the past decade, it seems that he's now had to cross the Atlantic in search of fresh geography to mine. There's more support for the UK tourist board on 'Watson', where he mulls over the joys of Angel tube station, the Thames and quotes the Magnetic Fields dreamy 'All The Umbrellas In London', while 'Neptune' chugs along like The Zombies by way of The Jam. Even so, Fallon's New Jersey growl means his British invasion will always sound more like the American dream.
BLACK DAHLIA MURDER, Nightbringer (CD/LP)
MELODY GARDOT, Live In Europe (CD)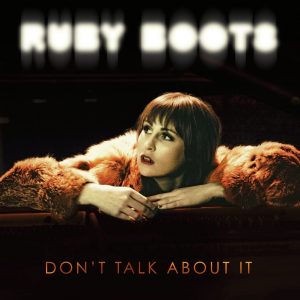 COMING SOON:
THE APPLES IN STEREO, Velocity Of Sound (vinyl) (2/16)
GRANT LEE PHILLIPS, Widdershins (2/16)
CAR SEAT HEADREST, Twin Fantasy (2/16)
And don't forget these STILL-NEW platters that matter!

THE WOOD BROTHERS, One Drop Of Truth (CD/LP)
Acts that feature brothers in singer-songwriter rolls range from the generally harmonious (the Avetts, the Allmans pre-Duane's passing) to the radically dysfunctional (the Kinks' Davies brothers and Oasis' Gallagher siblings) and somewhere in-between (Jesus and Mary Chain's Reid's on again/off again relationship). The Wood Brothers seem to fall into the first category as they release album number six without many obvious ripples in their increasingly successful musical partnership. Despite a new way of recording due to self-producing for the first time, recording piecemeal over the course of a year in various Nashville studios and employing four different mixing talents, there aren't major differences in these tunes compared to the band's previous work. There are no guest musicians, as the threesome — brothers Oliver and Chris Wood are joined by multi-instrumentalist Jano Rix — handles all the instruments which may account for Oliver's statement that "… this is the most purely Woods Brothers' album we've ever made." All members also share writing credits for the ten tracks, another sign of democracy and togetherness, even though it's likely frontman/guitarist Oliver was responsible for the bulk of the lyrics.  The Wood Brothers' knack for mixing folk, blues, gospel and jazz remains in fine form. Oliver's distinctive vocals are front and center and song structures that have never been traditional, still twist and turn in unexpected yet always enticing directions. Perhaps the ability to work on each selection without the clock running and an outside producer looking over their shoulders provides a slightly looser feel to the performance and recording. Songs like the appropriately titled "Happiness Jones" display wry, snarky humor in lyrics where the narrator claims he could write his best stuff only when he was suffering.  Musically the group rips a soulful page from Stevie Wonder on "Sparkling Wine," the opening bass line riff of which mirrors Lou Reed's "Walk On the Wild Side." The musical clippity-clop percussive reference to Tom Waits on "Laughin' or Crying" shifts into a bluesy vamp as Oliver sings "she said she saw a big fat rat in the subway/carryin' the key to the city," as good an example of how his words walk the line between humorous, peculiar and provocative. The folksy "Strange as it Seems" follows a man and woman who get dressed up at night, only to climb into bed to hopefully meet their perfect mate in their dreams; a bizarre tale worthy of being expanded into a short story. The closing "Can't Look Away" tells three separate downbeat stories that result in the song's title, all over a greasy swampy slide guitar driven ballad.
THE JAMES HUNTER SIX, Whatever It Takes (CD/LP)
After the heartbreaking loss of legends Sharon Jones and Charles Bradley in 2016 and '17, the last old-school R&B singer remaining on the roster at NYC soul hub Daptone Records is James Hunter, from Essex, England. Despite Hunter's U.K. origins, Whatever It Takes boldly underlines the fact that he's as steeped in deep soul as any Yank. When 55-year-old Hunter lets his lived-in but surprisingly pliable pipes loose on his seventh solo album, the ghosts of Sam Cooke and Ray Charles surely smile down approvingly. When his band coils itself tightly around sensual mid-tempo hip-wigglers like "I Don't Wanna Be Without You" and "Whatever It Takes," they recall the stylishly syncopated, urbane feel of early '60s R&B slingers like Doris Troy and Barbara Lewis. Hunter's more than a devilishly deft vocalist—his guitar licks pack enough sting to keep the tracks spry and smoldering. His six-string prowess is most apparent on the aptly-titled instrumental "Blisters," where he lets fly a torrent of fiercely visceral, bluesy lines over smoldering, Booker T.-style organ riffs. But lean in for the ending of "Don't Let Pride Take You For a Ride," where Hunter unspools a savage stream of riffs as feral as his closing vocal wails. Alternately intimate and unfettered, Whatever It Takes cements the timelessness of Hunter's '60s-soul inspirations when channeled by the right set of hands.
JOHAN JOHANNSSON, Mercy (CD)
Prolific composer Jóhann Jóhannsson provides the sonic impetus to The Mercy  – a torrid looking dramatisation of a boat race by and starring gurning posh people, namely Colin Firth and Rachel Weisz – with a suitably Hollywood-styled orchestral suite brimming with romantic smugness and some sense of thwarted glory. 
KYLE CRAFT, Full Circle Nightmare (CD/LP)
Wake up; it's 1972. The Stones and Bowie are making some of the best music of their careers. Dylan's on hiatus, but his influence is alive and well. Power pop kingpins Big Star just released their debut album. While in reality, we're almost 50 years away from that golden age, the music of Kyle Craft is steeped in it on his second album, Full Circle Nightmare. Coming almost two years after his debut, Dolls of Highland, the latest album from Louisiana-born, Portland-based singer/songwriter Craft manages to accomplish the nearly impossible: it blows away a debut album that was already damn near flawless. Some of this is due to manpower – while Dolls was recorded almost entirely by Craft (on a laptop in Shreveport, Louisiana), Full Circle Nightmare takes advantage of a full band, in addition to a more traditional studio environment, recorded in Portland with producer Chris Funk of the Decemberists. With a band and a seasoned producer at his disposal, Craft was able to concentrate on the songwriting, which continues to mature with a heap of intricate, Dylanesque wordplay. The overall vibe of the album is much richer, sonically. Honky-tonk pianos, lively Hammond organ, tambourines hitting all the right beats: Funk draws out the right sound for these songs and Craft sings his heart out on every track.
JUSTIN TIMBERLAKE, Man Of The Woods (CD/LP)
ORIGINAL SOUNDTRACK, Lady Bird (CD/LP)