Size don't matter in this week's New Releases. Sure, there are only a few, but they're fierce! There's Charlie Hunter's new one, a lovely release by Faun Fables and a stunning fusion of reggae past and present from Stephen Marley. And check that Coleman Hawkins reissue! Read on…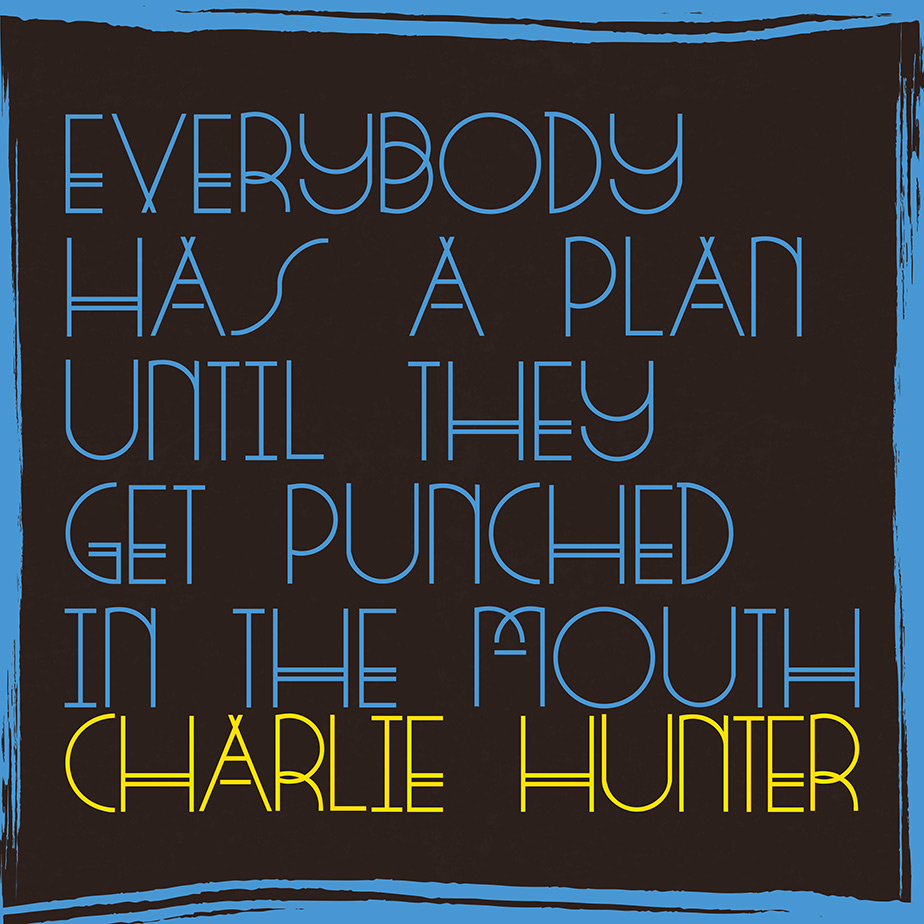 CHARLIE HUNTER, Everybody Has A Plan Until They Get Punched In The Mouth (CD)
Since 1993, Charlie Hunters mindboggling guitar technique has garnered him fans around the world, critical acclaim and recordings with some of the most prestigious names in jazz and pop. Now with his 17th album, the title of which refers to a quote once uttered by heavyweight boxing champion Iron Mike Tyson, Charlie Hunter returns to his quartet to perform 10 all-new Blues, Rock, Jazz and Latin-flavored songs alongside bandmates Kirk Knuffke (cornet), Bobby Previte (drums), and Curtis Fowlkes (trombone). Recorded 100% live in a studio in Hudson, New York, on songs including No Money, No Honey and Latin For Travelers, Charlie performs his simultaneous bass, rhythm and solo magic on his custom 7-string electric guitar, proving once again that Charlie Hunter is a leader of modern jazz guitar improvisation.

STEPHEN MARLEY, Revelation Part II: The Fruit Of Life (CD/LP)
On "Revelation Pt. I," Mr. Marley stayed close to the roots reggae sound Bob Marley perfected in the 1970s with the Wailers, though his album added a few guest rappers. "Revelation Pt. II" is far less purist; it strives for both innovation and radio-friendly crossover. Mr. Marley's productions seek fusions with hip-hop, dancehall and R&B; the songs feature nearly two dozen guests (among them Damian and Ky-Mani Marley). It's an overstuffed album — 24 tracks, including a few remixes — and not uniformly successful. At times, Mr. Marley is too self-effacing, just singing choruses while his guests rap. But it opens a lot of doors.
FAUN FABLES, Born Of The Sun (CD/LP)
Over previous albums, the passions of Faun Fables seemed to be laid firmly on the stones of the Old World. Dawn songs seemed to well forth from a more elementary fundament: one that lived in knowing intuition with nature, gathered in blood-based tribes, worked in the light of day and played by the fire at night. Born Of The Sun continues in this exalted tradition but also reflects the new rhythms of life, and as such, the necessarily scorched earth of raising children, each day becoming a new and irreversible step forward. Living what was once only dreamed and sung about makes for an earthier and more expansive record, informed by the slow and sudden progress of time that occurs when we are with the very young.
DRAGONFORCE, Killer Elite (CD)
HEZEKIAH WALKER, Azusa The Next Generation 2 (CD)

Tasty Reissues:
Complete Albums Collection: 1945-57 (CD)
Complete Albums Collection: 1957-59 (CD)
Complete Albums Collection: 1960-62 (CD)
Before the likes of Sonny Rollins and John Coltrane were passed the torch, Coleman Hawkins laid claim to being the undisputed king of tenor saxophone. One of the first musicians to adopt the instrument for use in a leading role, Hawkins soon became known for his powerful yet soulful tone, lending his talents primarily to the swing and big band styles, before becoming one of the leading figures in the 1940s bebop movement.  Illustrating how this master musician would change his style regularly, not for reasons of fashion or popularity, but from an in-built need to push forward the boundaries and develop the arena in which he worked, the eight original records featured – all in the finest remastered format – show clearly why Coleman Hawkins has remained a legendary musician and an iconic figure in the history of 20th century American music.
COMING SOON:
BJ BARHAM, Rockingham (7/29)
CHRIS ROBINSON BROTHERHOOD, Anyway You Love, We Know How You Feel (7/29)
And don't forget these STILL-NEW platters that matter!
EARLS OF LEICESTER, Rattle & Roar (CD/LP)
The Earls of Leicester project, an attempt to recreate the authentic Flatt-and-Scruggs-era sound, brings successful later-generation bluegrass musicians back to the roots of their music, pays homage to some of the pioneering greats of the genre and entices newer generations of listeners to scour the back catalogues for the original versions of these older songs. Recorded in one room, it's also a nod to a simpler approach to recording, before sound booths and AutoTune, although at times, it can feel a bit artificial. Fans of Jerry Douglas will probably agree that the Earls are about as good a Flatt and Scruggs tribute band as you'll find, and Rattle & Roar makes for a fun listen.
JEFF BECK, Loud Hailer (CD/LP)
Loud Hailer doesn't bother with too many references to contemporary music. This is strictly a Jeff Beck joint, built around that amazing tone and variations on the 12 bar blues. But he's hardly stuck in the past: Instead, the new album serves as a reminder of how a guitar should sound, as well as the way it feels when someone has no questions about what he was put here to do. When the result sounds like Loud Hailer, why tamper with what fans want?
needtobreathe, HardLove (CD/LP)
AARON NEVILLE, Apache (CD)
SNOOP DOGG, Coolaid (CD)
STEVEN TYLER, We're All Somebody From Somewhere (CD)