An accomplished drummer and one funky bass player, Tez Sherard was born and raised in Anderson, SC. With musical roots in gospel, soul, and blues, Big Tez was given his first regional opportunity with The Still Cruzin' Band, a Top 40 band from Georgia. This opportunity led to the backing of countless artists and entertainers, such as The Drifters, Clarence "Frogman" Henry, The Crystals, and Archie Bell and the Drells. In the spring of 2007, he received an invitation from platinum artist Edwin McCain to become his permanent first call drummer and background vocalist. This invitation opened substantial doors to perform with numerous music icons, including Everclear, Styx, Sister Hazel, Hootie and the Blowfish, and more. When not on the road, Big Tez can be seen performing with regional artists and his three major local projects – the Upstate funk all-star band Gypsy Soul, Groove Planet, and Zataban. He has dedicated almost 30 years to providing quality music to his hometown area.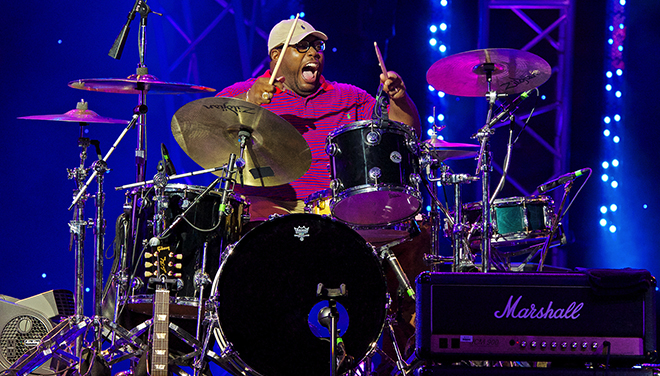 Join accomplished drummer Tez Sherard to experience multiple genres of drumming techniques in this 90-minute master class and demonstration. Attendees will learn about the influences and techniques of blues, rock, jazz, and multi-ethnic percussion and observe demonstrations from accomplished drummers in those fields. Plus, you'll have an opportunity to get your drumming questions answered.
 The masterclass will also feature rock drummer Colt Strickland of the Piedmont Boys, jazz drummer Sunny Thorton, and multi-ethnic percussionist Jeff Holland. For more info or tickets, call 864-467-3000 or click HERE.