The Brad Mehldau Trio's Seymour Reads the Constitution is out now on CD and vinyl LP, featuring the boundary-breaking pianist and his longtime trio, drummer Jeff Ballard and bassist Larry Grenadier. The trio performs three Mehldau originals combined with interpretations of pop songs (Paul McCartney, Brian Wilson), jazz tunes (Elmo Hope, Sam Rivers), and one work from the American songbook (Frederick Loewe's "Almost Like Being in Love").
Brad Mehldau excels in a variety of musical environments. He's an accomplished solo pianist – both in classical and jazz genres – and his work as the member of a duo, trio or full band is justifiably revered. His "default" mode, however, is arguably the trio format. Accompanied by bass and drums, Mehldau positively soars, taking many lengthy, imaginative solos, and – perhaps more importantly – often forgoing the spotlight to allow the other two musicians to shine as well.
It's only been a little more than two months since Mehldau's last album, the brilliant After Bach, which offered a unique interpretation of several of the preludes and fugues of Bach's Well-Tempered Clavier. Mehldau's brand new album finds him back in the comfort zone of a trio, which is hardly a stylistic left turn in the annals of his career, but still a welcome new addition to his discography.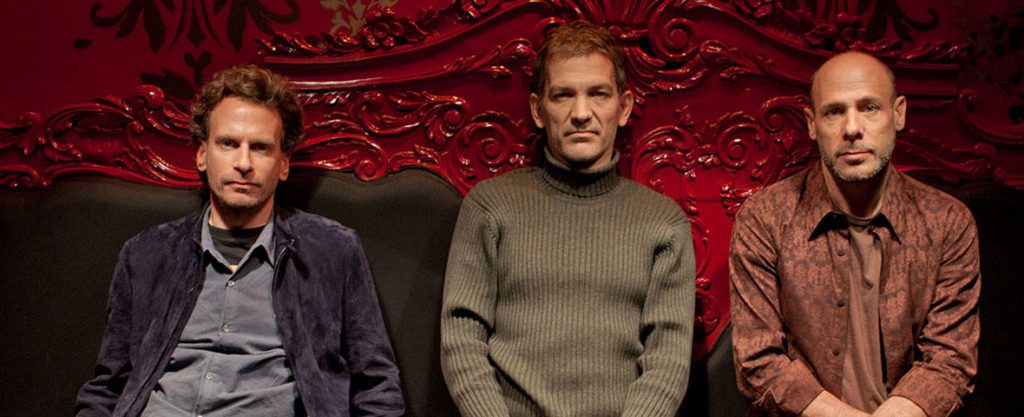 While the title makes it sounds like a conceptual attempt at Schoolhouse Rock, Seymour Reads the Constitution!, it is actually a reference to a dream Mehldau had that involved the late actor Philip Seymour Hoffman reading the historic document. But the album really could have been called anything. If you're a fan of Mehldau's flights of jazz trio fancy, you'll be in heaven here.
Mixing original compositions with covers both expected and unexpected, Seymour Reads the Constitution! comes out swinging with the eight-minutes-and-change opener, "Spiral", employing a thorny 5/4 time signature that lesser musicians would find themselves tripping over in an attempt to provide adequate improvisation. But Mehldau, along with drummer Jeff Ballard and bassist Larry Grenadier, have collaborated for many years and provide both a laser-like focus to the material as well as an almost telepathic sense of each other's musical moves. And when things slow down on the lazy, relaxed title track, the shifting of gears isn't the least bit jarring.
While known for his innovative covers of rock artists as diverse as Radiohead, the Beatles, Nick Drake and Stone Temple Pilots, Mehldau certainly knows his way around classics from the Great American Songbook, and when the trio takes a spin at Lerner & Loewe's "Almost Like Being in Love", the results are dazzling. The tempo is bright and swinging with Grenadier providing fiery bass runs, and Ballard's expert solo fills hold everything together. Likewise, his cover of jazz great Elmo Hope's "De-Dah" is given an energetic shuffle, with ample soloing from all three musicians over the nine-minute runtime.
But as usual for a Mehldau trio album, there are a few left-field covers: the minor 1968 Beach Boys single "Friends", a day-glow psychedelic doo-wop waltz in its original version, is given a pretty standard jazz makeover that not only provides a startling new feel for the composition, but also makes for a nice improvisational launching pad (especially when it takes a slightly dark, dissonant turn toward the end). It's yet another example of Mehldau digging deep into the catalog of a well-established songwriter and reinventing a song that may not have been that well-known, to begin with. Along those same lines, "Great Day", a rustic folk number from Paul McCartney's underrated 1997 album Flaming Pie, is sped up a notch in Mehldau's hands while still retaining the composition's irresistible melody lines.
The combination of classic covers, deep album cut tributes, and accomplished original compositions are all standard operating procedure for Brad Mehldau when he approaches the trio format. Seymour Reads the Constitution! is exactly what you would expect from Mehldau – and that's probably the best praise you could heap on a new release.
HORIZON RECORDS has Seymour Reads The Constitution in-stock now, along with these other gems from the Mehldau catalog.