Take a look around the modern musical landscape; not a lot of the true legends left, are there? BB King has gone on, as has Little Walter, as have Junior Wells, Muddy Waters, John Lee Hooker, Howlin' Wolf . . . all the great bluesmen of the golden '50s and '60s era.
Which means that the original pure blues light of the great Buddy Guy, the man with the quicksilver guitar skills and the soul-man's shout, shines a little brighter now, and that we should value his blistering new album, The Blues Is Alive And Well (out now on CD and vinyl LP) more than ever. His hard-won wisdom and positive hope for the blues leads us on.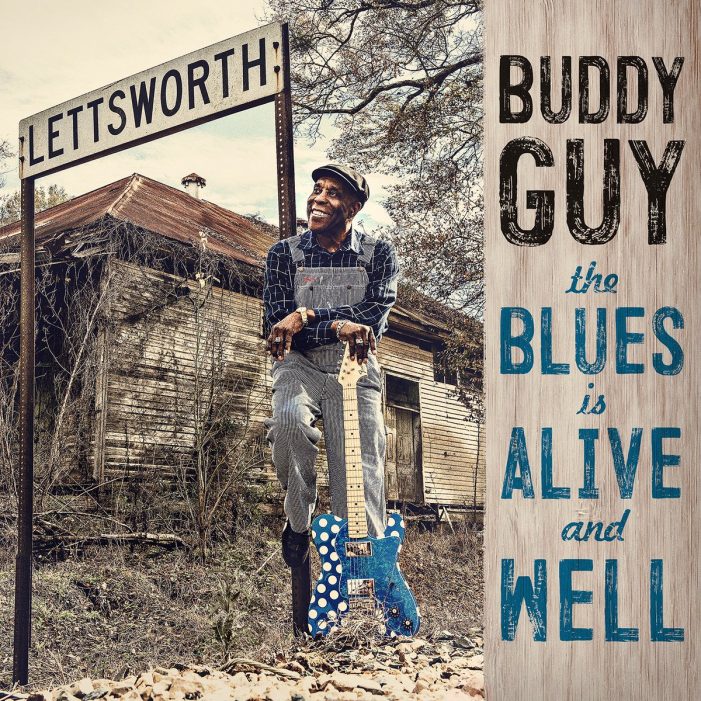 Buddy runs it down in Forbes magazine:
Buddy Guy is the last bastion of the blues. That's barely an opinion. If anything, it's a matter-of-fact statement. For the 81-year-old, Louisiana-born blues pioneer, this harsh reality isn't a surprise. In his eyes, it was always a possibility. Take, for example, the title track of his new album, The Blues is Alive and Well, out June 15. At the closing of the song, he ad-libs, "My friends said before they died, to keep the blues alive."
"We all used to sit down and talk," Guy says. "We'd be laughing and drinking over a shot of whiskey man. We knew one day, one of us was gonna leave the others here. My late friends, Junior Wells, Muddy Waters, B.B. King, Howlin' Wolf, all of 'em would say things like that."
The new record, produced and co-written by longtime collaborator Tom Hambridge, doesn't only feature sweet guitar licks. None of the tracks are filler, either. Sure, there's a tune about enjoying a nice glass of Cognac, an unapologetic indulgence of the guitarist. But the album also tackles more profound subject matter. Guy addresses his own mortality, his responsibility to carry on the art form and his own identity as he approaches the gates of heaven.
In conversation and in his music, Guy's relationship with success and aging is clearly intertwined with his friendships. When he records now, he still looks to the friends that he's survived to find inspiration — or at least keep him humble.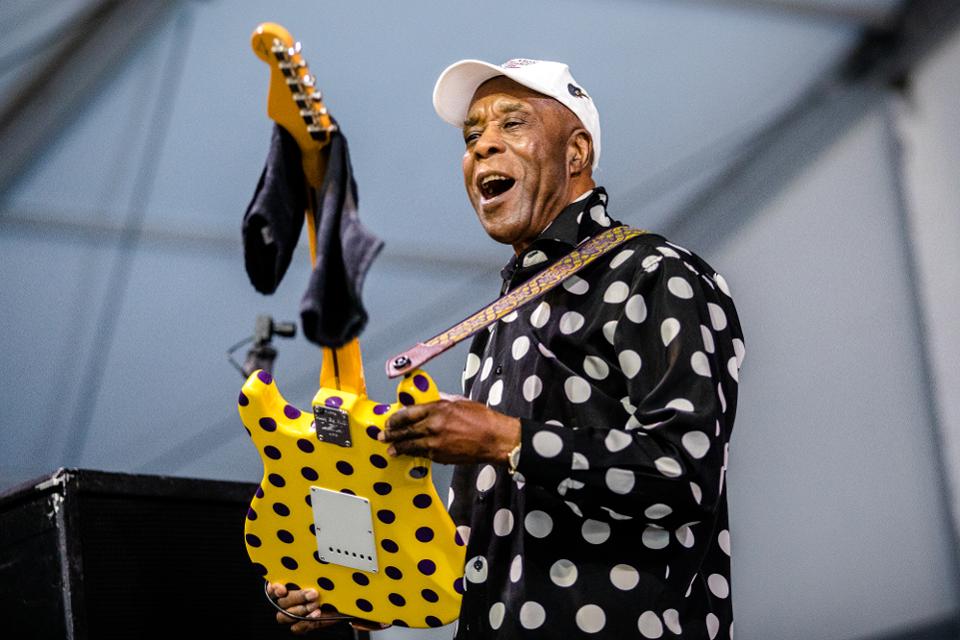 "Every time I go into the studio my hope is that I give my best and come out with something good enough to try to keep the blues alive," Guy says. "But that's not the case always. I don't even think the Stones made a hit every time they went into the studio."
"B.B. King told me once, man," Guy explains. "We was on tour together, just sitting and talking, and he just looked at me and told me, 'I ain't never made a record I liked!' I said, 'Well, what the hell am I hollering about then?' I guess I better shut up!"
King, who passed in 2015, was one of Guy's closest friends, and one of few true contemporaries. He remembers him fondly, particularly a record they did together in 2010. The song assures him that B.B. is still by his side fighting the good fight, even if only in spirit.
"B.B. King and I did a kind of gospel song called 'Stay Around A Little Longer,'" Guy says. "As the record was closing out he said, 'When I'm pushing up daisies don't forget, you're still my buddy.' When I was at his funeral, they let me get close to look at him. Everybody else had to watch his body from a distance. I forgot to tell him, 'You can't push up daisies no more, they got you in a vault!' He would have laughed at that, so help me!"
"I was brought up very religious," Guy says. "When I go into the studio, I just hope and pray that I can hit a note or sing something that somebody would like."
Guy hopes to preserve his grace on stage, too. In 2012, he told PBS that blues musicians "don't retire, they drop." He still, albeit cautiously, maintains the sentiment today.
"You owe people the best that you got," Guy says. "If I keep living and can't produce enough to make somebody happy, then I'll begin to feel that I'm not giving you your money's worth. So that's crossed my mind. But people look at you as you get like that and say, 'I don't care, I just want to see you play the guitar.'"
He continues: "Before B.B. King passed away man, the last two years of his life, people was complaining about him playing the same song four or five times a night and everybody was afraid to tell him, 'You done sung that song already!' You know? He was the type, you didn't tell him what to do, not easily. I didn't get a chance to tell him. B.B. was 89 years old when he passed away, and I think your brains go to forgetting."
Guy discusses entering his later years with dignity and humor. He chuckles, but speaks with the practicality of a realist.
"The late Tyrone Davis, him and I was talking before he got ill and passed away," Guy says. "We was laughing about it. If you write a song for me tomorrow and I like it, I'd look at it twice and say, 'Yeah man, I got it, I don't need to read it no more.' Now, s**t, you gotta give me three months. I gotta take it to bed with me and wake up with it again."
But don't let the record's lyrics or his openness mislead you. While Guy vehemently laments both the modern state the record industry and the lack of any blues' mainstream notoriety on radio, he's far from out-of-touch with the genre that defined rock'n'roll. You will find no "get off my lawn" here.
Save the sentimentality, this record rips the way only a Buddy Guy record could. And that's what producer Tom Hambridge, 57, made sure of this time around. He wasn't a surprising choice for the gig, having created two Grammy-winning records with Guy since they first met. While Hambridge wrote most of the lyrics on the album, he did so through Guy's perspective, drawing from his stories and life experiences in the process.
"It's an important piece of music that's coming out," Hambridge says. "He puts his blood and sweat in this stuff. This is a statement about his life. This is everything he has." Hambridge, who first met Guy while opening for him on tour, describes him as casual, funny, and shy, but more importantly, "masterful," with an unbeatable work ethic.
"It's not an exact science with Buddy," Hambridge says. "I sometimes slow down because I want to hear where he's going. He could sing something and say to me, 'Oh geez, I think I'm slipping there.' I'm like, 'Oh wait a minute, before we lose that, what the hell did you just do? You just made up a color. Let's not, in haste, lose it.'"
And it isn't just Hambridge who's in awe of his soulful delivery and technical proficiency. Hambridge remembers seeing Robert Plant swoon over Guy at the Kennedy Center Honors. Guy himself admits that Jimmy Page has done the same.
"I've been fortunate to be with Buddy in situations where I see how excited The Rolling Stones get when he walks in the room," Hambridge says. "And they don't get excited for anybody. They're The Rolling Stones. They're like little kids when they're around him. It's so beautiful."
For The Blues is Alive and Well, Hambridge recorded a few guest contributors. It's a select but powerful group: Mick Jagger, Keith Richards, Jeff Beck and James Bay.
"They're talking about him the whole time," he says. "They're like, 'Oh my god, listen to that vocal. Are you kidding me?'"
Considering the impact he's made on so many artists, it's no surprise how deep Guy's rolodex is. And just about everyone is willing to jump through hoops to come through for Buddy Guy — like when ZZ Top's Billy Gibbons re-routed his tour bus just to record in 2015. He's the type of guy that when he casually speaks of "Eric," you know he means Clapton.
But Buddy Guy doesn't only focus his energy on working with other living legends.
"All of my teachers are gone," Guy says. "I'm working with some young ladies and men now who are playing the blues, one was in my club last night."
One player he's particularly proud of, 19-year-old Quinn Sullivan, is now playing with Hambridge.
"I'm trying [to keep the blues alive], but it's not easy to do it by yourself," Guy says. "Especially when it's not heard. I would like to hear Muddy Waters on some of these big radio stations so the next little Muddy Waters can say, 'Oh my god, I never heard this kind of music!'"
"The record business is not like it was 50 years ago," he continues. "But who knows what's going to be tomorrow's music? It's like going to Vegas thinking you're going to hit a jackpot every time you pull down on a slot machine. It don't work that way."
And even though the music industry is just a shell of what it used to be, it's nice to see that Guy is finally getting paid the respect he deserved all these years.
"He's now finally the guy," Hambridge says. "He can go play places, and he sells them out. He did this when he wasn't making money. He did this when he had to drive a van across the country and would break down. And he would still show up and do it."
While Guy spent much of his life in Chicago, he does appreciate the love he's received from his hometown. As he made clear in a recent appearance on David Letterman's new Netflix show, the blues is a southern craft, even though so much of it thrived up north.
"A week ago I was down in Louisiana," Guy says. "That sign that you see on the album cover, Lettsworth, up the street from there they named a little highway for me! The governor was there, they had to vote on it, it was 97-0 for them to go ahead and name the highway for me. Louisiana doesn't have counties, they have parishes. They found out that I was the only one that ever left that parish that had a name worldwide."
Tom Hambridge says that Guy always used to tell him, "My momma said don't give me the roses after I'm gone. Don't put 'em on my grave, I want to smell 'em!"
It seems that Buddy Guy is finally getting his flowers. And as for his live shows, as long as he still owns his club Legend's in Chicago, there's no reason for him to step offstage.
"I don't think he's going to stop," Hambridge says. "He's an amazing specimen to be honest with you. I don't know anybody that's 81 and gets on stage and just kicks ass every night. You don't want to follow Buddy Guy. You just don't. It's like Muhammad Ali, people talk about him, but did you ever see him fight? I don't know what his DNA is, but it's something special. I don't see him stopping ever. He'll outlive all of us."
The Blues Is Alive & Well is in-stock now at Horizon Records, along with some other tasty treats from Buddy Guy!