THE NATIONAL, I Am Easy To Find (CD/2xLP clear vinyl/3xLP multi-colored vinyl)
Do the National do a lot with a little, or a little with a lot? On the one hand, theirs is a lush, grandly developed sound, in which every element fits into place, where textures and tones brush up against each other to create an effect that's often overwhelming. On the other hand, their desire to never be obvious means the National's catalog is hardly replete with bangers: they've created a musical universe that, while richly melodic, is more about mood and texture than big hooks. All of which comes to mind strongly on their eighth album, which is rich with lyrical references to artists whose reputations were built on big hooks: the title track quotes from "Echos Myron" by Guided By Voices. "Not in Kansas" refers to "the first two Strokes", to "listening to REM again / Begin the Begin over and over", and then quotes "The Flowers of Guatemala." "Not in Kansas" is a startling, brilliant song, one that seems to be trying to locate a cultural and geographical home. "Ohio's in a downward spiral," Matt Berninger sings, "Can't go back there any more / Since alt-right opium went viral." All he can be sure of is that, like Dorothy, he's not in Kansas: "Where I am, I don't know where." It's set to a gorgeous, limpid, understated melody and arrangement that serves to highlight the emotional intensity of the lyrics. The whole record works best less as a collection of songs than a sustained mood piece: its moves uptempo ("Where Is Her Head," "Rylan") are tempered by the stillness that surrounds them. The music burbles, without ever insisting. The lyrics (credited to Berninger, his wife Carin Besser, and Mike Mills, the film director who's also listed as a co-producer) are both allusive and grounded – in "The Pull of You," the dichotomy in this desperate pinballing between engagement and distance is pinpointed in a single couplet: "I'm either at the bottom of a well / Or spinning into somebody's outdoor glass furniture." It's an album you can come away from unable to hum a single bar, but so captivating you want to return to it immediately.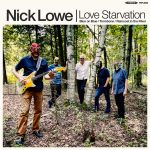 NICK LOWE & LOS STRAITJACKETS, Love Starvation/Trombone (LP)
When Nick Lowe was addressing the audience about what they were about to hear at a show during his recent tour, he cautioned there would be a few new songs sprinkled into the set list. But, in typical self-deprecating Lowe fashion, he reassured the audience that a) they would be short and b) they sound just like the old songs anyway, so not to worry. He was right on both counts. The second Lowe/Los Straitjackets studio collaboration EP features only four selections, running a total of 14 minutes. Three are new Lowe originals that, well, sound like others of his tunes, and the fourth, "Raincoat In The River," is an obscure Phil Spector cover, initially recorded by the little known Sammy Turner. Ricky Nelson also did a version, but with its hummable and strummable pop melody, it seems like something Lowe would write. The title track, "Love Starvation," is jaunty pure-pop-for-now-people. The lyrics, telling of a man who needs love, are more melancholy than most of Lowe's, sung over Los Straitjackets' Rockpile-styled rockabilly groove. Ditto for "Trombone" about "good love gone wrong," with the protagonist singing, "I should be on the road to glory/Not this barren, bleak terrain/I pray I'll never be this way again," over, you guessed it, overdubbed trombones. It hews a little close to Neil Diamond but Lowe's amiable vocals save it from getting schlocky. As its title implies, "Blue on Blue" is another lost love tune—that's a theme here—as Lowe downshifts into sweet ballad mode with wry lyrics "In my mind/I'm on the end of a ball of twine/That she jerks from time to time." The quartet of tracks is short—too short—and sweet. It's hard to say if we'll ever see a new full-length Nick Lowe album again, but if he can squeeze out four songs a year as sturdy as these, that might satisfy fans who would surely like to hear more from a veteran singer-songwriter whose music, like his voice, never seems to age.

CHRISTONE "KINGFISH" INGRAM, Kingfish (CD)
Christone "Kingfish" Ingram grew up in Clarksdale, Miss., a town sometimes called the "cradle" of the blues. Nearby is the plantation where Muddy Waters spent his childhood, as well as the mythic crossroads of Highway 61 and 49 where Robert Johnson made his deal with the devil. If you're a young musician aspiring to join the blues conversation, Clarksdale is a good cred-conferring hometown to have. Yet Ingram, a 20-year-old phenom, opens his debut album by declaring that he's ready to cut loose. He knows there's life outside of his town, he sings, and he's hitting the road to go find it. Taillights are mentioned. Vows that strangers will one day know his name are said. The tune, "Outside of This Town," is a hard-swinging shuffle with a bit of Stevie Ray Vaughan snarl to it. Ingram sings with relatable conviction, but the whole thing seems fairly businesslike until around 1:44, when there's a brief guitar solo. Then and there, Kingfish – who was a featured performer in the Netflix series Luke Cage– shows that he is, in fact, ready for bigger stages. His tone all blazing brightness, Ingram soars through a few pitch bends, then dispatches tricky triplet phrases, then quotes "It Ain't Necessarily So" with an arresting rhythmic precision. It's almost like he's singing through the guitar: Every utterance, every little ghost phrase, is rendered with exactitude. He might be landing on the low-down dirty notes, but he's hitting them cleanly. In a way that breathes mighty new life into worn-out guitar-showman cliches. This emphasis on crisp execution makes literally every Ingram solo on the album a dramatic event. On the up-tempo stuff, he tears through blistering lines with the easygoing assurance of a road-dog veteran. Then when it's slow-blues time, he makes the guitar moan: Check "Believe These Blues" to hear him underscore his observations on human suffering with a guitarspeak built from anguished long tones, storm clouds and bacon grease. And for a gauge of just how developed Ingram's playing is, check the slow blues "Fresh Out," which features his mentor, blues legend Buddy Guy. Ingram takes the first solo, and serves up a marvel of sharp syncopated rhythm; Guy follows by landing on and holding a single-note roar, as if to suggest that his other options had been already covered. The blues is a mature form. As Guy noted in a New Yorker profile earlier this year, it doesn't exactly have a deep bench of young renegades. It does, however, have a few up-and-coming stars like Ingram, who appreciate the blues as a lifeline, a malleable language, a way of being in the world. Several times on Kingfish, Ingram describes himself as an "old soul." But he really didn't have to – his astounding playing says as much, over and over again.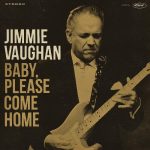 JIMMIE VAUGHAN, Baby, Please Come Home (CD/LP)
If you ask Jimmie Vaughan why he hasn't composed any original material over the past decade or so, he'd probably tell you that all the best blues songs have already been written … or something to that effect. So it's no surprise that the singer and guitarist reaches back once again to dust off 11 obscure blues gems on his first (mostly) studio album in eight years.  This is nothing new for the ex-Fabulous Thunderbirds axe-man. He's been excavating cool material to reprise, if not necessarily update, in a frills-free fashion since the Thunderbirds' first release back in 1979. And on his previous studio collections from 2010/2011 (two volumes of the appropriately titled Blues, Ballads & Favorites), Vaughan took the same approach. On this short but sweet collection of 11 covers, he employs a horn section featuring some old members of Roomful of Blues to fatten the sound and bring old-school, retro-honking to the table.  Although a few of these writers such as T-Bone Walker, Fats Domino, Clarence "Gatemouth" Brown, and Lloyd Price might be familiar to casual roots/blues music fans, it takes diehards to have heard the selections Vaughan unearths here. Kicking off with Price's title track, the guitarist and his band are fired up, churning out fast, slow and medium tempo shuffles, and lots of jump blues, with as much and arguably more energy as the initial artists. There aren't a lot of deep lyrical concepts as titles such as "Be My Lovey Dovey" or "I'm Still In Love With You" indicate. But no one is arriving to this party platter for spiritual enlightenment on the meaning of life. They come for a swinging great time which is just what they get as Vaughan and his crew sound like kids in a musical candy store playing their favorites with no consideration of any commercial prospects. While the guitarist doesn't have the best vocal chops, his understated singing works well with his similarly unfussy yet punchy leads. Vaughan once worked with Omar Kent Dykes on an album of Jimmy Reed tunes, so it's little surprise he reprises the particularly spirited Reed penned "Baby, What's Wrong" to close this set. Now pushing 70, Vaughan isn't out to be the next flavor of the month — he never was — but he revives these blues corkers with class, restraint and a vibrant sense of love for his chosen genre that shines through on every cut.
INTERPOL, A Fine Mess (CD/LP)
PERPETUAL GROOVE, Perpetual Groove (CD/LP)
THE HEAD & THE HEART, Living Mirage (CD/LP)
KILLER REISSUE:


ENDLESS BOOGIE, Vol. I & II (2xCD/2xLP)
These loooong out of print debut albums by demented molten guitar groovers Endless Boogie, Volume I and Volume II were self-released in 2005 before the Boogie's inaugural trip overseas (to play the Slint-curated All Tomorrow's Parties) – and for that matter, their first trip outside of New York. They figured if they were leaving the country to play a show, they should have something to sell, so they pulled some recordings from their rehearsal tape archive, ran two small pressings, hand stamped some sleeves, and the Endless Boogie story officially began. The records (often referred to as "black" and "white") have long fetched high prices on the secondary market, and now they're back in print here and packaged together as a double-CD, double LP set.
COMING SOON:
JUSTIN TOWNES EARLE, The Saint Of Lost Causes (5/24)
MAVIS STAPLES, We Get By (5/24)

And don't forget these STILL-NEW platters that matter!
ESPERANZA SPALDING, 12 Little Spells (CD/LP)
Esperanza Spalding's enthusiasm for bundling her releases with attention-grabbing concepts — like writing and recording an entire album in an uninterrupted 77-hour livestream, or dedicating each song on her new LP, 12 Little Spells, to a different body part — might make it seem like she's attempting to mask some shortcoming in the actual music. But that couldn't be further from the truth. The Grammy-winning bassist/vocalist/composer, a former child prodigy steeped in classical and jazz but bounded by neither, is well over a decade into one of the most fruitful and strikingly original careers in contemporary pop. Excellent prior efforts like 2017's Exposure and 2016's character-driven Emily's D+Evolution combined sturdy hooks and bold idiosyncrasy in a way that seemed comparable only to fellow genre-of-one artists like Joni Mitchell, Björk or Spalding's friend and collaborator Prince. Her new LP favors a slightly dreamier aesthetic (see the gorgeous, overture-like opener "12 Little Spells," dedicated to the thoracic spine). But there's still music here that will make your head spin with its exquisite intergenre oddity, like the prog-meets-pop-meets-spoken-word mini opus "The Longing Deep Down" (an "abdominal portal" ode on which she sings, "It's fucking hard to be longing/And at the same time feel your own belonging") or "Dancing the Animal," an ultra-mathy art-funk meditation on the era of the cloud written for the mind/brain. As with Spalding's earlier albums, the conceptual hook of 12 Little Spells only hints at the radically inventive nature of the songs themselves.

MAC DEMARCO, Here Comes The Cowboy (CD/LP)
If you were to believe certain corners of the internet, then Mac DeMarco deserves to be cancelled. By inadvertently giving his fourth studio album, 'Here Comes The Cowboy', a similar title to Mitski's brilliant 2018 effort 'Be The Cowboy', Mac was accused by hundreds of Twitter users of trolling. Even though it appears to have been a mere coincidence – along with the fact that both records led with a single called 'Nobody' – it's fair to say the album announcement was a little clumsy. However, the brutal way in which Mac has been criticized appears to have much to do with armchair pundits tiring of the idea of the modern hipster – an image that Mac, with his fitted caps and vintage jumpers, pretty much personifies. This backdrop means 'Here Comes The Cowboy' has far more controversy surrounding it than each of Mac's previous three albums. Away from that, though, this is the funkiest record of Mac DeMarco's career, with its serene charm and more introspective songs proving its creator now cares less about what will play well on the festival stages and more about letting us inside his head. The record is paced slower than his previous work, with the coked-out synths of raw highlight 'Baby Bye Bye' clearly inspired by emotionally dense records such as Sly & The Family Stone's 'There's A Riot Goin' On'. It's obvious slowing things down musically has been cathartic for Mac, as gentle tracks such as 'Nobody' and 'Preoccupied' inspire more thoughtful lyricism. On the latter, the singer criticises a Trumpian culture in which minds are "open" but "filled with bullshit". It's clear Mac is most inspired by classic pop-rock from the 1970s; 'Here Comes The Cowboy' is at its best when its creator tries to replicate the melancholic piano-powered ballads of his heroes such as Elton John and John Lennon. To this end, the escapist 'On The Square' is easily one of the best songs of Mac DeMarco's career.  On the whole, this is a lovely little record that shows clear artistic growth. It's littered with the trademark stoner vibes and kooky sound effects you'd expect to hear on a Mac DeMarco record, but there's also plenty of evidence of experimentation too – the high notes Mac hits on 'Finally Alone' show he is pushing his vocals further, while tracks such as 'Heart To Heart' have an edgy electric buzz that's more rave culture than slacker rock. As a lyricist, he also sounds more focused than ever before, capable of sardonic assessments of the American dream, something that's particularly evident on 'All Of Our Yesterdays'.  The song has a sarcastic edge, thematically exploring the idea that a lot of the best things about our past have disappeared and won't be coming back. 'Here Comes The Cowboy' suggests Mac DeMarco is ready to explore more mature themes and grow beyond the slacker image he has helped turn into a pop culture staple. This record's slower pace won't be for everybody, just as unassuming previous album 'This Old Dog' wasn't, but, should you let it, this record will transport you somewhere calm and reflective. At a time of great chaos, that sure sounds good to me.
THE BB KING BLUES BAND, The Soul of The King (CD)
THE DUKE ROBILLARD BAND, Ear Worm (CD/LP)