It's always an exciting prospect to have DARRELL SCOTT dispense some of that songwriting skill, storytelling magic and guitar heat on a collection of originals, but his new album, SINGS THE BLUES OF HANK WILLIAMS, is something really special. On this album, Scott, no songwriting slouch himself, interprets nine of the darker-hued material of the father of (real) country music.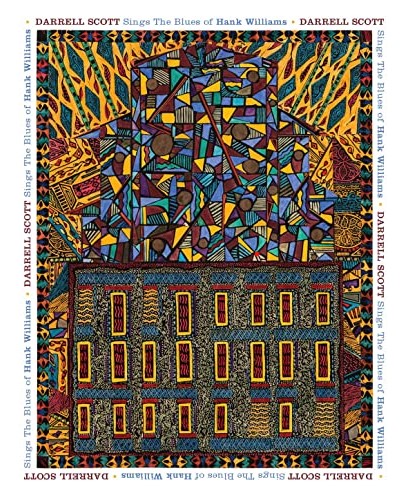 Sings The Blues Of Hank Williams is in-stock NOW at Horizon Records on LP and CD, available for curbside pickup and at our webstore. Give us a call at 864-235-7922 or email info@horizonrecords.net to arrange for curbside pickup, or visit the webstore by clicking HERE.
"My Hank runs deep," writes veteran singer/songwriter Darrell Scott in the liner notes to this extraordinary set. These nine tunes are proof of that declaration.
There have been other Hank Williams tributes, of course, by an eclectic bunch of musicians that range from Roy Orbison to Glen Campbell, Johnny Cash with Jerry Lee Lewis and even modern rock act The The among many others. But when an artist as singular as Darrell Scott throws his hat into this already crowded ring, you know he's going to do it with a twist. Instead of recreating well known fare from Williams' rich country catalog, Scott dives deeper to find more obscure tunes that focus on the legend's bluesier material. Anyone who knows Williams' life story understands that he lived the blues, even as most of his music veered towards deep, and often heartbroken, C&W.
Along for this ride is an impressive backing band of roots/blues veterans like Stevie Ray Vaughan keyboardist Reese Wynans, legendary UK upright bassist Danny Thompson and Marco Giovino (Band of Joy) on drums. The sound runs from the relatively stripped down "When You're Tired of Breaking Other Hearts" with Scott playing sweet slide lines (also shifting into Williams' notorious falsetto) to the low down Austin-influenced shuffle of the appropriately titled "Low Down Blues." The most recognizable selection is a ballad version of the classic "Lost Highway" which gets a beautiful and sincere reading with some of Scott's warmest vocals.
He goes swamp rocking on "Fool About You," tearing into the tune with the tough, gritty energy of the finest blues bands as Wynans supports with his Garth Hudson styled organ.  There's a strong gospel thread running through the sober, spoken word "Men with Broken Hearts," an early Hank composition describing how those in the song's title are connected regardless of their standing in life. "Life will sometimes be so cruel that a heart will pray for death," is one of the most vivid, even disturbing lyrics of that gem now resurrected by Scott.
But perhaps the project's most heartfelt (and surprising) moment has Darrell turning vocals over to the person who first introduced him to Hank's music: His father, Wayne Scott, who charmingly warbles through the solemn "When God Comes to Gather His Jewels" adding an unscripted narration of his mother's passing.
"Wayne adored Hank and loved to play and sing in his style," Scott says. "He excelled at 'Long Gone Lonesome Blues' due to the song's yodeling. "That was almost the test of whether you could sing Hank or not, from my dad's point of view," Scott says.
TRACKLIST:
1. "My Sweet Love Ain't Around"
2. "Lost Highway"
3. "Fool About You"
4. "Men With Broken Hearts"
5. "The Blues Come Around"
6. "When God Comes And Gathers His Jewels"
7. "When You're Tired Of Breaking Other Hearts"
8. "Low Down Blues"
9. "(I Hear That) Lonesome Whistle"
MUSIC FOR OUR TIME


Scott originally timed the album release around MerleFest, which he was scheduled to play this week. The storied roots music festival, held each spring in Wilkesboro, North Carolina, was canceled due to COVID-19 precautions, like virtually every other gathering of its size for the time being.
Instead, Scott, like other artists, has pivoted to promoting his music online. He is offering livestreamed shows and archival content through a Patreon page. He sees hope and possibility in these new revenue streams and creative platforms.
"Part of it is because we're not out on the road," he says. "And part of it is we want to step up and try to bring some comfort and some music and some soul and some emotion and some connection during this time."
Pick up Sings The Blues Of Hank Williams via curbside delivery or at our webstore, along with these other great Darrell Scott releases. Give us a call at 864-235-7922 or email info@horizonrecords.net to arrange for curbside pickup, or visit the webstore by clicking HERE.