Musicians and labels have had to dig deep in adjusting to the financial and cultural challenges of the Covid pandemic. The Ohio-based cult independent soul label, COLEMINE has responded to the disappearance of gigs, the enforced closure of its store and the subsequent hit taken to income streams with a pair of killer compilations featuring a batch of irresistible funk/R&B tracks, oddities and hidden gems from their miles deep catalog: BRIGHTER DAYS AHEAD & SOUL SLABS VOL. 2. 

BRIGHTER DAYS AHEAD (in-stock NOW at Horizon Records on 2xLP and CD) is a sumptuous twenty-two-song double LP set consisting of this music released by
the label in 2020; one featuring artists on the Colemine roster and the other showcasing artists on their sister label, Karma Chief. A gorgeously presented and impeccably curated collection of smoldering Lockdown oddities from the boutique soul and funk imprint, Colemine, Brighter Days Ahead provides a rallying cry for the genius of this niche independent label. (Buy it HERE).
Kicking off with the immaculate, Budos Band-style simmering and snaky instrumental funk of "Sommer," Ironsides packs a swaggering punch. The dulcet tones of Thee Sinseers and The Resonaires lean towards stately 1970's chamber-soul of the Delfonics and Chi-Lites vintage, while Ikebe Shakedown's take on Ennio Morricone's 1967 track, "Adonai," replaces the original's use of human voice as an instrument of melody and rhythm with the frenzied sweat of punchy horn blasts. The Winston Brothers' low-slung Winston Theme exudes the gritty desert funk of prime Meters and The Harlem Gospel Travellers traverse gospel and disco-soul on the rousing Nothing But His Love.
Kendra Morris and Neal Francis radiate soulful AOR chops on the lavish This Life and the gleaming Changes respectively, whilst trippy New Yorkers Ghost Funk Orchestra dial up cinematic, David Axelrod-styled psychedelia and hot-buttered cop show soul on Fuzzy Logic and Young Gun Silver Fox's Baby Girl is endowed with the fine-tooled soft-rock of late 70's Hall and Oates.
Taken as a whole, Brighter Days Ahead serves as an enticing overview and a testament to a label's impressive strike rate. It's a beautifully concocted package that reeks of an inclusive ethos, where the smouldering, Jimmy Smith-like jazz of Delvon Lamarr Organ Trio can sit snugly alongside the strident reggae skank of Jr. Thomas and the Volcanoes and Reverend Baron's M Ward-inflected helping of Laurel Canyon vibes. Compilations can be patchy but this delicious release cooks up deep pleasures time after time.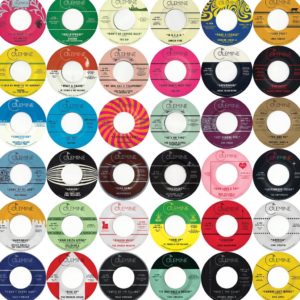 SOUL SLABS VOL. 2 is a 3xLP set (in-stock on FRIDAY, MARCH 12th) that keeps the party going with 27 tracks that covers Colemine's 2019 7″ releases. This collection never slows down; how about the super on fire track "America" from Soul Scratch, the jazzy jigs in the instrumental "Featherbed Lane" from Mestizo Beat or the passionate cover of "Bang Bang" from Monophonics? The music itself has a complete old school sound but it hums out your speakers with its perfect tempo balance and top quality delivery. It doesn't matter which track you start with on Soul Slabs 2, because you just can't go wrong. Every turn here deserves a foot tap, a sway of the shoulders and a little self-groove as the compilation encompasses the spirit and drive behind modern soul.
Considering that many of the artists here will be new to people outside the Colemine following family, it's a compilation that is the perfect starting point for anyone wanting to get a top end sample of this surging genre.
Outside the music, the greatest achievement of Soul Slabs 2 is Colemine Records. Their dedication to their "sound" can be heard on every song and the care that is injected into this compilation shows.
Get Brighter Days Ahead NOW at Horizon Records or in our webstore, and get ready for Soul Slabs Vol. 2 on March 12th!