For years now, the KANNEH-MASON family has excelled in the field of classical music. The seven Kanneh-Mason brothers and sisters, who range in age from their early teens to their mid-20s, all play either violin, piano or cello, have won many prizes and awards and appeared in numerous television shows; the five eldest performed at the Bafta awards in 2018 and all seven appeared in the December 2019 Royal Variety Show. In October 2020, they released their first album Carnival on Decca Classics to great critical acclaim and in May 2021 received the Global Award for Best Classical Artist.  All the children attend or have attended London's Royal Academy of Music and its Primary and Junior Academies. And now, both brother SHEKU KANNEH-MASON and sister ASATA KANNEH-MASON have released albums that carry forward their family's legacy.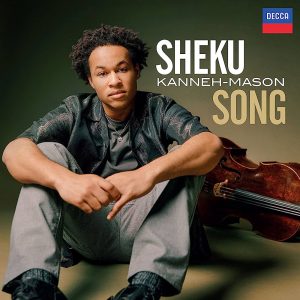 SONG
(Get your copy HERE.)

Sheku Kanneh-Mason's SONG (in-stock NOW on CD and LP at Horizon Records) is his most personal album yet, presenting a musical portrait of the gifted musician. Stretching from Bach to Bacharach and beyond, Song sees Sheku present an extraordinary kaleidoscope of music spanning four centuries. He and his cello travel effortlessly from simple folk tunes through to classical works including Beethoven, Mendelssohn and Stravinsky, to jazz melodies and an original pop song, co-written by the cellist himself – all the while demonstrating his innate ability to communicate with his listeners. This eclectic mix of styles, all tied together by the striking sound of Sheku's cello, reflects his breadth as a musician, demonstrating how he takes inspiration from many genres.
On Song, as well as performing solo, Sheku is joined by some of the musicians he loves working with, collaborating with both family and friends while showcasing his skills as both arranger and composer.
Sheku also shares his own take on Aretha Franklin's 'I Say a Little Prayer' (written by Burt Bacharach) for solo pizzicato cello. As a child he would play around with melodies like this when procrastinating about cello practice, and then went on to perform it as an encore. He also improvises with friend and jazz pianist Harry Baker on the melody 'Cry Me A River', a song most famously recorded by Ella Fitzgerald. He also presents his own first arrangement of Bach for multiple cellos.
For their original song, 'Same Boat', Sheku collaborates with a good friend, singer-songwriter Zak Abel. As Sheku explains, they wanted to combine "the raw intimate sound of Zak's voice with the organic sounds of the cello." And for Massenet's beautiful 'Élégie', he joins forces with another vocalist, the striking South African soprano, Pumeza Matshikiza. Another world premiere on the album is a new work (commissioned by The Royal Academy of Music, where Sheku studied) from British composer, Edmund Finnis, who wrote the 'Five Preludes' especially for Sheku, while, amongst several established works, the cellist also brings us a movement from the incredibly moving 'Quartet for the End of Time' by Messiaen. In short, the Song album is incredibly beautiful and truly does represent artistic excellence.
Mr. Gene sez…
"Sheku Kanneh-Mason is already in great demand from major orchestras and concert halls worldwide. He became a household name in 2018 after performing at the wedding of the Duke and Duchess of Sussex at Windsor Castle, his performance having been greeted with universal excitement after being watched by nearly two billion people globally. This latest album, Song, showcases his lyrical playing with a wide selection of arrangements and collaborations. It's a masterful cello journey with a wonderfully easy to enjoy blend of selections wandering from JS Bach, to traditional folk tunes to Stravinsky, Beethoven, Villa-Lobos, Mendelssohn, and closes with a Burt Bacharach composition."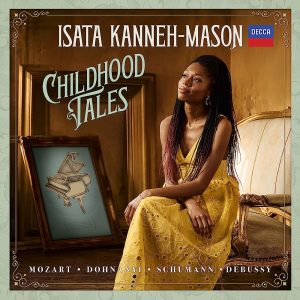 CHILDHOOD TALES
(Get your copy HERE.)
The eldest of the famous musical siblings, Isata's first memory of playing the piano was as a five-year-old on holiday in the Caribbean and sitting in front of her grandparents' instrument. With a reputation for inventive programs, expressive performance and accomplished technique, Isata is in increasing demand nationally and internationally.
Isata evokes the magic of her youth on CHILDHOOD TALES (in-stock now on LP and CD),  a charming collection of nostalgic music. The album is centred around Ernő Dohnányi's rarely performed Variations on a Nursery Song, expanding the well-known 'Twinkle, Twinkle, Little Star' into a truly virtuosic work which takes the theme through eleven musical variations and a fugal finale. Subtitled "for the enjoyment of friends of humour, to the annoyance of others", it saw great success when it was introduced in the UK in the 1910s, with its witty, kaleidoscopic mix making this a concert favourite for many years afterwards before falling out of fashion – it was subsequently performed almost every year at the Proms from 1920s to 1950s. Isata is joined by the Royal Liverpool Philharmonic Orchestra, with whom she previously recorded Clara Schumann's Piano Concerto for her 2019 album "Romance" on Decca.
Debussy's enchanting Children's Corner is a six-movement suite written for his 6-year-old daughter that symbolizes a return to the innocent world of children, featuring familiar tunes like Cakewalk and the playful Doctor Gradus ad Parnassum. The suite is full of child-like charm and sentiment and portrays the experiences of childhood.
Robert Schumann's simple and unpretentious collection of 13 short pieces, Kinderszenen ('Scenes from Childhood'), were intended as adult nostalgia. The most well-known of which is Träumerei (Dreaming), a touching tribute to memories and experiences of childhood from an adult perspective, portrayed through the rich and poetic musical lens of Schumann.
Bringing new life to treasured works and shining a light on the nostalgia of childhood in music, Isata's artistry carries the flame for a new generation of concert pianists at the forefront of recorded music.
Both these albums represent intensely personal music and brilliant playing from both artists, and they ensure that the Kanneh-Mason name will continue to resonate with classical music fans, and fans of great music in general, for years to come.