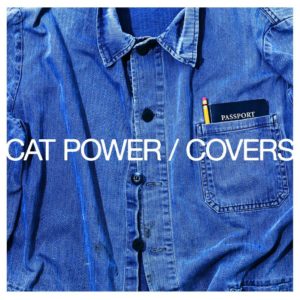 Cover songs have always occupied a crucial place in the CAT POWER canon, and COVERS (out this Friday) completes a trilogy of sorts, following beloved past Cat Power collections Jukebox (2008) and The Covers Record (2000). While she frequently delights and surprises with the songs she chooses to cover, it's CHAN MARSHALL's total commitment to the performance – imbuing the songs with a creative singularity that rivals her original work – that make Cat Power covers so special. Says Pitchfork, Marshall can "rearrange a song simply by squinting at it."
Get Covers on CD, LP and indie-store-exclusive gold vinyl HERE.
On Covers, Marshall reaches back to songs that have affected her from childhood to the present,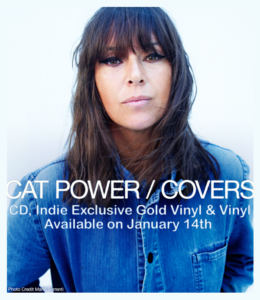 connecting each with a deeply personal memory. She recalls her grandmother's love for Billie Holiday's "I'll Be Seeing You" and finding a box of cassettes as a teenager that led her to discovering Kitty Wells' "It Wasn't God Who Made Honky Tonk Angels." She remembers getting chills hearing Iggy Pop's "Endless Sea" in the 1986 Michael Hutchence film Dogs in Space and being a broke artist in her twenties in New York City spending her last dollar to play the Replacements' "Here Comes a Regular" on the jukebox at Mona's. She recorded the Pogues' "Pair of Brown Eyes," which she calls one of her favorite songs of all time, after it reminded her of one friend who passed from cancer and turned to Bob Seger's "Against the Wind" to help her heal from the loss of another.
Alongside covers of rock-and-roll icons from Nico to Nick Cave, Marshall brings her inimitable vocal power and elegant arrangements to songs by contemporary artists, capturing the defiance of Dead Man's Bones' "Pa Pa Power" and the dreaminess of Lana Del Rey's "A White Mustang." And the album opens with a dazzling cover of Frank Ocean's "Bad Religion," of which she says, "I believe in whatever God is called… But I think that the wretched men that have come in history to implement horror on humanity in the name of these religions is something that should be looked at universally."
Finally, Covers finds Marshall, an artist of constant evolution, reworking "Hate," a song from her 2006 LP The Greatest on which she sang "I hate myself and I want to die." Marshall says she has always felt "antsy" about the track and reimagined it as "Unhate," a new version that looks back on the raw devastation of the original track in the rearview. "We all have bad days," she says. "We all have shit, trauma, something. There are times when you feel like that. But I needed to make it right."
We'll have Covers in the house and in our webstore on January 14th, and check out these other in-stock Cat Power releases too!