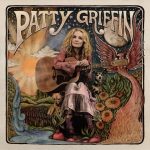 PATTY GRIFFIN, Patty Griffin (CD/LP)
It's taken Patty Griffin more than 20 years and nearly a dozen albums to issue a self-titled release. There may be no particular reason for the designation, but considering its intensely meditative character, her recently-revealed successful battle with cancer and her dedication to besieged causes like refugees and the environment, it seems like a deliberate choice. Recorded mostly in the Maine native's Austin, Texas, home studio with longtime collaborator Craig Ross, Patty Griffin varies seamlessly between American folk, Celtic-rooted tunes, chansons and beyond with the excellence and elegance Griffin's songwriting has deservedly become known for. David Pulkingham's Mediterranean-style guitar phrases underpin opener "Mama's Worried," one of several songs on the 13-track album that include seas, rivers and oceans as symbols of strength, vastness and even justice. "River" may be about a woman who is "ever changing and undefined," or it could be an ode to an admired waterway with a will of its own. "Coins" is one of two tracks featuring Griffin's ex-beau Robert Plant, whose harmonies are endearingly subtle and supportive, with his contribution to "What Now" — a yearningly-sketched song of uncertainty with droning tones and Griffin's mandolin-like guitar and riveting vocals — especially translucent. "Bluebeard," based on the French tale of the monstrous husband and the curious wife, and "Boys from Tralee," detailing the dire fates of Irish immigrants, have similar folk approaches, while "Hourglass" slips its yearnings for freedom into a New Orleans trombone pocket. Road song "Luminous Places" covers a wide terrain before an intimate conclusion, and closer "Just the Same" ponders a relationship's ebb and flow and the consequences of patience and perseverance. Griffin has never sounded any less than fully engaged on any of her albums and now that her name is on the building, so to speak, her commitment is as profound as ever.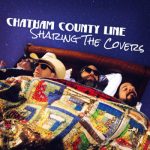 CHATHAM COUNTY LINE, Sharing The Covers (CD/LP)
Sharing the Covers is Chatham County Line's eighth album, which means fans of this Raleigh-based fourpiece know by now they'll likely be in for a faultlessly produced and smoothly performed collection of bluegrass music  – and they won't be disappointed. And given this band's proven ability to create an entire song's lyrics  "Ringing in My Ears" out of lines borrowed from Paul Simon, George Harrison, Willie Nelson et al, as well as their having versioned "I Shall Be Released" way back on their second LP, a CCL covers album isn't such a surprise in itself. What is less predictable the sheer range of  musical influences to which CCL  wish to pay tribute on this latest, 13-track album. OK, "I Got You (At The End Of The Century)" isn't exactly off the Americana radar, though the rip-roaring enthusiasm and pace of their cover  is all CCL's own doing, and  towards the far end of the album, reworking John Hartford's "Grand Ole Opry" seems equally reasonable. (Given that Hartford himself once did a bluegrass covers album Retrograss, 'it feels almost like an in-joke). But these are not the tracks that make Sharing the Covers such a powerful celebration of musical diversity. Rather, it's the  combination of much more improbable tributes –  like, say, their version of jazz guitar giant Johnny Smith's "Walk Don't Run,"  or "I Think I'm in Love" by art popster Beck or Irish soul singer James Hunter's "People Gonna Talk" – and the care and passion with which they've been re-arranged into bluegrass numbers. Put simply, it feels like the Chatham County Liners have chosen a collection of songs that really matter to them, for whatever reason, and then do their utmost to honour them in their own musical style. Somewhere between the two extremes of predictable and surprising cover of "Watching the Wheels Go Round" hits home so hard you wonder why John Lennon didn't use a banjo for the opening riff. "Girl on the Billboard"  makes you want to re-hear the original too, if only to check that Del Reeves really does have his haplessly lovestruck lorry driver-cum-narrator describe himself as "a double-clutching weasel". (For the record, he does.)  Furthermore, Tom Petty fans will doubtless approve that the harmonica solo which features in the original  "You Don't Know How It Feels" is also present here – and just like the original, giving a huge lift to the CCL version. It feels right somehow that rather than get overly experimental in an album that is all about honing very different material into one style, there's no tracks with, say, drums (which CCL used to great effect in their fifth album, "Wildwood")  or electric guitars. But whilst  the purists can still  (and probably will) quibble at the piano leading the way on "Lay Down My Old Guitar" -a nice musical irony, bearing in mind the song title – it'd be their loss, given  the heart-stoppingly melancholy beauty of  CCL's version, bringing down the curtain on this fine album in  the finest of styles.

NICK WATERHOUSE, Nick Waterhouse (CD/LP)
Why should Daptone, Eli "Paperboy" Reed and James Hunter have all the fun when it comes to churning out classy contemporary/retro soul? It's a question Nick Waterhouse might have asked himself back in 2010. Or more likely, why can't that pie get a little bigger with a shot of blue-eyed R&B from a West Coast bred lover of the kind of '50s and '60s sounds Austin Powers used to find "groovy baby"?  Nine years, three critically acclaimed albums and plenty of road work later, Waterhouse has answered that query to everyone's satisfaction. His music finds the perfect storm where Ray Charles, the Dap-Kings and JD McPherson meet for a shimmy-shimmy-ko-ko bop combination of styles guaranteed to get any dance floor vibrating.  But lyrically, everything is not quite as rosy in Waterhouse's world. On the hip Motown-infused "Wreck the Rod," he croons, "Love is a trap/ Love is a lovely suicide pact" as backing singers shout "love" in staccato harmony, a King Curtis-styled tenor sax wails, and Waterhouse howls with abandon. On the slinky, stripped-down "Which Was Writ," he sings, "I used to trust but I learned that I was wrong" over a feline walking bass, subdued guitar and backing "woo-woos." He's angry about televised fakers — be they politicians or preachers — on "Man Leaves Town," a toe-tapping jazzy garage rocker with the biting lyrics "Man came to town/ came through your TV screen/ convinced you he knew just what you mean." There are plenty of edgy love tunes too, like the swinging "Urge Coming On," the disc's only cover. Here the backing singers bring the churchy Raelettes/Ikettes feel (not surprising since the song's writer Joshie Joe Armstead was once a member of both those vocal acts) as Waterhouse goes pure Jackie Wilson. And just for fun, he adds an instrumental called "El Viv" that combines the Champs' "Tequila" with a shot of Booker T. and the MG's that's as frisky and lively as watching Pee Wee Herman dancing. Even when the concepts are heavy as in "Song for Winners," where Waterhouse sings, "I tried listening/ tell you what I hear/ I hear no fearlessness/ only fear," the garage-soul of the plucky "Shakin' All Over" lick will keep you boogying like no one is watching.  It's an all killer-no filler set that's the culmination of everything Nick Waterhouse has accomplished for the past nine years. He might have plenty bugging him, but with soul music this joyous and exuberant, you'll be too busy riding the groove to care.
VARIOUS ARTISTS, Joni 75: A Birthday Celebration (CD)
An incredible array of artists and musicians honor one of the world's most revered artists, Joni Mitchell, on her 75th birthday on Joni 75: A Birthday Celebration. The all-star tribute salutes Mitchell as a boundary-breaking artist highlighting her songs throughout her career. Featured performers include Brandi Carlile; Glen Hansard; Emmylou Harris; Norah Jones; Chaka Khan; Diana Krall; Kris Kristofferson; Los Loboswith La Marisoul, Cesar Castro & Xochi Flores; Graham Nash; Seal; James Taylor; and Rufus Wainwright.
DAVID GRAY, Gold In A Brass Age (CD/LP)
DIDO, Still On My Mind (CD/LP)
MAREN MORRIS, Girl (CD/LP)
WEEZER, The Teal Album (CD)
MEAT PUPPETS, Dusty Notes (CD/LP)
TRILOK GURTU, Spellbound (CD)
COMING SOON:
STEPHEN MALKMUS, Groove Denied (3/15)
TIM O'BRIEN BAND, Tim O'Brien Band (3/15)
SNARKY PUPPY, Immigrance (3/22)