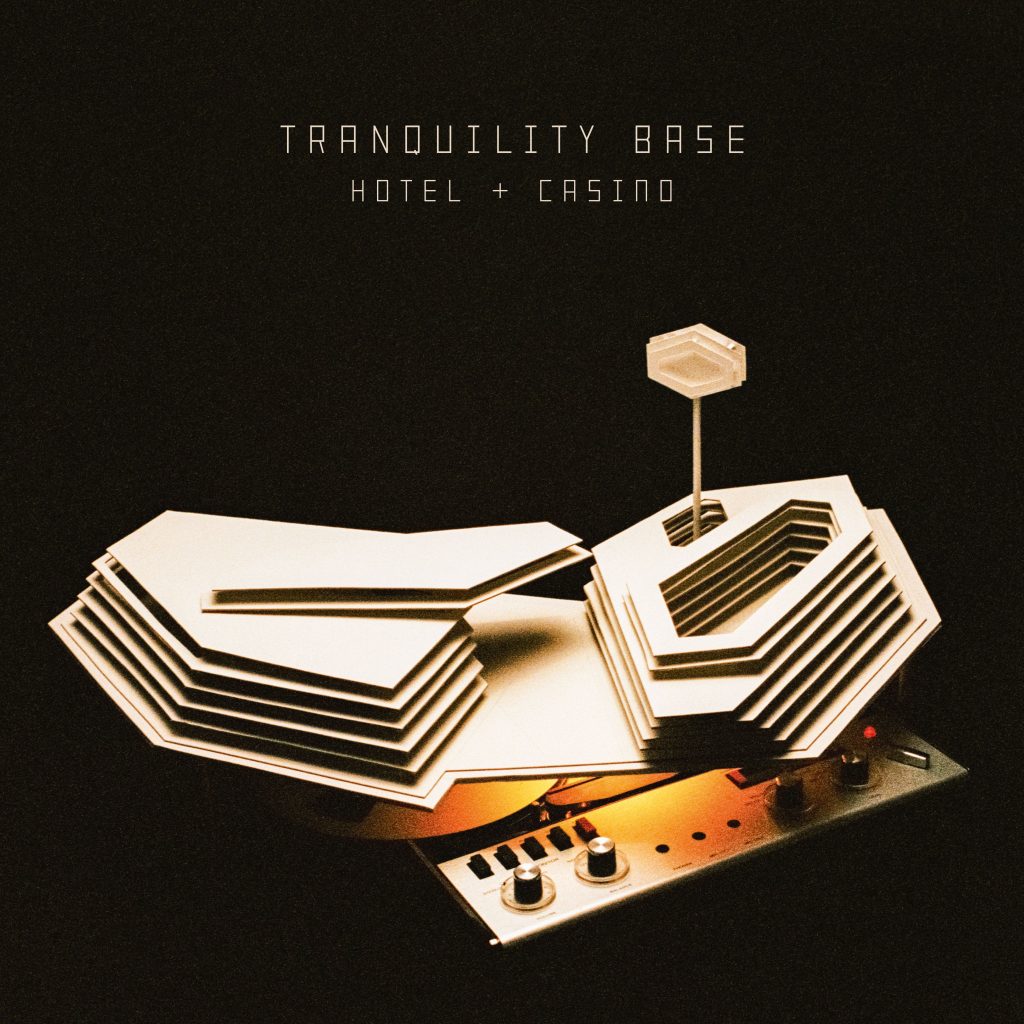 ARCTIC MONKEYS, Tranquility Base Hotel & Casino (CD/LP)
There are hard acts to follow, and then there's Arctic Monkeys' last album. 2013's AM was, in so many respects, the perfect rock record of our times. With a few exceptions, mainstream indie guitar music often seems an exhausted idiom, trying on fifth-hand poses to diminishing creative returns. On AM – a record about lust in LA – the Monkeys' carnivorous riffs and piledriving drums exchanged body fluids with the slink and anomie of contemporary R&B and west coast hip-hop. AM's qualitative brilliance was matched by its quantitative uptake, earning the Sheffield outfit No 1 spots internationally, and a massive new audience in the US. Was it the band's best since their 2006 debut, Whatever People Say I Am, That's What I'm Not? In all likelihood. Five years on, Tranquility Base Hotel & Casino totally strips out the rock from the Arctics' offering. Sure, there's a fuzz-toned guitar on Golden Trunks. The low-slung She Looks Like Fun opens with a very rock band-y "one, two, three, four". Guitarist Jamie Cook, drummer Matt Helders and bassist Nick O'Malley are here, but they are muted, repurposed. All contribute to the vibe – not least, in soulful falsetto backing vocals – but their instruments are not slamming up against your chest cavity and dislocating your spleen. Instead, singing guitarist Alex Turner has taken his muse off into space – the moon, specifically. It's an awe-inspiring place, somewhat despoiled by humans and their need to build hotel-cum-casinos near the Sea of Tranquility. If you've been to Niagara Falls, you'll have a flavour. There's a taqueria on the roof, too, scoring four stars out of five ("and that's unheard-of", vamps Turner).  This is another record, tangentially, about coupling and uncoupling in LA, as songs like Science Fiction ("I must admit you gave me something momentarily in which I could believe") and Batphone ("I'll be by the batphone if you need to get a hold") attest. But it is set, sonically and aesthetically, in a cocktail lounge, looking back on the home planet with a seething croon. Buried inside scenarios, allusions and lunar perspectives are disarming moments of what you might laughably call "realness" in the hall of mirrors that is art. "So I tried to write a song to make you blush," sings Turner, "but I've a feeling that the whole thing may well just end up too clever for its own good, the way some science fiction does." There is a risk that this atmospheric record, one that wrong-foots expectation, might not land well. But this voyage into themed purgatory – what one song calls the Ultracheese – is worth it.
BEACH HOUSE, 7 (CD/LP)
Beach House have spent the last decade-plus making music that hums with feverish intensity even at its most quiet. The Baltimore duo's albums inspire cult-like devotion from fans, which makes sense: Victoria Legrand and Alex Scally are less a band than a two-person mystical order, endlessly searching for new secrets in the same sacred texts, from Cocteau Twins to the Beach Boys. It's a subtle sound, better suited for insomniac nights than festival stages, but don't let that lull you into missing the point. Almost no indie-rock acts that debuted in the 2000s have made it to the present day with fewer missteps. 2015's Depression Cherry was Beach House's lushest album to date, raising the question of how they could possibly top it, short of tapping a team of quantum scientists to develop even headier reverb pedals. 7, which arrives after the understated/underrated Depression Cherry companion piece Thank Your Lucky Stars and a 2017 B-sides set, is the duo's first attempt since then to push their sound forward. The lead single, "Lemon Glow," signaled that Legrand and Scally were serious about evolving. With its synths pulsing in bold, outrageous color, it's a radical blast of psychedelic pop bliss. The rest of 7 isn't quite that wild, but it's just as thrilling. This is the least introverted record Beach House have ever made; it'll still blow your mind with candles lit and headphones on, but it's the first time they've sounded like a band you might want to hear at a party with more than one guest. Some of the credit goes to co-producer Pete Kember of Spacemen 3, who's polished every surface to a fresh gleam, but mostly it's about Legrand and Scally's confidence in their own powers. "Black Car" and "Drunk in LA" revel in their expansive melodies. "Pay No Mind" and "Lose Your Smile" burn so slow and majestic, they are practically power ballads. These are big songs, full of wonder, and Beach House know it. Seven albums in, they're at the start of something new.
LUKE WINSLOW-KING, Blue Mesa (CD/LP)
Don't look for ferocious twists and turns on Luke Winslow-King's "Blue Mesa." Though he well knows life is usually far from trouble-free, this is a collection of soulfully simple and effective songs with a wide range of guitar sounds and a mix of blues, rock, folk and boogie. Returning to his native Cadillac, Michigan, after a long stint in New Orleans, Winslow-King recorded the album in the Tuscan region of Italy with a band including guitarist Roberto Luti, drummer Chris Davis, keyboard player Mike Lynch and Christian Carpenter on bass. While its predecessor, "I'm Glad Trouble Don't Always Last" from 2016, dealt with the breakup of his marriage, the source of his melancholy this time were the deaths of his father and of "Washboard" Lissa Driscoll, one of his New Orleans mentors. The title track is a gentle road song in farewell mode with a weeping slide guitar, while the character on "Born to Roam" probably won't even bother saying goodbye. In any case, he's settled down considerably by "Better for Knowing You," an admission that things are better when you have someone to share them with. "Thought I Heard You" is ZZ Top-style boogie with a heart of stone, while "Chicken Dinner" (written with Driscoll) has some cool horns and playful interplay between the guitars. "After the Rain" is another laidback tune, like something from the early 1970s by Taj Mahal or Ry Cooder. Driscoll also co-wrote opener "You Got Mine" and the album ends fittingly with "Farewell Blues." Written after his dad's diagnosis, a combination of violin, slide guitar and accordion bears the burden of the emotions and leaves Winslow-King to express his hurt with a deceptive calm in his voice. Winslow-King has raised the bar a few notches with every new album and it's the unadorned and heartfelt sincerity of the songs that elevates "Blue Mesa" above the horizon.
RY COODER, Prodigal Son (CD/LP)
Guitar virtuoso Ry Cooder has spent the majority of his 50-year career as one of the country's most vital communal historians and champions of roots music, illuminating and reanimating everything from bolero to bluegrass. Over the past decade or so, Cooder has also emerged out of his group of Sixties and Seventies contemporaries as one of folk music's preeminent polemicists, channeling Occupy Wall Street angst on 2011's recession-era lament Pull Up Some Dust and Sit Down and, more recently, lambasting the GOP on 2012's Election Special. On The Prodigal Son, however, Cooder returns to his foundation as vital roots music re-furbisher, spending the majority of the album dismantling and reassembling a series of 20th-century gospel, blues, folk and bluegrass traditionals. The never-predictable results range from rousing (see Cooder's partially rewritten title track) to revelatory ("Straight Street," "Harbor of Love"). And although there are no condemnation as literal as 2012's "Mutt Romney Blues" to be found this time around, Cooder is far from apolitical. In his mere three originals, the singer-songwriter-arranger, fueled by a mix of offbeat humor and righteous crankiness, crams references to climate change, third-world sweatshops, gentrification and fascists – the latter, most pointedly, on his six-minute epic "Jesus and Woody." The Prodigal Son, Cooder's first album in six years, serves both as an urgent commentary on our current dystopia and a satisfying window into the interpretive process of a musical mastermind.
BRENT COBB, Providence Canyon (CD)
FRED HERSCH TRIO, Live In Europe (CD)
JOHN MELLENCAMP, Plain Spoken (From The Chicago Theatre) (CD)
MAX RICHTER, The Blue Notebooks (CD/LP)
THE SEA & CAKE, Any Day (CD/LP)
SEVENDUST, All I See Is War (CD)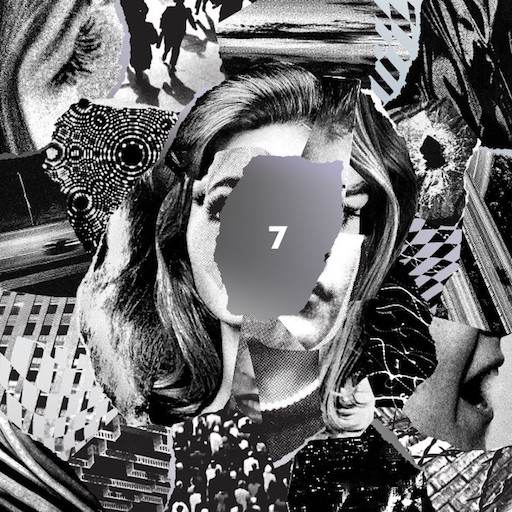 COMING SOON:
BEACH SLANG, Everything Matters But No One Is Listening (5/18)
RAY LAMONTAGNE, Part Of The Light (5/18)
PARQUET COURTS, Wide Awake (5/18)