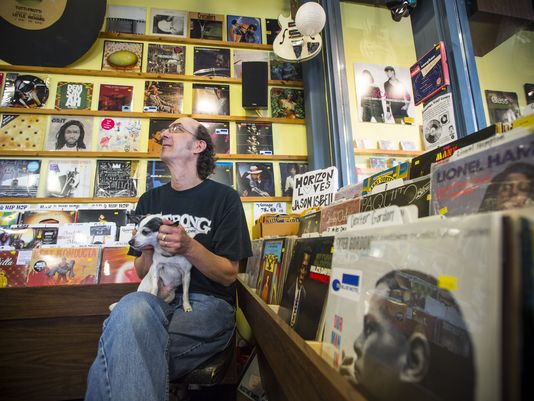 by Donna Isbell Walker, photo by Mykal McEldowney. Record stores and the vinyl albums on their shelves may feel like a relic of 1975.
In 2015, when it seems everyone carries around a cell phone or tablet stuffed with hundreds of their favorite songs, the era of 33-rpm LPs that require a turntable and an electrical outlet can seem like a long-forgotten epoch.
But at Greenville's Earshot music store, a 1977 Fleetwood Mac LP is one of the hottest pieces of merchandise, and at Horizon Records, vinyl records account for about half of the store's sales.
It's a trend that's been building, record store owners say, part backlash to an increasingly corporate world of digital downloads and big-box stores, part rediscovery of old-school music by a generation raised on MP3s.
On April 18, music stores in Greenville will take part in Record Store Day, an international celebration of independent music stores that began in 2007. Local stores will feature live performances and special sales throughout the day, and musicians from Bob Dylan to Florence + the Machine to Foo Fighters are releasing Record Store Day exclusives on that day.
In recent years, digital downloads and streaming services have taken the place of music stores for many, so Record Store Day has become "a way for people to remember record stores," said Franklin Farr, manager of Earshot, which will celebrate the event with a DJ spinning tunes in the morning, followed by live performances in the afternoon.
"Across the country, record stores have just closed non-stop over the past few years," Farr said. "There were great stores that went under. But this definitely brings life back to all the stores."
At Horizon Records, the doors will open at 8 a.m. on Record Store Day, and concerts will go on throughout the day, including a free performance by Jason Isbell and the 400 Unit at 1 p.m. There's even an after-party planned for the following day. But every year without fail, fans line up early for Record Store Day, said owner Gene Berger.
Sales on that day typically surpass every other day of the year, Berger said.
"We're a veteran of 40 years of record retailing, and I am just so amazed by this experience," Berger said. "There will be a line waiting to get in the door at probably 7 a.m. … For a record store, that's amazing. It's bigger than Black Friday, it's bigger than the biggest day just before Christmas."
CDs are still popular at Earshot and Horizon, and BJ Music even sells the occasional cassette or eight-track tape, but Farr gives Record Store Day part of the credit for the vinyl renaissance.
The comeback of vinyl also has been cemented by contemporary artists, such as indie-rockers Jack White and Modest Mouse and rappers Run the Jewels, releasing their new albums on LP.
Randy Coleman, owner of BJ Music, said vinyl always has been a big seller at his store.
"We've been around since 1972, and we've never not sold vinyl," Coleman said. "Some of the things they're doing for Record Store Day this year, some of the (Bruce) Springsteen vinyl they're reissuing, we have the originals on them."
Earshot sells both new and vintage vinyl, and for Farr, it's been a little surprising to see the demand for classic rock albums in the LP format. Fleetwood Mac's 1977 album "Rumours," for example, used to sit on the shelves for months on end.
"But now, you can't keep Fleetwood Mac in the bins," Farr said. "We used to see 'Rumours,' pretty much every other week we would put a copy of 'Rumours' in there, and it would take months to sell. Now you put it out there, and it's gone."
The vinyl demographic, Farr said, starts around age 18 and runs to the late 40s, a blend of people who grew up with the format and those for whom MP3s have been the standard-bearer.
"Younger people buy vinyl; they don't really buy CDs. They didn't grow up in that age. But vinyl has been resurgent. I think for a lot of stores, it's definitely been like a second life," Farr said.
The way Berger sees it, young listeners are falling in love with how the music sounds when it comes from a turntable hooked up to a receiver and a set of speakers.
It's "sonically significant," especially for fans accustomed to hearing music on their phones or laptops or MP3 players, Berger said.
Horizon will celebrate its 40th anniversary this year, and Berger has watched the music industry go through every format imaginable. Through the decades, though, it's been that unassuming 12-inch black disc that has provided the foundation for his business.
"Records have been the saving grace of independent record stores. …What I like about it is, it's the rainbow coalition," Berger said. "It's people who bought vinyl originally are shopping for it again. It's the kids and the grandkids of those people. We have high-schoolers coming in, 'I just got my turntable. … Do you have any Led Zeppelin?'