by Hannah Hays
Jack White's Third Man Records may be the South's most recognizable record store, but smaller vinyl Valhallas can be found all across the region. To name our five favorites, we asked the help of Reed Watson, a co-manager of Florence, Alabama-based record label Single Lock and drummer for Belle Adair, who spent a decade working in record stores including Pegasus Records in The Shoals. (Full disclosure: he's also my boyfriend, who has a collection large enough to open his own store.)
End of All Music – Oxford, Mississippi
Mississippi is the birthplace of America's music, and this store's deep collection of blues, gospel, and soul echoes that. Their Record Store Day Special, a spoken word album by legendary Oxford writer, Barry Hannah, also reflects the state's rich literary history. But the present is also given just as much shelf space as the past. Started by one of the co-founders of record label Fat Possum (where The Black Keys got their start), the shop is also the best place to find the South's newest indie artists.
Horizon Records – Greenville, South Carolina
One of the most knowledgeable and enthusiastic shop owners in the country, Gene Berger started Horizon 40 years ago underneath his mother's yarn store after he dropped out of college. Now housed in a former Amoco gas station, it has become a community center for Greenville's music scene. His curated collection of jazz and classical is unrivaled in the Southeast.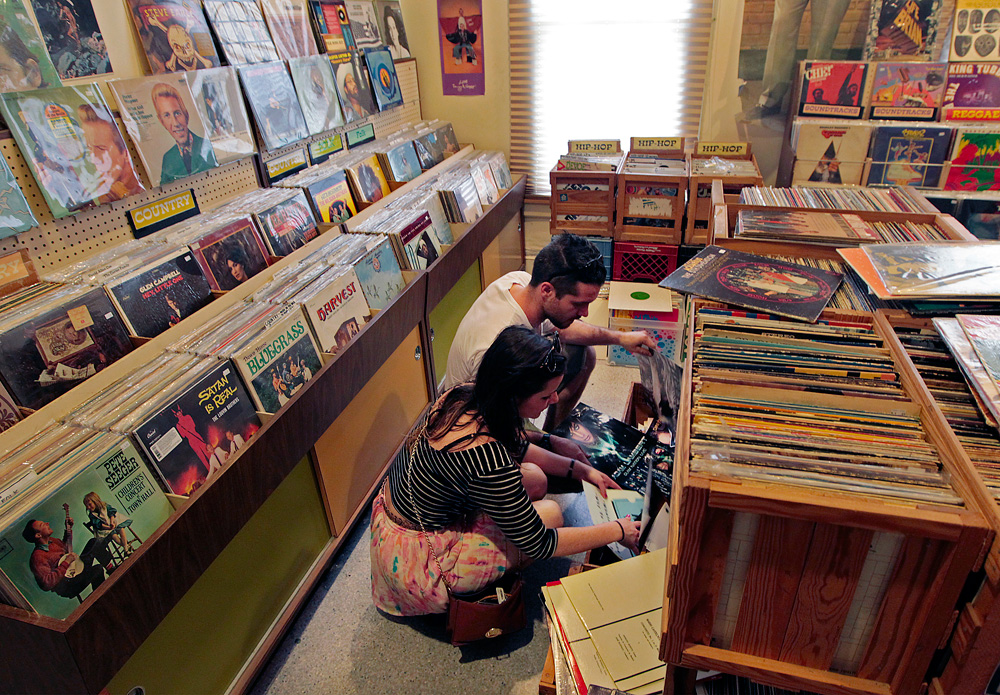 Photo courtesy of Memphis Daily News
Shangri-La Records – Memphis, Tennessee
Whether you're looking for Elvis' Sun Records recordings or Stax hits from Rufus Thomas or Otis Redding, even newer Bluff City artists like John Paul Keith, this grey house in midtown is the place to find Memphis music. For serious collectors, their rare records collection is worth the trip. Last time we visited, we spotted a sealed promotional copy of Prince's Purple Rain.
Domino Sound Record Shack – New Orleans, Louisiana
New Orleans staples Dr. John, Professor Longhair, and Irma Thomas are all here, but so is the South's largest collection of reggae and international vinyl, especially records from Africa. Their homemade mix tapes on actual cassettes range from Ethiopian wedding songs to zydeco tunes.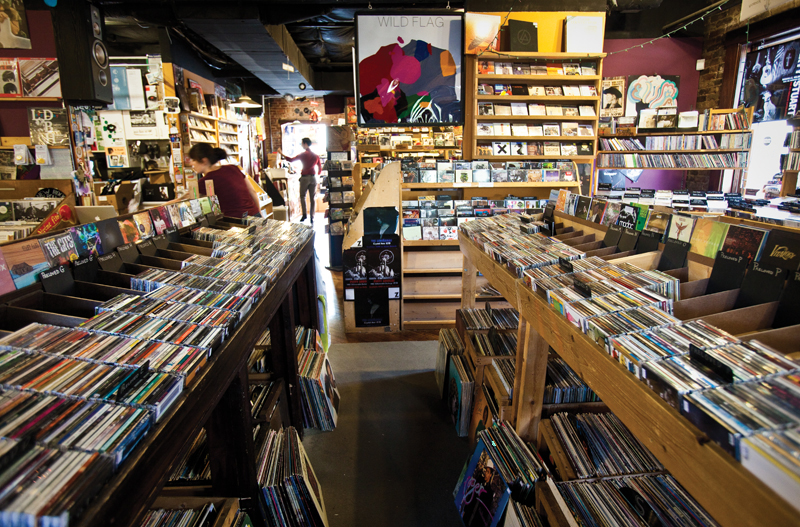 Photo courtesy of Nashville Scene
Grimey's New and Pre-Loved Music  – Nashville, Tennessee
There's a certain expectation for a record store in Music City, and Grimey's lives up to it with hundreds of thousands of albums across every genre from country classics to metal and a regularly-stocked selection of new releases. Downstairs, the shop's venue, The Basement, hosts some of the best in-store performances in the country. Ryan Adams' Pax-Am band and Natalie Prass are next up on their calendar.