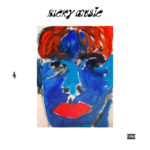 PORCHES, Ricky Music (LP/CD)
As on Porches' previous records, mastermind Aaron Maine brings in collaborators to help broaden the sound of Ricky Music—and this time it shows more than it has in the past. The singer Zsela and Dev Hynes of Blood Orange add backing vocals to "F*ck_3," which surrounds Maine's own effects-treated voice with horns, meandering jazz-adjacent piano and a clattering rhythm. Hynes also sings on album closer "rangerover," his limber lead vocals contrasting with Maine's drowsier backing parts. With an airy melody and a fairly straightforward arrangement of drums and synthesizers that morph as the song progresses, the song has the feel of an '80s R&B ballad. It's arguably the catchiest track on the album, or at least the one that lingers longest, but it's in good company. With its genre-agnostic, all-the-influences approach, Ricky Music is somehow Porches' most cohesive album so far.

MONOPHONICS, It's Only Us (LP/CD)
A reflection of what they see as the current state of the world, Monophonics "It's Only Us" touches on difficult subjects such as broken relationships, mental health issues, gun violence and power struggles, all with an underlying message of unity, resilience and acceptance. The band's signature style of arrangement has been expanded with top-notch production and creative instrumentation to round out the Monophonics' trademark soul sound, while Finnigan's vocals are more powerful than ever. At times these tracks can feel classic, as familiar as an old song you grew up with, while simultaneously raising questions about the state of music in 2020 and what the future might hold.
HONEY CUTT, Toasting (colored vinyl LP)
TREY GRUBER, Herculean House Of Cards (LP)
JOYFULTALK, Separation Of Being (LP)
DUNGEN, Live (LP)
SPINNING COIN, Hyacinth (LP)
KILLER REISSUES:


BRIAN BLADE, Brian Blade Fellowship (2xLP)
Brian Blade & The Fellowship Band is one of the most distinctive and long-running bands in Jazz in the 21st Century. The Fellowship first formed in 1997, helmed by drummer Brian Blade and defined by the tight bond among the musicians: pianist Jon Cowherd, bassist Chris Thomas, alto saxophonist Myron Walden, and tenor saxophonist Melvin Butler. Released in 1998, their Blue Note debut Brian Blade Fellowship was produced by Daniel Lanois, featured contributions by guitarist Jeff Parker and pedal steel guitarist Dave Easley, and introduced The Fellowship's unique sound which threads elements of jazz, folk and gospel music together with an uplifting hymnal quality.