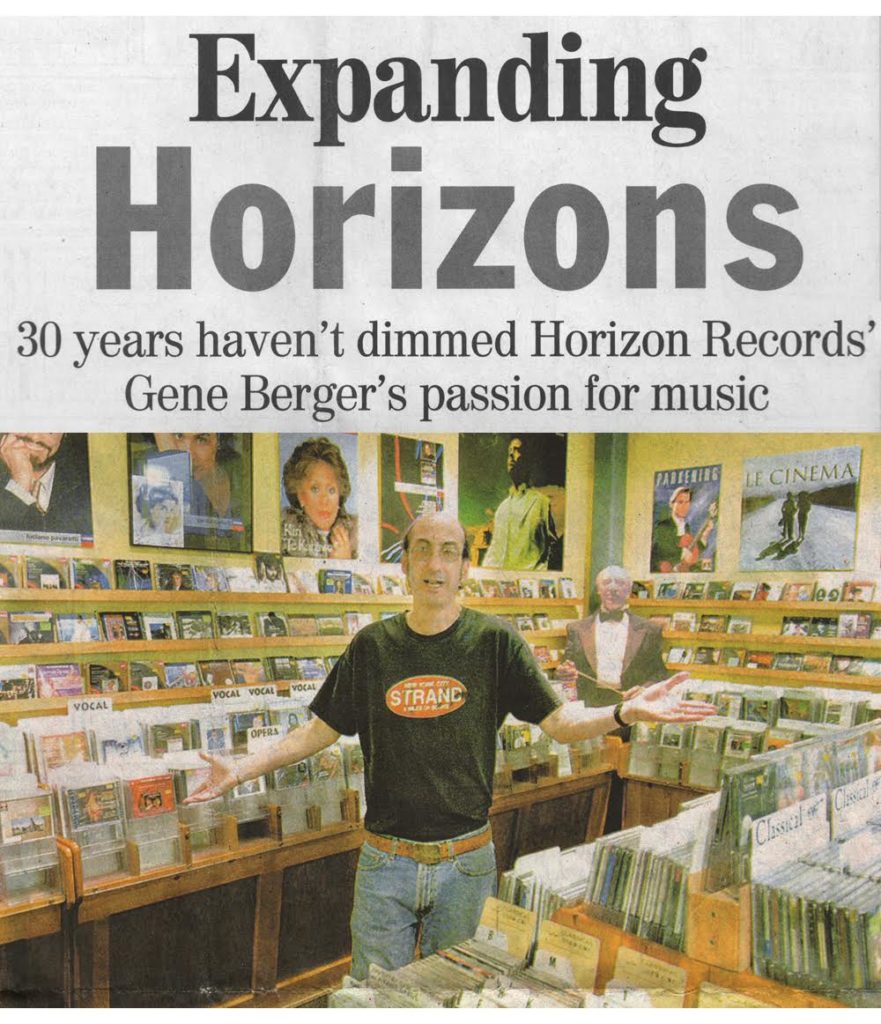 by Mike Foley, photos by George Gardner.
Posted Friday, November 18, 2005
As corporate headquarters go, the stuffy room at the back of Horizon Records is more utilitarian than showplace. Vertical rows of vinyl record albums line the floor and cover most of the available carpet, forcing visitors to snake through the accumulation like rats in a maze. Old concert posters, music company promotional photos, a rack of hundreds of CDs, and random bits of historic musical bric-a-brac cover the walls. Ensconced behind a worn wooden desk in this haphazard amalgamation, sipping his umpteenth cup of coffee of the day from a white mug emblazoned with: "Keep Austin Weird," is Gene Berger. Thirty years of the music business behind him, who knows how many to come.
Lean, with thinning hair and wire-rim glasses, and sporting jeans and a worn T-shirt, he hardly cuts an imposing figure. But behind the tame exterior is a fierce defender of music, musicians and his place in Greenville's history and future. He sips coffee and pauses to reminisce about his 30 years with Horizon. He talks about how he's been able to keep an independent music store afloat in an era where free music seems to many like a God-given right. As the words come and his story unfolds, it's appropriate that he sits beneath an 81/2-by-11-inch piece of paper on the wall with these words from journalist and iconoclast Hunter S. Thompson: "The music business is a cruel and shallow money trench, a long plastic hallway where thieves and pimps run free, and good men die like dogs. There's also a negative side."
For all intents and purposes, from all the musicians, record company executives, from his neighbors, his wife, and most importantly his customers, word is that Berger is just such a good man. That he hasn't died like a dog in bankruptcy and failure, as so many others who've tried to carve a living from a small music store, is a testament to his passion and his ability to create something from, well, not much. A community center There's one thing Sylvia Giannitrapani wants to make clear. Horizon Records, now in its third location in Greenville, in a Berger-designed former Amoco gas station at the corner of North Main Street and Stone Avenue, is not a simple music retailer. An executive with Ryko Distribution in Nashville, Giannitrapani has worked with Berger and Horizon for more than a dozen years. She calls the store "definitely unique" and hails it as a "music community center." "In the old days," Giannitrapani says via phone, "you might go over to someone else's house … listen to music and look at the gatefold album art. That doesn't exist anymore." Instead of sharing music with like-minded friends, people sit at computers at home alone, she says. "So, Horizon is a musical community center," she says. "Maybe you're shy and you just flip the CDs and records. But you can listen to what others are passionate about. You hear some new music and maybe you ask questions. "And then there's Gene. This is Gene's store, he's on the floor, and everything in there reflects his taste." In Giannitrapani's eyes, Berger is part teacher, part zealot, part pioneer. Berger is Horizon and vice versa. "He's always learning, and then he's sharing," she says. "He's a conduit."
It's not just selling CDs or old vinyl or DVDs or tapes, it's also bringing bands and performers to Greenville and broadcasting their performances on a WNCW radio show, too, Giannitrapani says. "It's a 3-D experience." She tells about how Berger brought The California Guitar Trio to Greenville for an in-store performance. "He's a teacher, yeah, but it's never a talking-down. It's like 'Oh my God, you've got to check this out. These guys can play the hell out of the guitar.' "
Dropout turned entrepreneur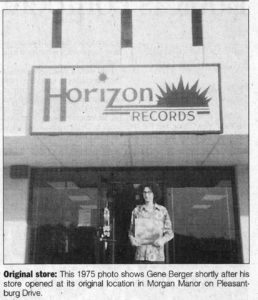 There was no plan when Berger, a dropout from Miami (of Ohio) University, returned to Greenville and at age 20 opened a record shop underneath his mother's yarn shop at Morgan Manor on South Pleasantburg Drive. He somehow convinced a bank to lend him $5,000 or $10,000—"some ridiculous amount like that," he says—coupled that with some meager savings, and he was in business in a 600-square-foot shop. "I knew a lot about some kinds of music, and not much about a whole lot more," says Berger, now 50, about his qualifications to run such a business. "I guess the next step after obsessive collecting is to end up opening a record store. It's like a food enthusiast opening a cooking store."
At that time, there was plenty of competition from shops like the Record Den, Mary's, Carol's Records, Record Bar and BJ Music, where Berger got his first taste of the business and a job in high school. "Record stores were everywhere back then," he says. "We just offered different music. A different expertise in other things."
Strangely enough, it worked. All of his competitors save BJ Music disappeared. Horizon, though it later moved to a larger space on Pleasantburg, and finally in 2003 to its current 5,000-square-foot location smack in the emerging arts community of North Main Street, survived and thrived. How and why is the question. Steve McGowan, who's spent several life savings at Horizon as he amassed a 5,000-LP collection of imported music and one-of-a-kinds that only Horizon carried, credits Berger. "When you walk into that store, they know what you like," the Greenville resident says. "They'll say, 'Hey, you like Elvis Costello, so you'll really like this John Wesley Harding album.' And you know, they're right. "The thing about Gene is, he really believes in the music. If you look at his store, he doesn't sell T-shirts, the bongs, the posters. He sells albums, CDs, some books. He's always maintained his store is about the music."
Definitely different
The disdain Berger has for big-box retailers is evident and vocal. He's seen other independent music retailers across the country disappear as music buyers flock to buy cut-rate music from retailers who know little—and perhaps care less—about the music. "When you drive down Woodruff Road, it's like endless repeating wallpaper," Berger says with a sneer. "You don't know if you're in Louisville or Greenville because it all looks the same with the same stores." When Berger made the conscious decision to locate his record store downtown, and pair it with a cafe—first the Blue Z Cafe and now the Bohemian—right next door, the idea was to be consciously different. "We have a beautiful downtown," he says. "The real challenge is creating a cultural environment, having an entrepreneurial spirit. We need a vibrant arts scene."
With the famed Handlebar nightclub down the street, a gallery or two, and plans for more coming, Berger promotes the neighborhood as a shopping and arts destination, and a great place to live. "I wanted to create or enhance the neighborhood," he says. "We wanted to be here because our customers are here, living here, working here. We'll also get people from the hotels walking down here. "I'm not a genius, I just see things creatively. I drive past a corner and see possibilities."
While Greenville officials support business in all areas of the city, Nancy Whitworth, Greenville's economic development director, says having Berger relocate Horizon downtown created a new opportunity for the North End. "Certainly that location produced a really critical anchor for that neighborhood," she says. "And it's a perfect bridge to that business area at the North End, to the North Main residential neighborhoods." While the West End is being touted as an arts mecca, the North End is doing the same thing. Whitworth says the two aren't at odds with each other. "All these venues create these little districts of their own. And that creates opportunities," she says. "Now, you have all these little interesting places to go. "There, you have the Handlebar and Horizon, even Capri's; it's a neat little area because people just gravitate toward food."
Local music, musicians
The hand-built, and second-hand record racks at Horizon are filled with music you've heard of, and plenty you haven't. The mix is often startling. A vintage Village People album, next to an aging Lovin' Spoonful record; turn around and it's more electronica music than you've ever seen. McGowan, who not only collects albums and plays in a band but also produces the WNCW "Tower of Song" show, calls Horizon's selection eclectic, "Americana, bluegrass, but then you see he has the Classical Room, too." What McGowan appreciates is Berger's willingness to stock local music, too. McGowan says he was in a thousand bands, including seminal Greenville bands like the Beef People and Gravy Boat. Berger not only stocked their music, he booked shows back then and continues to support local music and musicians. "It's always good for someone to be on your side," McGowan says. "A lot of times when you're starting out, all you hear is, 'No.' But Gene was the guy who would give us a chance."
For his part, Berger is an enthusiastic supporter of all things local. "If they bring their CD in the door, we'll put it in stock," he says. "It may only be two or three of them at first, but we'll carry it. But some stuff, like the Work or Black Lungs, we sell boxes of that stuff. "We try and build relationships."
Jason Graydon of the Black Lungs says he appreciates the fact Berger is willing to stock, sell and promote local music. "A lot of places, there's sort of a backlash against local bands, the retailers have that, 'we're too cool for school, we know there's better stuff out there,' so they don't want to deal with it," he says. "But Gene and his guys have been more than gracious to us."
That support pays dividends when the Black Lungs play gigs, Graydon says. "What it means to us is, people show up," he says with a laugh. "They know our songs. "Having someone like Gene—who knows everybody—validate what you're doing, that means everything to us."
Vinyl, CDs, live music
In a brief stroll around his store, Berger shows a visitor it's different here. Ten feet inside, in valuable retail space, is a circular stand-up rack filled with Native American and Jewish music. Berger laughs at his own musical selection that follows no rules and has no reason. "We have a deeper selection of things that you won't find anywhere else," he says. "There must be 15 'Yo La Tengo' CDs out there. It may be stupid, but it's there." One rack is labeled "Experimental—and other weirdness." He also makes no bones about the vast assortment of Frank Zappa CDs taking up valuable real estate next to the cash register. "One of my favorite compliments is when people say, 'When I'm here, I don't feel like I'm in Greenville,'" he says. "I want that to be a positive about the North End."
By bringing in bands to play quickie in-store concerts, and broadcasting those concerts on WNCW's "Tower of Song," Berger has promoted live music in a unique setting. Musicians do what they can to help Berger help them, says Tor Hansen of Yep Roc Records and Redeye Distribution in Chapel Hill, N.C. "He understands the market and adds value to the distributor and the label," Hansen says. "He has the well-rounded approach to satisfying his customers." Hansen says artists on his label go out of their way to do an in-store—actually, at the Bohemian next door—for Berger. "They won't even have a show in Greenville," Hansen says via phone. "They'll be going from Atlanta to Charlotte and somehow work it in, even if it's a lunchtime show. That sells more records than anything else we can do in one period of time."
For the city, and the North End, it's an attraction that Whitworth, the economic director, says is under-appreciated. "It all adds to the quality of life," she says, pointing out that she knows that's a nebulous term. "But having live music, it's just something so important to our culture." Berger says the promotions are important. "We're letting people experience the music for free," he says. It helps the artists, too. "This business is tough. We're in this with the musicians. Artists need opportunities, whether it's juicing up a Handlebar visit or getting them to pull off the interstate on their way to Charlotte." At the end of the day, Berger says, exposing people to music, whether it's live shows, radio events or best of all, turning them on to new artists—or old ones—is what he lives for. "The real Horizon story is the young kid saying, 'Do you have any more Beatles albums?'" he says. "We're selling knowledge, perspective, service. People come here because they want to know, 'What's good?' That's what it's all about. You'll find out here about different music. Period."
Anniversary: Gene Berger is celebrating 30 years in the music store business with his Greenville landmark store, Horizon Records. The store's current location, left, at North Main Street and Stone Avenue, also houses the Bohemian Cafe, and it's ground zero for record buyers, radio shows and drop-in performances by national and local recording acts.