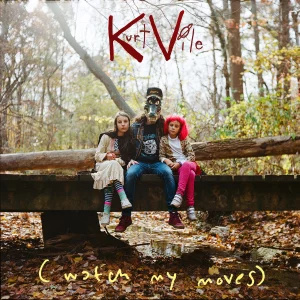 The first major label release for KURT VILE on Verve Records titled (WATCH MY MOVES) finds the artist returning to his home recording roots while slipping even further into psych-pop oddball songwriting.
Get it HERE on LP, CD and indie-store-only translucent emerald vinyl!
There is a hazy, loose, recording-in-the-afternoon, feeling throughout the album as Vile lets his inner thoughts seep out through synths, guitars, and lyrics as if he just woke up and hit record. Songs like the wandering twang of "Flyin (like a fast train)" and the quirky guitar bending "Hey Like a Child" have a modern-day Lou Reed quality where it seems the artist is just focused on producing rambling efforts that move him.
The oddest song here is also the first, setting a strange tone as Vile uses the piano to sound like a drunk hick moving from airplane rage to a moment of realization that opening for Neil Young is super cool on "Going on a Plane Today". This ditty would be tossed off and ignored if it wasn't for the gorgeous tenor sax work of James Stewart from Sun Ra Arkestra, elevating the train of thought lyrics. The light rocking fuzz on "Say the Word" produces a more solid offering, vacillating between saying nothing and a horrible awakening that dealing with the world is brutal.
Vile channels early Beck as the warbling synths on "Palace of OKV in Reverse" move around produced drums while "Mount Airey Hill (Way Gone)" continues that vibe as an ode to his new studio in Philadelphia. The most complete effort here also uses synths in an upbeat way as the sprawling "Like Exploding Stones" becomes majestic, stretching out sweetly around bright sounds that play like a scaled down War On Drugs outing in the best way possible. "Jesus on a Wire" is another highlight that finds layered acoustic and electric guitar weaving throughout the desperate state of current affairs.
On (watch my moves) Kurt Vile lets his wooly freak flag fly, never reigning in his scattered thoughts and never rocking out, content to just drift along in his unique way.
(watch my moves) is in-stock now at Horizon and in our webstore, along with these other tasty Kurt Vile releases!