This week, Dave Rawlings emerges from the machine to open Poor David's Almanack, Richard Thompson delivers another collection of acoustic classics, and Guided By Voices asks how you spell Heaven. Read on….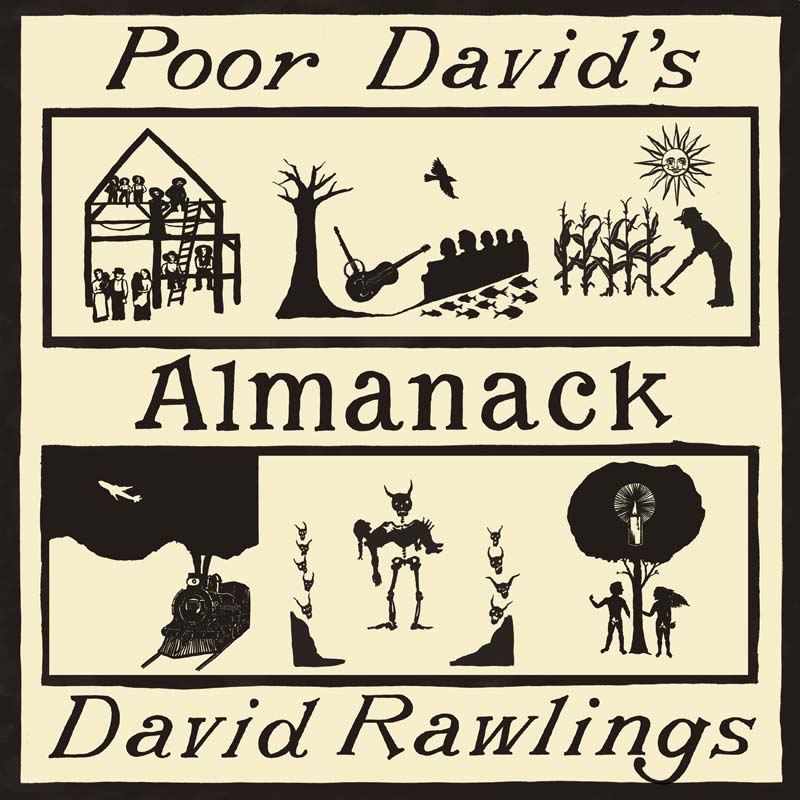 DAVID RAWLINGS, Poor David's Almanack (CD/LP 8/25)
David Rawlings has made a career out of a sort of unassuming generosity. Though he's led his own band, the Dave Rawlings Machine, he's spent much of his adult life supporting the work of bigger names like Old Crow Medicine Show, Bright Eyes and Ryan Adams, who covered Rawlings' song "To Be Young (Is To Be Sad, Is To Be High)." And, of course, Rawlings has played, sung and written alongside Gillian Welch — they've recorded eight albums together, including modern classics that bear her name, like Revival and Time (The Revelator). Poor David's Almanack is their third collaboration to give Rawlings top billing, after Dave Rawlings Machine's A Friend Of A Friend and Nashville Obsolete. Like those albums, this one steers the spotlight in his direction, while still showcasing the pair's almost supernatural chemistry. As a general rule, while Gillian Welch records can sound spare to the point of barrenness, Rawlings' songs are more inclined to fill the space around his voice. Poor David's Almanack follows suit with a sweetly engaging, impressively wide-ranging collection of American roots music. With the help of a long list of co-conspirators — including Dawes and Old Crow Medicine Show — Rawlings sounds equally adept at stark ballads ("Airplane"), sweet old-time folk songs ("Good God A Woman"), string-infused Americana ("Midnight Train") and sly, banjo-forward rave-ups ("Money Is The Meat In The Coconut"). The common thread is the love at their core.
RICHARD THOMPSON, Acoustic Classics II (CD)
When Richard Thompson sings, seas part and rocks crumble. His is an authoritative, confident voice, but also a breathlessly young one, unchanged over the years, as this second collection of acoustic versions of his back catalogue proves. There's also his pearl-bright guitar-playing, still exquisitely, boldly, ragingly alive. Take his new version of Genesis Hall, the opening track he wrote for Fairport Convention's Unhalfbricking: his story of the ideological struggles of the late 1960s, inspired by his policeman father and the squat-dwellers he lived alongside, sounds just as vital nearly 50 years on. Elsewhere, we dash through Thompson's career beautifully, hunting out tracks forgotten by many in folk music's quieter days: 1983's Devonside, 1988's Pharoah and 2003's Gethsemane shine particularly bright. A project funded by Pledge Music-style crowdfunding, this is not a primer for his career by any means, but a welcome light on dusty corners, opening up a notable life.
GUIDED BY VOICES, How Do You Spell Heaven (CD/LP)
Guided By Voices is on a roll. One could argue that GBV is never not on a roll, that Robert Pollard's output plows past the word "prolific" like prolific is standing still in a snowbank; and that's true, but this new version of the band (Doug Gillard, Bobby Bare Jr, Mark Shue, Kevin March) has given Pollard new tools to complement his song-hammer. Thus, ergo, quod erat demonstrandum: roll. Hot on the heels of the smothered-in-plaudits double album August By Cake comes this hot and heavy fifteen-tune long player, a melody-dense thwack to the earholes that will both energize and deplete your body of its remaining music-appreciation enzymes. Recorded by the band in New York, and by Pollard in Ohio, How Do You Spell Heaven capitalizes on the current incarnation's tour-buffed shine without sacrificing eternal verities such as but not limited to: off-kilter rhythmic jolts; krazy chords; purposefully imperfect harmonies; and fragmented structures that start and stop on a coin of small denomination and go somewhere else, and quickly.
WILL HOGE, Anchors (CD/LP)
Recorded with an all-star band comprised of drummer Jerry Roe (Emmylou Harris & Rodney Crowell, Darius Rucker), bassist Dominic Davis (Jack White, Wanda Jackson), and guitarists Brad Rice (Son Volt, Ryan Adams) and Thom Donovan (Lapush, Ruby Amanfu), the album is a prime showcase for Hoge s searing, gritty vocals, as well as his remarkable gift for crafting complex characters with real emotional depth and plainspoken profundity. Over the course of eleven tracks, Hoge weaves elements of vintage country, literate folk, and heartland rock into a passionate, genre-busting masterpiece, one that offers an unflinching portrait of the messy challenges of adulthood and the ways in which we preserve (or don't) through hard times.
KESHA, Rainbow (CD)
needtobreathe, Hard Cuts: Songs From The HARDLOVE Sessions (CD)
BLACKMORE'S NIGHT, To The Moon And Back – 20 Years & Beyond (CD)
A.J. CROCE, Just Like Medicine (CD)
SLITS, Return Of The Giant Slits (CD/LP)
BEN SOLLEE, Ben Sollee & Kentucky Native (CD/LP)
WHISKEY SHIVERS, Some Part Of Something (CD/LP)
KILLER REISSUES: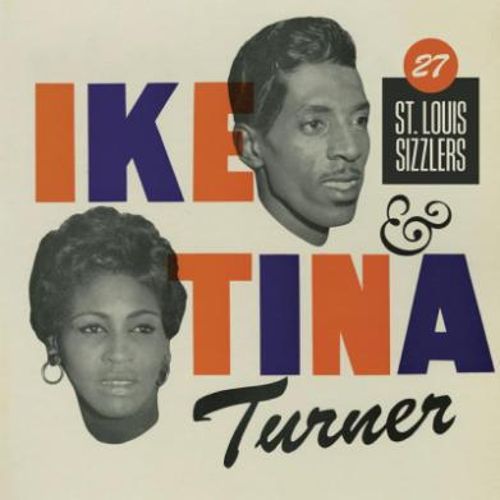 IKE & TINA TURNER, 27 St. Louis Sizzlers (2xCD)
Between Tinas ferociously passionate soul sister battle cry and Ikes killer mix of deep blues instinct, peerless musicality and knack for crafting mad R&B grooves, these 39 tracks are prime, slamming workouts from one of the best tag teams in the business. Featuring Ike & Tinas first three LPs for Sue records and a dozen well chilled Kings of Rhythm instrumental dance numbers, this is an essential, downright irresistible set of vintage, high voltage classics from the always flabbergastingly fine Turner family.

LIVE, Mental Jewelry (CD)
COMING SOON:
JERRY DOUGLAS BAND, What If (8/18)
INTERPOL, Our Love To Admire (8/18)
UNKLE, Road, Part 1 (8/18)
And don't forget these STILL-NEW platters that matter!
HARD WORKING AMERICANS, We're All In This Together (CD/LP)
Set to join the list of iconic live albums of the modern Rock era, Jam band supergroup Hard Working Americans bring listeners We're All in This Together on August 4, 2017. Consisting of members from Widespread Panic, Chris Robinson Brotherhood, and Great American Taxi. they pool the talents of bassist Dave Schools, drummer Duane Trucks, guitarist Neal Casal, keyboardist Chad Staehly, celebrated singer-songwriter Todd Snider, along with new addition, Tulsa guitarist Jesse Aycock. This in mind, the question is not is there talent behind this new album, but does it translate the live music experience from a strictly listening one? Recorded while on tour in 2016 by mentor and engineer Colin Cargile, We're All in This Together is produced by Schools and mixed by John Keane. Consisting of thirteen tracks, filled with fan favorites, it captures glimmers of that experience that bring fans from listening devices to music venues to interact.
RANDY NEWMAN, Dark Matter (CD/LP)
Randy Newman decided to omit the song he wrote about Donald Trump's penis from Dark Matter (drolly explaining "the subject is too sore to get into"), but otherwise the veteran American songwriter-satirist is still putting the boot in where it hurts. Putin ("He can drive his giant tank across a Trans-Siberian plain / He can power a nuclear reactor with the left side of his brain") is drily rendered as Russian orchestral folk. Eight-minute opener The Great Debate comically pits science against gospel-singing creationists and climate change deniers. And so wonderfully on. The music has some of the symphonic hallmarks of his soundtracks to films such as Toy Story, and careers from trademark piano to opera. He remains the master of creating ribald, flawed characters, but also the powerful, poignant weepie. Lost With You's riff on ageing and Wandering Boy's tale of an anguished father pining for a missing son ensure that there isn't a dry eye in the house.
OLD SALT UNION, Old Salt Union (CD)
If you've paid attention to the trajectory of the Belleville, Illinois-bred bluegrass band Old Salt Union, it's easy to think of the band's rise as stratospheric. Certainly the five-piece went from playing basements and 100-person rooms to bigger halls and festival stages alongside some of the heroes of the folk and roots community. Earlier this year the band took one such leap and grabbed a crucial brass ring, signing with well-respected roots label Compass Records. Upon signing, label owners Alison Brown and Garry West encouraged the group to release something with relative quickness, so as to better introduce the band to a national audience. So while Old Salt Union has a bevy of new material ready to record, this self-titled release comprises some of its best-loved songs, only this time re-recorded in Nashville with Brown in the producer's chair.
EAGLES OF DEATH METAL, I Love You All The Time: Live At The Olympia In Paris (2xCD  + DVD)
The Eagles of Death Metal's return to Paris following the November 2015 terrorist attacks is finally available on digital video and two CDs. Both collections contains the entire 20-song concert, which includes a cover of Duran Duran's "Save a Prayer." The video adds three bonus performances — "Anything 'Cept the Truth", "Bad Dream Mama" and "Shasta Beast" — from an October 2015 show at the Teragram Ballroom in Los Angeles. Josh Homme, who co-founded the band with frontman Jesse Hughes but rarely performs with them, is on drums. The road the band took to return to Paris after 89 people were killed during their set at the Bataclan was captured in the HBO documentary Eagles of Death Metal: Nos Amis (Our Friends). The tragedy forced the cancellation of the remainder of their European tour, but three months later, they were back in Paris to finish the concert.
GEORGE THOROGOOD, Party Of One (CD/LP)
Musical trends and fads come and go, but 40 years after the release of his still-fresh-sounding debut album, George Thorogood continues to play pretty much what he's always played: blues in every shade, from raunchy to delicate; screaming slide; simmering boogie; primal rock 'n' roll chunk; and front-porch fingerpickin'—all delivered with his characteristic passion and authority. Party of One is a stripped-down affair, just Thorogood's vocal and a selection of mostly acoustic and some electric guitar, on 15 diverse tracks, some by the usual suspects—Robert Johnson, John Lee Hooker, Elmore James, Willie Dixon—but also inspired and adventurous choices by the Rolling Stones ("No Expectations"), Hank Williams ("Pictures from Life's Other Side"), Johnny Cash ("Bad News"), and Bob Dylan ("Down the Highway"; GT has a long history covering Dylan). Only a few are songs he's recorded previously: "The Sky is Crying," the Robert Johnson–penned CD-only track "Dynaflow Blues," and his longtime concert favorite "One Bourbon, One Scotch, One Beer," stark and gritty as a solo acoustic number.
CHICK COREA & ORIGIN, Live At The Blue Note (CD)
CHICK COREA & MIKE LONGO, Piano Giants (CD)
KENNY WAYNE SHEPHERD, Lay It On Down (CD/LP)
MAJOR LAZER, Know No Better (CD)
BLACK GRAPE, Pop Voodoo (CD)
DALE CROVER, Fickle Finger Of Fate (CD)
DEAD CROSS, Dead Cross (CD/LP)
KIM SIMMONDS, Jazzin' On The Blues (CD)