Grab a copy of the ultimate record collectors book. JOSH ROSENTHAL's Record Store Of The Mind is in stock and we have signed copies and a free CD for ya that goes along with it courtesy of Josh's visit here this week. yeah, signed versions + free CD is while they last!
Right, Gene?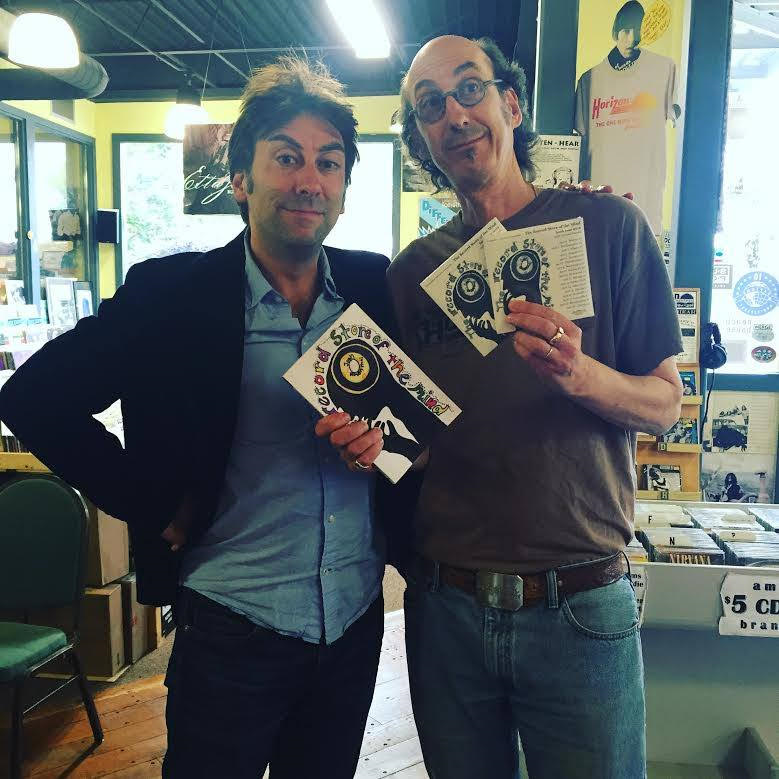 Our Record Store Day starts here, with a special reading by JOSH ROSENTHAL and a musical performance by his pal, renowned Asheville singer/guitarist WES TIREY. And if ever there was a perfect representative of what RSD stands for, it's Josh. 
He's been a PR man for Sony Recordings, engineering the campaign that drove Robert Johnson's "The Complete Recordings" box-set to gold status in the early 1990's.
He's the founder and owner of Tompkins Square Records, a San Francisco-based label that's garnered seven Grammy nominations
for its diverse catalog of new and archival recordings.
Check out the Boston Globe's recent piece about Josh here.
For the past ten years, he's been serving the world of record collectors as owner Tompkins Square Records, digging through music history,  re-issuing the amazing unknown and under-appreciated delights.
And now he's an author. Rosenthal's book, "The Record Store Of The Mind," starts out as a series of critical essays before evolving into something more. It's a work that's not quite straightahead music criticism and not quite memoir, but somewhere in between.It's part "High Fidelity, part collector's travelogue, part scholarly history and part autobiography of a legendary label owner.
We're proud to have Josh visiting Horizon Records for the first time on Weds. April 13th at 7pm, reading from his book and sharing the stage with Wes Tirey, whose haunting, neo-folk songs serve as a showcase for his nimble fingerpicking and unforgettable deep moan of a voice.

We've got the book in-stock now!
"It's a peculiar ailment, this record collecting — the obsessive, never-ending search for the fringe artifacts of the 100-year-old recording industry. Only some of us are afflicted, but for those who are, Rosenthal's self-published book is a 248-page sympathy card." – James Sullivan, Boston Globe
"Josh Rosenthal is a record man's record man. He is also a musician's record man. He is in the line of Samuel Charters and Harry Smith. In this age where we have access to everything and know the value of nothing, musicians need people like Josh to hear them when no one else can."   -T Bone Burnett
"One of the most thoroughly enjoyable, informative, wise and good-hearted books ever written about music and the industry" — M