First things first, the great MOLLY TUTTLE is back with a stellar new album, CITY OF GOLD, out NOW on LP, CD and indie-store-only light blue colored vinyl!
Order your copy HERE. And for a limited time only get this free poster with the purchase of an LP or CD!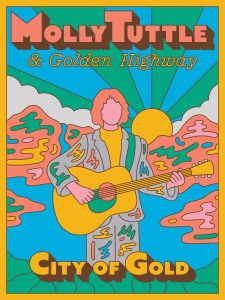 The new album follows Tuttle's acclaimed 2022 record, Crooked Tree, which won Best Bluegrass
Album at the 65th Annual Grammy Awards and also led to a Best New Artist nomination. Produced by Tuttle and Jerry Douglas and recorded at Nashville's Sound Emporium Studios, City of Gold was inspired by Tuttle's constant touring with Golden Highway these past few years, during which they have grown together as musicians and performers, cohering as a band. These 13 tracks—mostly written by Tuttle and Ketch Secor (Old Crow Medicine Show)—capture the electric energy of band's live shows by highlighting each members' musical strengths.
Ahead of the release, previous City of Gold track, "El Dorado," debuted earlier this spring. Billboard called it "a vibrant blend of bluegrass with flashes of Old West, anchored by Tuttle's earthy-yet-angelic vocal and the entire group's ace musicianship," while American Songwriter said, "Tuttle, one of the world's best guitar players, soars on this country song."
Reflecting on the project, Tuttle shares, "When I was a kid, we took a field trip to Coloma, CA to learn about the gold rush. I'll never forget the dusty hills and the grizzled old miner who showed us the nugget around his neck. Just like gold fever, music has always captivated me, captured my heart, and driven me to great lengths to explore its depths. On my new album I dug deep as a songwriter (with Ketch Secor) and co-producer (with Jerry Douglas) and surfaced with a record that celebrates the music of my heart, my life, the land where I grew up, and the stories I heard along the way."
"I made this record with my band Golden Highway after playing over 100 shows across the country last year. On the road and in the studio, we are inspired by artists such as John Hartford, Gillian Welch and Peter Rowan to name a few, whose records are like family albums to us. Just like them, on this album we chart some new territory along some old familiar ground."
"The songs span from breakdowns to ballads, fairytales and fiddle tunes, from Yosemite up to the Gold Country and out beyond the mountains. That visit to Coloma, site of California's first gold strike is where I first heard about El Dorado, the city of gold. Playing music can take you to a place that is just as precious. I hope you like this record!"