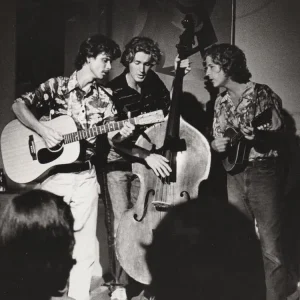 You can't argue with UNCLE WALT'S BAND. They were one of the first true "Americana" groups, blending country music twang and bluegrass harmonies with just the right amount of jazz chops and Beatlesque melodies. It was a true musical tragedy when this underappreciated band broke up in the late 1970s.
But their legacy lived on for a while thanks to THE CONTENDERS. Led by former Uncle Walt's Band alums WALTER HYATT and CHAMP HOOD, who recruited Steve Runkle, Jimbeau Walsh, and Tommy Goldsmith to round out the group.
They only made one self-titled album, but it was chock full of twin guitar parts, driving rock and   roll, sophisticated chord structures, and harmonies based on everything from mountain music to the Beatles to the Coasters. It went out of print relatively quickly, but now there's a new re-release of the Contenders' only album, along with some previously unreleased recordings with producer Don Dixon. The album, out THIS FRIDAY, is a document of a short-lived venture that yielded a remarkable blending of American roots music.
Order your copy HERE.
From 1976 until June 1978, the Nashville-based Contenders got together, toured from New York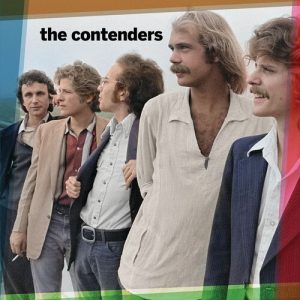 City to San Antonio, built a cult following, made some memorable recordings and broke up. The recordings re-issued here represent a significant part of the group's legacy.
"They were wonderful – just a kind of unique band," says Dixon, himself a one-of-a-kind music maker whose credits just begin with REM's Murmur.
Says Willis Alan Ramsey, the legendary Texas singer-songwriter: "They were five of the most interesting musicians I know, and they were all in one band."
From the cuts chosen here from the band's wealth of songs, we have Hyatt's swinging "Lean on Your Mind"; Goldsmith's "Talk," a rocker that would have done George Harrison proud; Hood's "Whatever Reason," reminiscent of Carolina beach music; and Runkle's rhythm-and-bluegrass anthem of love and home, "Light From Carolina." This collection will bring to mind a wide assortment of styles and better-known artists.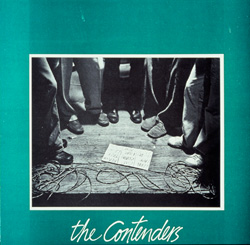 "They were just a magnet for all the different influences," Ramsey says. "You couldn't throw too much at them. They could incorporate it all into their sound. "It was just always intuitive and pure. Pure love of the music was where they were coming from. They took many forms of music and instilled them into their own unique songs."
But as fan Marcia Ball, the Austin-based blues singer, points out, the Contenders weren't merely trolling for a sound that might stick. "It's sad to say as a piano player from Louisiana, but they introduced me to Professor Longhair, one of my biggest influences," Ball says. "They really understood the music. Their influences were so broad, and their taste was so good that they really knew what the best music was and picked from it. They didn't skim. They definitely delved into the music."
After Uncle Walt's Band broke up, discussions among friends led to the formation of the Contenders. Goldsmith, Hood and Hyatt moved back to Music City from Austin and Runkle roamed back from some time in Raleigh, as well. The four friends, having mainly specialized in acoustic music, decided they'd plug in electric guitars and go at it that way. A rock band needs a drummer, and acquaintance Jimbeau Walsh was brought in from Wisconsin. Walsh provided the backbeat for a kind of "songwriters-in-the-round thing," as Hyatt described the Contenders to writer Peter Cooper shortly before his death.
Don Dixon, who produced some live recordings for the band after Hyatt left, agrees that the Contenders had something special. Asked to pin down the band's sound, he says, "They definitely fit in that country-rock thing with the Flying Burrito Brothers. But their style was pretty raw. Not slick, like Poco or something."
Their only album was released in 1978 just as the group was breaking up but has now been resurrected by Southern Moon Records of Raleigh. Original multi-track tapes were restored and transferred, remixed and remastered yielding a wonderful sounding record which finally offers a good look at a milestone group that has never been forgotten.
Where did alt country and Americana start? This is one of the sources. Don't miss out on this incredible, genre-spanning music a second time. Preorder your copy of this incredible album today.