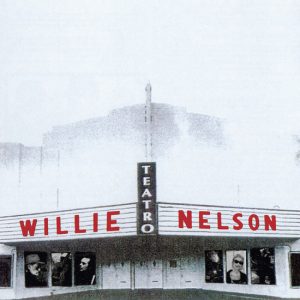 Location is everything. When WILLIE NELSON and album producer DANIEL LANOIS set out to create a cinematic-sounding album, TEATRO, they took over a disused movie theatre in Oxnard, California, and pictured its dusty glory on the LP sleeve. Recorded live amid the red velvet seats, Teatro sees Nelson working extensively with his frequent collaborator EMMYLOU HARRIS, who joins him for duets and on backing vocals on 11 of the 14 tracks.
Now, after years without a vinyl LP version available, Teatro is finally getting an album release, and a deluxe one at that, featuring remastering from the original tapes, a gorgeous gatefold cover, and a photo-packed booklet with new interviews with Daniel Lanois and Willie Nelson.
It's out NOW, and you can order your copy HERE.
In addition to producing the album, Lanois plays guitar and bass, took the cover photo and wrote one of the album's songs, "The Maker," a stunning performance with glacier-thick vibe.
Reinvention is key on Teatro, with Nelson revisiting a number of songs he first wrote in the 1960s, including 1968's "I Just Can't Let You Say Goodbye" and 1962's "I've Just Destroyed the World" and "Three Days."
Though the songs are familiar, the sounds aren't: Teatro found Nelson experimenting with rhythms and flavors as never before, from the Spanish-influenced "Darkness On The Face Of The Earth" to the double-drum-kit percussive groove of "My Own Peculiar Way."
Accompanied by a nine-piece band that included Nelson's sister, Bobbie Nelson, on piano, the group conjure up an atmosphere informed by the howling harmonicas and distant mariachi bands of spaghetti western soundtracks, the end result being a Willie Nelson album quite unlike any other in his career, and one that reveals it widescreen vision through arresting sonic imagery.