We're taking a break from the ongoing Black Friday madness to tell you about a few special things we got in-stock today from Bjork and Noel Gallagher, not to mention some fantastic reissues from The Ramones and the Eagles. Read on…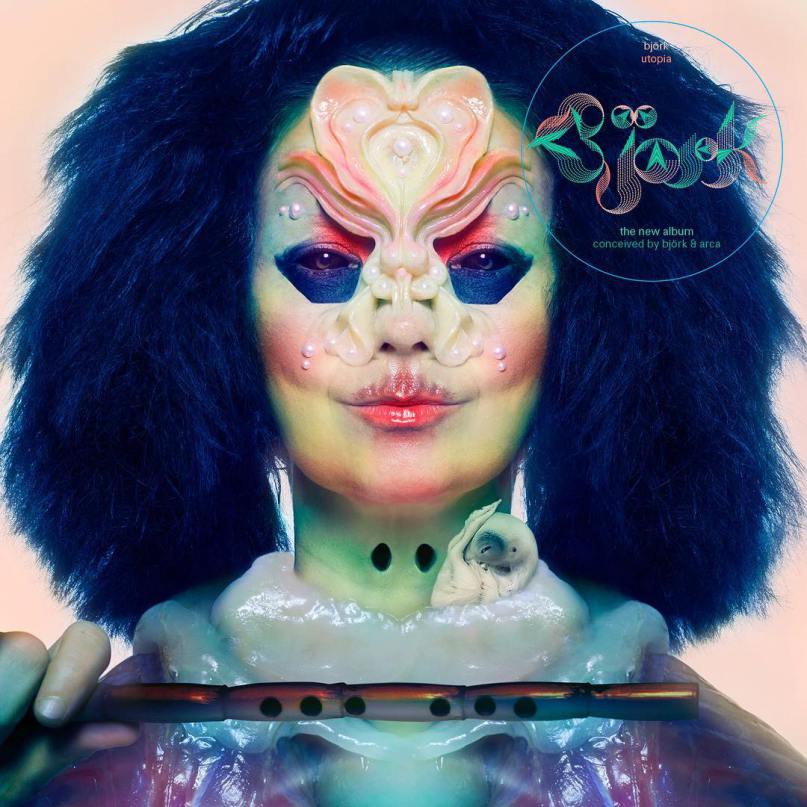 BJORK, Utopia (CD/LP)
The last material we heard from Björk was a bit of downer, wasn't it? 2015's 'Vulnicura' was a sweeping, majestic break-up album that saw her creating a raw, emotive narrative within her otherworldly soundscapes. It was incredible, but damn it was gloomy. Happily, the febrile 'Utopia' sees her on more upbeat – but no less creative – form, coming on like new age titan Enya if she signed to Hyperdub, home of pioneering dubstepper Burial. Earlier this year Björk smirkingly described her ninth record as her "Tinder album", dealing with the process of falling in love again after experiencing monumental heartbreak. This is most evident on the twinkling harp-swathed 'Blissing Me', where she dreamily sings of "two music nerds, obsessing" and "sending each other MP3s, falling in love to a song". In keeping with the 'Utopia' of its title, Björk has created a paradise-like world here, with birdsong dotted throughout the album, transporting the listener to a magical sonic rainforest, with tracks like 'Saint' having more in common with a David Attenborough nature documentary soundtrack than a pop song. Most evocative of all though, is the sound produced by a 12-piece Icelandic female flute orchestra, the lushness of which lifts every track with a lightness that is at once hopeful but haunting. 'Utopia' is where art, real life and deep experimentation intersects, and it's utterly compelling.
NOEL GALLAGHER, Who Built The Moon (CD/LP)
The third record from Noel Gallagher's solo outfit is, according to the ex-Oasis man, merely him in "more colourful clothes". Brightness is certainly the first thing that strikes you about Who Built the Moon, an album that cloaks Gallagher's hardy guitar-pop in glowing Smithsian riffs, tin whistle samples from novelty 60s tunes and a heady fug of riotous glam rock. Particular highlights include the gloriously Slade-esque Holy Mountain and the singalong-friendly Black and White Sunshine, which resembles Oasis basking on a sun lounger. Even the fact that the album regularly recalls some of the duller post-Britpop bands – It's a Beautiful World is basically an Elbow track backed by a breakbeat – can't dampen the joy that rings out from every corner. Producer David Holmes may be responsible for Noel's change of pace, but the vibrancy and strains of psychedelia never feel like intruders: instead, they act as the perfect foil for the record's blissed-out lyrics about life-changing love.
ELVIS PRESLEY, Christmas With Elvis & The Royal Philharmonic Orchestra (CD)
Christmas with Elvis and The Royal Philharmonic Orchestra brings together Elvis Presley's best-loved yuletide performances from "Elvis' Christmas Album" (1957) and "Elvis Sings the Wonderful World of Christmas" (1971) re-imagined with sublime and exquisite new arrangements performed by The Royal Philharmonic Orchestra.
KILLER REISSUES: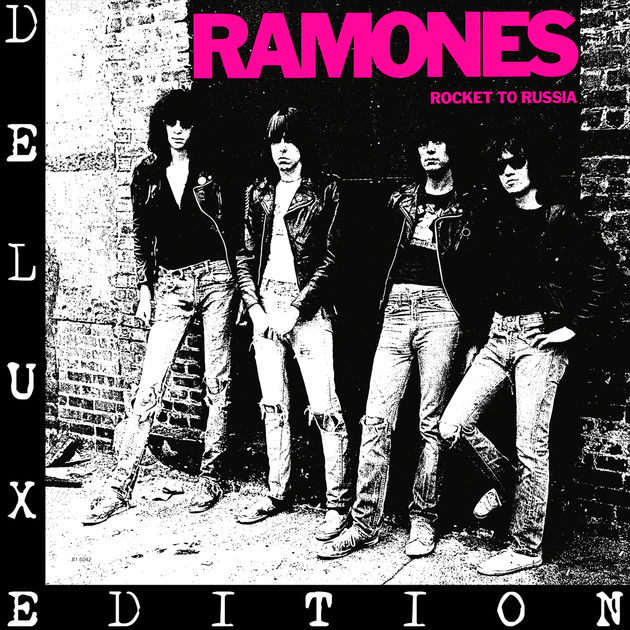 THE RAMONES, Rocket To Russia (CD)
The Ramones released its second album of the calendar year (and third overall) on November 4, 1977, capping off one of the biggest years in the history of punk with Rocket To Russia. Among the band's best-loved albums, it features classics like "Sheena Is A Punk Rocker" and "Rockaway Beach" along with their signature covers of "Do You Wanna Dance?" and "Surfin' Bird." It's also the last album ever recorded by all four founding members, as drummer Tommy Ramone left soon after to focus on writing and producing. To celebrate the 40th anniversary of what some consider the bruddahs greatest moment, Rhino Records has released a remastered 40th anniversary edition with original mixer/engineer Ed Stasium back behind the boards!
EAGLES, Hotel California (40th Anniversary Expanded Edition) (2xCD)
The milestone album will add to its legendary lore with a new 2-CD/1-Blu-ray Audio that includes newly remastered sound, ten previously unreleased live recordings, as well as hi-res stereo and 5.1 mixes. Presented in an 11 x 11 hardbound book, the set also features rare and unseen photos from the era, a replica tour book, and an 11 x 22 poster.
COMING SOON:
CHRIS STAPLETON, From A Room, Vol. 2 (12/1)
JULIAN COPE, Rite At Ya (12/1)
LANG LANG, Romance (12/1)
MINUS 5, Dear December (12/1)
And don't forget these STILL-NEW platters that matter!
SHARON JONES & THE DAP KINGS, Soul Of A Woman (CD/LP)
When Sharon Jones died of pancreatic cancer last year, the world lost its greatest exponent of vintage soul; that she'd first hit her stride in the '00s with the revivalist, detail-obsessed Daptone label, made the accomplishment all the more striking. Recorded over her last two years with longtime sidemen, genre-masters all, Jones meets darkness with hope on this denouement. "A Matter of Time" envisions world peace; "Come and Be a Winner" is a funky pep talk. It's easy to read themes of mortality into the lyrics, but this is a stirringly indefatigable farewell. Her Brooklyn church choir joins in for "Call On God," and the LP ends heartbreakingly with Jones chuckling or crying – it's hard to tell. Maybe both.

MAVIS STAPLES, If All I Was Was Black (CD/LP)
Unlike many protest songs birthed by the political situation in the US, the title track of Mavis Staples's 16th solo album is bereft of rage. Instead – as with all of the songs on If All I Was Was Black – it replaces mockery and fury with a warm, calm clarity that is soothing and stirring. Staples explains how it feels to be judged by the colour of your skin (and, on other tracks, the effects of police brutality and internalised oppression) with a patience and simplicity that is heartrending. That the songs on the record, which largely deals with race and oppression, were written by a white man could have undercut the emotional heft. (That man being Wilco's Jeff Tweedy, a longtime collaborator of Staples, who soundtracks his words with a weighty marriage of gospel and blues rock.) But Staples has had decades of practice delivering truths as part of the Staple Singers – who were celebrated for their gospel "message songs" – and her performance here is so utterly convincing it feels like a moot point.
MORRISSEY, Low In High School (CD/LP)
Morrissey's endless, withering disdain for cultural hypocrisy might get wearisome if not for A) his equally-relentless tenderness, B) his Wildean wit, C) the truth of his observations. Yes, it's D) all of the above. "Society's hell," he reminds us near the start of his latest offering, "you need me just like I need you." We do, and timing couldn't be better. "Stop watching the news!" he says. "Teach your kids to recognize and despise all the propaganda/Filtered down by the dead echelon's mainstream media." Punchlines fly: Lines like "I've dined with every bogus music mogul" ("Home Is a Question Mark") and "I'm not my type, but I love my bed" ("Spent the Day in Bed") are dusted with existential malaise. "I Bury the Living," a ruthless conjuring of a soldier in first person, is an unfair stereotype, true, but also empathetic, class-conscious and even funny, albeit painfully. He draws a scene set against Arab Spring that echoes all of humanity's sad history: "They tried to wipe us clean off the map/And I just want my face in your lap." The backup ain't the Smiths, but its solid and campy, adding its own wit. As philosophical alt-rock standup goes, the man is still peerless.
JOHN COLTRANE, Chasing Trane (Original Soundtrack) (CD)
This soundtrack features 11 tracks from the film, Chasing Trane: The John Coltrane Documentary. Set against the social, political & cultural landscape of the time, it brings saxophone great John Coltrane to life, as a man & an artist. The CD booklet includes images from the film & an essay by John Coltrane author & film participant, Ashley Kahn.
RONNIE EARL & THE BROADCASTERS, Luckiest Man (CD)
The Luckiest Man confirms Ronnie Earl's status as one of the most soulful blues/soul/jazz guitarists working today. A three-time Blues Award winner as Guitarist Of The Year, Earl has worked with his band The Broadcasters for almost 30 years. This is his 25th release. This album is dedicated to the memory of long-time Broadcaster bass player Jim Mouradian. As Jim would say when he first met someone, "I'm the luckiest man you know — and I don't even know who you know." Playing with spellbinding intensity and soul, Earl has a legion of fans that await each new release.