THIS JUST IN: The official list of Record Store Day titles has JUST been released, and you can read all about it HERE.
It's our favorite/craziest time of year: Black Friday! Or as we like to call it, "That day y'all swarm the place looking for the best limited-edition album and single releases, or just some killer new & pre-loved CD's and LP's.


Yes, quite unbelievably it's Holiday time again. We give thanks for what we have whether it's plentiful bounty or just enough to get by. We hope you are gathering to break bread with some family and friends and take in some restful moments on Thursday. THEN it's time to re-coop and re-group to do BLACK FRIDAY and some Thanksgiving weekend music shopping action – WE WILL OPEN FRIDAY at 9AM so y'all can paw through crate loads of LIMITED EDITION Black Friday EXCLUSIVES.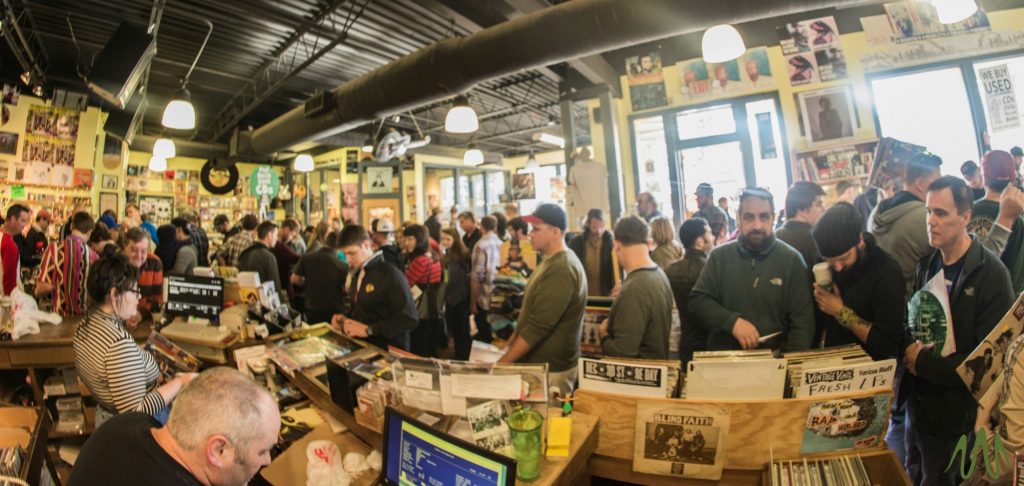 There'll be a slew of special offers, giveaways, bonus swag, our pals at The Bohemian Café will be here all day with us to fortify you with coffee and other independent-retail-shopping nourishment, and there'll be just plain good times to be had in ye olde record store as we kick off the Holiday Season. Gasp! It's our 42nd!
Here are a few titles on this year's list that we're excited about.

STEVE EARLE, El Corazon
This 1997 Steve Earle album is released on vinyl for the frst time, and comes with a lithograph exclusive to this Record Store Day Black Friday edition.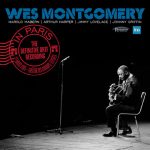 WES MONTGOMERY, In Paris: The Definitive O.R.T.F
The Definitive O.R.T.F. recording captures the jazz guitar legend on his only tour of Europe, at the Theatre des Champs Elysees in Paris, France, on 3/27/65.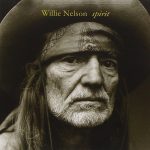 WILLIE NELSON, Spirit
For RSD Black Friday, Modern Classics is re-releasing Spirit, Willie Nelson's forty-ninth studio album, originally released in 1996. Spirit is an emotional concept album illustrating the forlorn tale of a man abandoned by the great love of his life. We follow him down the path of loss as he confronts grief, gets back on his feet, and eventually finds solace in acceptance. Beloved by those familiar with Nelson's deep catalog, Spirit remains highly revered amongst critics and fans alike. Spirit is issued here for the first time on colored vinyl as a special Record Store Day Black Friday release. It comes newly remastered with a deluxe, gatefold, 'tip-on' uncoated jacket, this is a chance to own this unique album in its most beautifully presented form.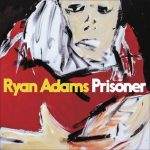 RYAN ADAMS, Prisoner
Ryan Adams is an American singer-songwriter, musician, multi-instrumentalist, record producer and poet. He is best known for his solo career, during which he has released sixteen albums, and as a former member of alternative country band Whiskeytown. Adams has sold an impressive 4 millions albums in the US over his 20 year career. Prisoner, Ryan Adams' first original studio album since 2014, features his hit "Do You Still Love Me?" and is being released on cassette for RSD Black Friday.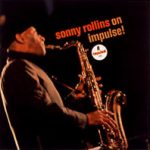 SONNY ROLLINS, Sonny Rollins On Impulse!Reissue of the saxophone colossus' debut on Impulse! Records featuring pianist Ray Bryant (whose "graceful, complex solos deserve considerable praise and attention" says Harvey Pekar in JazzTimes), bassist Walter Booker and drummer Mickey Roker. Pressed on 180g black vinyl at United Pressing, and mastered from the original tapes recorded at Rudy Van Gelder studio, On Impulse! is being faithfully reissued with all the original artwork and liner note content, including an essay by legendary jazz writer Nat Hentoff. Thom Jurek writes in AllMusic.com review that the album "feels as if it were a recording Rollins had to get out of his system. But thank goodness for us because it's a winner through and through." This album is also significant in that marks the only time Rollins and the soulful pianist Ray Byrant recorded together. Here the sparks fly on these five tasty jazz standards!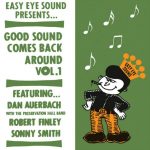 DAN AUERBACH/SONNY SMITH/ROBERT FINLEY, Good Sound Comes Back Around Vol. 1
Songs from upcoming EES releases by Dan Auerbach ("Cellophane Angel"), Sonny Smith ("Pictures of You") and Robert Finley ("Medicine Woman").
BERNIE WORRELL, All The Woo In The World
Bernie Worrell's 1978 solo debut All The Woo In The World, could easily pass as a lost Parliament/Fundadelic release. Mr. Worrell, the man himself, who passed away in 2016, needs little introduction. He was an American keyboardist, arranger & composer best known as a founding member of Parliament/Funkadelic and for his work with Talking Heads. All The Woo In The World was Bernie Worrell's solo debut album, originally released in 1978, and featuring P-Funk alumni George Clinton, Bootsy Collins, Maceo Parker, Fred Wesley and Eddie Hazel. When you hear All The Woo In The World it's no wonder David Byrne wanted Worrell to record with Talking Heads. In only seven tracks, Worrell shows how important he was to the P-Funk sound. It has everything: layered sounds, a toe-tapping midtempo beat, and incredible horns. It proved to be a classic platter of cosmic slop: funky and loose R&B. Heavily sought after by collectors, All The Woo In The World is an essential funk album by an artist who leaves a legacy as big as his career.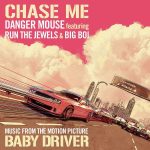 DANGER MOUSE, featuring RUN THE JEWELS & BIG BOI, "Chase Me"Six time Grammy winner and super producer Danger Mouse teams up with hip hop sensations Run the Jewels and rapper/songwriter Big Boi for "Chase Me", an exciting RSD Black Friday 12″ from the 2017 hit movie Baby Driver. All four musicians appear in car chase scenes in the video, along with stars from the movie. Spin this 12″ with the explicit version and the clean version on the A side and the instrumental and acapella versions on the B side! Only 2000 made in the US, so if you want this record, you're gonna have to "chase me!"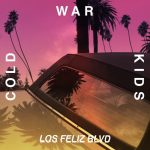 COLD WAR KIDS, Los Feliz Blvd.Cold War Kids is an American indie rock band from Long Beach, California who got together in 2014. They have released Los Feliz Blvd, a 10″ EP featuring intimate, acoustic recordings of tracks from the band's new album, LA Divine. With elegant, sparse instrumentation, the singles "Love Is Mystical," "Can We Hang On?" and "So Tied Up" are stripped down to their emotional core. British singer/songwriter Bishop Briggs is featured on two tracks – the sizzling "So Tied Up" and a soulful version of Rihanna's "Love On The Brain."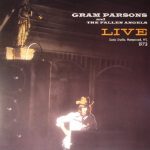 GRAM PARSONS & THE FALLEN ANGELS featuring EMMYLOU HARRIS, Live 1973
Gram Parsons, an extremely revered and influential American singer, songwriter, guitarist, and pianist, famously passed away on September 19, 1973, in Joshua Tree, CA of a drug overdose. Live 1973 Featuring Emmylou Harris is a live album by Gram Parsons and the Fallen Angels, recorded at Sonic Studios in Hempstead, New York during a live radio broadcast from WLIR-FM. The recording came between Parsons' only two solo studio albums, GP, and Grievous Angel, but it was not released until 1982. This re-issue of Live 1973 Featuring Emmylou Harris is pressed on audiophile 180gram vinyl, utilizing Sierra Records 1982 original half-speed metal master, and was processed by the late Richard "Slim" Doss at the legendary Sheffield Lab Matrix. This beautiful deluxe edition comes with the original LP artwork, in an enhanced presentation silver foil, limited numbered jacket. It is a must have for any fan of the talented and troubled musician.

All these Black Friday releases are limited editions and many may sell out quickly. They are first-come, first served and we can't do any holds. However we ordered pretty heavy and got most of what we hoped for. There is a lot of spectacular collectibles and unique one-offs here to peruse Friday and all weekend, uh, while they last.
SWAG SATURDAY is our version of Small Business Saturday — Starting Saturday, November 26th, Horizon Records celebrates Small Business Saturday by encouraging all to share some Food (non-perishables only), or Warmth (need blankets, caps, gloves, socks, underwear, jeans, toiletries) and of course deductible Cash or Check, all in support of TRIUNE MERCY CENTER, who bring desperately needed assistance to those in need in the season of Thanksgiving and all year round. SO we will have 2 big boxes set out and a donation jar in hopes that each of our customers, neighbors or just anyone wishing to pay it forward in this season of family, food and hearth. THE SWAG: we are giving away a ton of nifty, fun and sometimes collectible swag items we have accumulated as a music store in exchange for any donation to these 3 coffers.  Freebies include CD Samplers, Vinyl LP Test Pressings, Posters, turntable mats and more!
 Visit all day 'til 10pm Friday and Saturday (Sunday 11am-6pm), it's a good time to take care of some gifts early. Yes WE HAVE GIFT CARDS any amount.
What else can I say? The media is full of economic confusion, political clowns, world stress and suffering. We are one of the lucky record stores to still be here in our community and for that I am very grateful. We love telling you about music, hearing and sharing your stories and selling you some music. It's one of the ultimate healthy, life-enhancing, eco-friendly, last-a-lifetime products we know of. This is our 41ST Anniversary and this weekend marks the start of our 42ND Holiday season. Most of all we say THANK YOU for supporting independent retail.