Our Record Store Day festivities got kicked up a notch with an in-store performance from TYLER RAMSEY, who regaled us with tunes from For The Morning, his first new album in seven years. The long-awaited new record, out now on CD and vinyl LP, is inspired by the lush, deep green and stunning landscape of his home in the mountains outside of Asheville, NC. Ramsey threads rock, country and folk into a rich, new branch of American roots music all his own.

"This album came about in the midst of a lot of change," explains Ramsey. "The birth of my daughter, a move to the country, and the steady realization that I needed to switch the road I was on in my life as a musician and songwriter. I tried to express and balance images of life as a constantly traveling and touring musician with the more connected life I live at home and the time I spend hiking in the mountains where I live."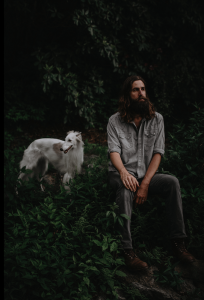 The foundation stones of the album were laid at his home near Mt. Pisgah in the Blue Ridge Mountains of North Carolina, where he's spent much of the past year playing guitar and relaxing with family.
"It's pretty country, right at the foot of the mountain, and we've got a little stream running through our yard," he said. "I built a little studio out here last year, in this little building out in the field down from my house, so I've got a place to go play music."
If it sounds bucolic, that's an apropos description for Ramsey's particular brand of Americana. Coming up in the Asheville scene, his raggedly blissful style made him a standout, and after releasing an eponymous debut album in 2005, various publications hailed his early 2008 release, "A Long Dream About Swimming Across the Sea," as a worthy inheritor of sounds peddled by Ryan Adams and Red House Painters.
Ramsey's time in Band of Horses (he left the group last May) helped him develop into a better musician as well, he added: He feels his voice is bigger and stronger, and his guitar work allowed him to dial in on the particular sounds he wanted to capture on "For the Morning," which was cut at a couple of sessions at La La Land, a studio in Louisville, Ky. It features a number of appearances from friends and peers that Ramsey has worked with in the past, another new element about which he's particularly excited.
The overarching sound, however, doesn't stray too far outside of his wheelhouse.
"I always try and not go too far away from the original game plan," he said. "I don't want to come out with some electronic record. I did do a lot of keyboards and piano, and a lot of songs were written on piano for this album. We also had some string players come in, so there are some extra things that make it a little bit more similar to 'Long Dream' in that way. There are a lot of really cool moments that fill it out, but I think it's a logical progression."
For the Morning, written and produced by Ramsey, connects the listener to this setting with dexterous guitar fingerpicking and radiant acoustic piano; affecting pedal steel and gorgeous languid vocals. Ramsey, along with engineer Kevin Ratterman (My Morning Jacket, Ray LaMontagne, Joan Shelley, Strand of Oaks) and Seth Kauffman of Floating Action (and touring musician for Jim James, Ray LaMontagne) recorded a clutch of Ramsey demos at La La Land studios in Louisville, KY. For The Morning is complemented by spots from several guest musicians, including Joan Shelley, Thad Cockrell, and Molly Parden who sing harmony on various tracks, the pedal steel player Russ Paul, Nathan Salsburg and Gareth Liddiard from The Drones on guitar.
"A Dream of Home," one of the album's many standouts, was written on a day off during a Horses tour. Ramsey holed himself up in a hotel room outside of Nashville and began writing about that familiar tug of greener grass, wondering if every musician's dream of touring the world to play for huge audiences was actually all it was cracked up to be. The absorbing centerpiece "Breaking A Heart" glows with sublime piano chords and beautiful guitar playing while Ramsey's pristine vocals are left hanging in the air like mist. Elsewhere "Evening Country" is an updated, country music version of the song "Evening Kitchen" he wrote for the Band of Horses' Grammy-nominated album Infinite Arms that swings with delicate harmonies and pedal steel.
This is exciting-but-soothing new music from an artist we've long admired, and we at Horizon Records can't wait to ring in Record Store Day with Tyler. We'll have For The Morning and these other titles in-stock on CD and vinyl LP for the show.