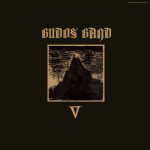 BUDOS BAND, V (CD/LP)
The Budos Band have spent the last 15 years slowly-but-surely adding elements of proto-metal to their groove-drenched instrumental Afrobeat. 2014's Burnt Offering feels like a confession of sorts, the band copping to their stoned-teenager proclivities by giving the album a grim title, artwork depicting a bearded wizard, and songs that sound like Fela Kuti jamming with Black Sabbath. It is awesome. Now we have The Budos Band V, which stands as both an aesthetic refutation of Burnt Offering and a refinement of everything it did well. Like every Budos album before Burnt Offering, it's numerically titled, and its tasteful cover depicts a distant mountain. At the same time, it's obvious from the first bars of opener "Old Engine Oil" (shout-out to Harviestoun Brewery) that the band will be doubling down on the hard rock riffage. While the guitar menaces and churns, the bass and drums lock into the Ethiopian rhythms that were the band's bread and butter in their early days. The brass glides above it all, saxophone and trumpet commanding the spotlight whether working together to hammer down a musical theme or going rogue and spraying out wild notes. They provide the pyrotechnics while the rest of the band build reliably infectious grooves. The balance they've perfected with years and repetition is evident. "Veil of Shadows" is the album's highlight, a tightly wound funk metal masterstroke. The guitar introduces the main riff, accompanied at first only by droning organ. The drums shuffle in next, and trumpet and sax soon splash in some color. But the real stroke of genius comes at the 2:30 mark, when the organ takes over the lead melody, and the rest of the band sound like they're cheering it on. The brass takes the song over the finish line, but that moment defines the Budos Band at its best: nine instruments working together to create something greater than the sum of their parts—in whatever shape that may take.

SHOVELS & ROPE, By Blood (CD/LP)
To really get to the heart of Shovels & Rope's new album By Blood, you have to go back to the dirtiest, most distorted, most chaotic moments on their previous album of original material, 2016's Little Seeds. Those moments, specifically the rough-hewn, distortion-coated rockers "Buffalo Nickel" and "Invisible Man" and the eerie, experimental, near-a capella track "Bwyr," took their sound, previously based in acoustic-guitar and-drums roots-rock, and made it darker, angrier, and a lot more visceral — and that's where By Blood really starts. Almost every song on the new album has a moment where Cary Ann Hearst and Michael Trent dive into the muck, coating their still-gorgeous, still-raw vocal harmonies in needle-in-the-red fuzz, cranking up Trent's explosive, unruly electric guitars and giving Cary Ann's propulsive drumming so much volume that it threatened to blow my speakers. These 10 tracks, recorded in the couple's home studio, bristle with a sort of sly mischief, sounding almost like the acoustic Shovels & Rope's mirror-universe evil twins. There are certainly moments that recall what Shovels & Rope used to be, most notably the bouncing acoustic ballad "C'mon Utah." But even that song goes into a more unhinged place, especially when Trent begins screaming like a scalded dog over the top of Hearst's more grounded vocal. And there are beautiful moments, as well, like that part on shiver-inducing title track when the near-orchestral backdrop suddenly falls away, leaving only Hearst and Trent's voices and a lone acoustic guitar to carry the song. But mostly, Shovels & Rope decided to go loud and weird this time out, taking the wide-ranging experimentation of their Busted Jukebox covers albums and applying that aesthetic to their original material. Those albums were more laid-back than By Blood, but that doesn't really matter. When you can dig into the stomp-and-clap buzzsaw "I'm Coming Out," the chilly, anthemic rocker "Mississippi Nuthin'," the swaying, psychotic soul ballad "Twisted Sisters," or the ping-pong rhythms of the window-rattling "Pretty Polly," who needs laid-back? This record is bursting with ingenuity and the joy of creation, and it's easily Shovels & Rope's most zero-f*cks-given release yet, which is pretty damned refreshing and more than a little brave, coming as it does at a time when more eyes are on the duo than ever.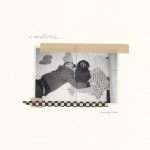 ANDERSON.PAAK, Ventura (CD)
If last year's Oxnard was Anderson .Paak's version of Outkast's Speakerboxxx – a shape-shifting hip-hop LP steeped in eccentric R&B — its sister LP, Ventura, is his The Love Below, an eccentric R&B record tilting towards hip-hop. Ventura even begins with an André 3000 cameo, a memorable one at that, the MC-emeritus navigating grown-ass relationship trials (aging, hair dye, relationship counseling) on verses that move from trot to canter to gallop to warp-speed: "Amazing how time can run/away from us/I'm no nun/you're no priest/but I promise hon/You're goin' to see a phenomenon/Come with me like it's Ramadan." The benediction caps "Come Home," a lavish slow jam that otherwise has .Paak pleading with his own beloved amidst angelic soul choirs. And it sets the tone for an LP that's in large part about a rather un-pop concept: the sustained, sometimes unsexy effort necessary to create something lasting, whether it's social change or a healthy relationship. "Make It Better (feat. Smokey Robinson)" drives home the latter on a song that reasons "It's easier to walk away/Than to look for what would make you stay." Opting for the latter, the singer suggests he and his lover "make some new memories" the way a Cosmo article might: swapping the conjugal bed for a hotel room, to try "some new seduction … give each other new instructions." On "Winners Circle," Sonny from A Bronx Tale waxing philosophical about the "three great women in your life"who "come along every ten years," as Paak scats against a harem of backing vocalists and savors the (intermittent) appeal of abstinence. "Jet Black," however, abstains from nothing, Paak and eternal heartthrob Brandy canoodling over a G-funk bounce mixed by Dr. Dre. "Twilight," with help from Pharrell, addresses relationship bumps with eyes on the long haul. "King James," meanwhile, is a sort of activist work song, invoking Colin Kaepernick and the Trump wall while paying tribute to the community-minded Lebron ("we salute King James for using his change/ To create some equal opportunities"). Released just two weeks before the murder of another community-minded LA hero, Nipsey Hussle — Paak's friend and neighbor — the single's chilled-out, midtempo vibe approaches protest music like Stevie Wonder or Curtis Mayfield recordings have, more as nurturing groove than rallying cry.

BILL FRISELL & THOMAS MORGAN, Epistrophy (CD)
When ECM Records released Small Town in 2017, beyond capturing the profound intimacy and musical ability to "finish each other's sentences" shared by the first recorded document of guitarist Bill Frisell and bassist Thomas Morgan in a duo setting, one of the biggest walk-aways was the hope that this would not be a one-off. Two years later, Epistrophy captures another 68 minutes (running literally 34 seconds longer than Small Town) of intimate interaction, culled from the same March, 2016 run at New York City's legendary Village Vanguard club. But if certain key markers remain the same between the two releases, Epistrophy not only expands upon the shared musical understanding and ability to get deep inside whatever music Frisell and Morgan choose to play; it also possesses its own distinct narrative, largely due to a selected set of nine tunes that possess some commonalities with Small Town, but some important differences as well.  Continuing, as a brief note articulates in Epistrophy's liners, "the story begun on Small Town," where this second set of music differs is in its sources. Yes, Frisell once again selects a song played when he was a member of Paul Motian's thirty-year trio with the guitarist and saxophonist Joe Lovano. Still, in contrast to the atmospheric title track from It Should've Happened a Long Time Ago (ECM, 1985) that opened Small Town, "Mumbo Jumbo," first heard on a later trio date with the drummer, Motian in Tokyo (JMT, 1992), is a far more oblique examination of this improv-driven sketch, also composed by Motian.  Frisell—who, with this duo, continues to largely eschew the greater arsenal of effects he so often employs—brings both ring modulation and reverse attack into the mix at various points during an eight minute exploration that fluidly moves in and out of time, as Morgan effortlessly shifts from brief periods of implicit and explicit swing to timeless, open-ended passages. Throughout, the pair feeds off of one another with the same mitochondrial connection heard, not just on Small Town, but on the guitarist's celebration of film music in the context of a larger ensemble, When You Wish Upon a Star (Okeh, 2016), Morgan's first recording with the guitarist.  Small Town closes with Frisell and Morgan's remarkable look at the theme song to the 1964 James Bond film Goldfinger. Remarkable, because locating, excising and incorporating so many key elements from composer John Barry's original big band chart into the duo's more intimate look might seem impossible to believe, were there not clear evidence coming from the speakers. Frisell and Morgan bring the same rare, keenly astute ability to mine the core of any song to Epistrophy's "You Only Live Twice," which the duo first recorded in the context of a quartet on When You Wish Upon a Star (and sung by the late Charlie Haden's daughter, Petra).  Like so many of his peers, Frisell is not bound to any one style of music, and while it's true that some albums may lean a little more heavily in one direction or another, at the end of the day Frisell remains an improvising guitarist, albeit one for whom the essence of any song is paramount. His overall approach to style is more inclusive than exclusive, meaning that over the years he has increasingly evolved into a stylistic melting pot capable of fitting into contexts as seemingly disparate as drummer Andrew Cyrille, trumpeter Kenny Wheeler, British singer David Sylvian and American pop/rock singer/songwriters Bonnie Raitt and Rickie Lee Jones.
AARON LEWIS, The State I'm In (CD)
MELISSA ETHERIDGE, Medicine Show (CD/LP)
NORAH JONES, Begin Again (CD)
GLEN HANSARD, This Wild Willing (CD/LP)
BRUCE HORNSBY, Absolute Zero (CD/LP)
ELI PAPERBOY REED, 99 Cent Dreams (CD/LP)
DAMIEN JURADO, In The Shape Of A Storm (CD/LP)
SUN KIL MOON, I Also Want To Die In New Orleans (CD)
JOHN PAUL WHITE, Hurting Kind (CD/LP)
BAND OF SKULLS, Love Is All You Love (CD/LP)
KILLER PRE-RECORD STORE DAY REISSUE: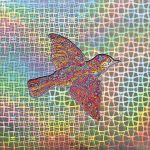 WIDESPREAD PANIC, Til The Medicine Takes (LP)
Widespread Panic's sixth studio album "'Til The Medicine Takes", originally released in 1999 on Capricorn Records, turns 20 this year. In honor of this milestone, it will be released on vinyl for the first time ever. The double LP will feature the original studio recording, remastered for vinyl, produced by the Grammy-nominated John Keane and with the original artwork by Grammy-nominated artist Flournoy Holmes. The release will also include live bonus tracks of "Dyin' Man" and "The Waker" from a 2000 KBCO performance. This  tri-fold vinyl release was pressed on 140-gram vinyl with 3-D lenticular cover.