In this week's New Releases, we reverently bow our heads and welcome the new album by the ageless Leonard Cohen, we celebrate the return of American Football (the band, not the sport), we dive into the demented hip-hop weirdness of Nx Worries, and we delight in a new Pretenders album produced by Dan Auerbach! Read on…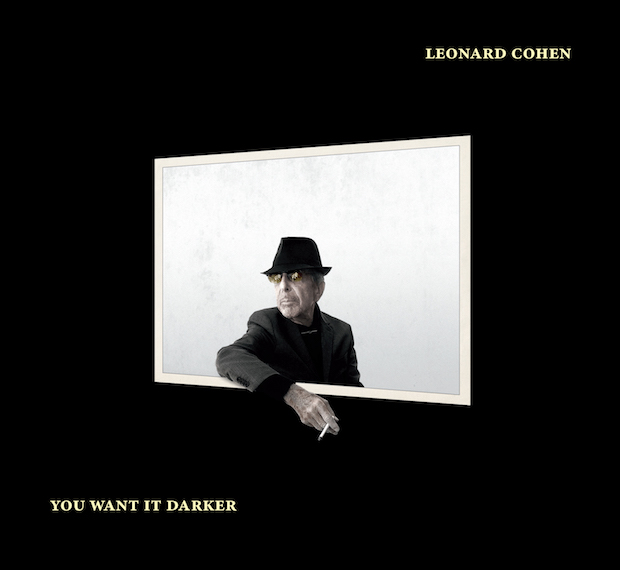 LEONARD COHEN, You Want It Darker (CD/LP)
The title of Leonard Cohen's new album serves as a taunt. It's a jab at those who expect the 82-year-old poet and singer to just retire, going gently into the good night without a fight. It's also a treatise on modern culture, particularly fitting for the current presidential election cycle. John Oliver describes us as being "buried alive in the horror that is this election." Cohen, ever the tidy wordsmith, doesn't engage in such histrionics. "You want it darker?" he simply offers. The cool inquiry is rhetorical, because who would actually answer in the affirmative? He's slyly baiting us with our own fears: You think it's dark now? Just turn on the TV tomorrow morning.  The album's nine tracks tell a different story, however. The songs keep in line with the narrative Cohen laid out in the New Yorker piece about putting his "house in order" before migrating from this earthly plane. A witty couplet (or eight) aside, the album deals in harsh goodbyes. Not entirely welcome, some heave with resignation as others bring a modicum of comfort. "I'm leaving the table/ I'm out of the game," he sputters in a charcoal growl on "Leaving the Table". Just two songs prior, he mournfully pleads about how he wishes "there was a treaty between your love and mine" on "Treaty". If You Want It Darker ends up as Cohen's last musical will and testament, no distant relative goes without a hefty inheritance. And whether we wake up to a country going along with her or making itself great again on a morning in early November, Cohen's bare-knuckled insistence that religion, politics, those bound to us by law or sheer will, and even ourselves will fail is a fitting legacy.
NX WORRIES, Yes Lawd! (CD/LP)
Anderson .Paak and producer Knxwledge's Yes Lawd! feels in many ways like the spiritual successor to Below the Heavens, the 2007 collaboration between Blu and producer Exile. Both albums eschew the fashion of the day, instead marrying post-Dilla samples and break drums with a West Coast breezy vibe, and both bend time as if they belong to no single era in particular..Paak's rising celebrity and heavy touring schedule following features on recent Dr. Dre and Kaytranada albums that teased his excellent breakout LP Malibu could have forced side projects like NxWorries to the back burner. Fortunately, that's not the case; Yes Lawd! feels complete, as if the finishing touches, interludes and sequencing were cohesively crafted using whatever outtakes and rough drafts were available. The result is remarkable consistency across 19 tracks. Indeed, Yes Lawd! is an album best appreciated with complete play-through. Lyrically, Yes Lawd! is an anthology of admiration and ambition. .Paak's now trademark rasp and honest wordplay allows us to connect with heartfelt moments and cut some slack to the gratuitousness ("So I give up my sidepiece…just to make room"). The rubber band bounce of "Wngs" establishes the sound of the album early, while songs like "Scared Money," "H.A.N." and "Jodi" extend nods to a range of classic production styles. With no prominent features and few songs exceeding the three-minute mark, all signs point to this being a passion project first and foremost, and in keeping with Stone Throw's tradition of non-traditional excellence. While the NxWorries name is probably more aspirational in nature, the Yes Lawd! title is an accurate summary of the sound within.
THE PRETENDERS, Alone (CD/LP)
What was originally intended as a Chrissie Hynde solo album finally appears, packaged as a Pretenders release, with the Black Keys' Dan Auerbach aboard as producer. A cadre of Auerbach's country and blues pals – including Duane Eddy, contributor of autumnal twang to the indigo-tinted love song Never Be Together – create a 50s-style rootsiness that suits Hynde very well. Forever parrying toughness and profound vulnerability, she has found empathy in Auerbach's retro torch arrangements. The old saw about age being nothing but a number finds its true expression here: at 65, she's ferociously autonomous, extolling singlehood with the title track's primitive rockabilly strut ("Nobody tells me I can't / Nobody to say 'You're doing it wrong'"). Reserving the right to change her mind, she is then infused with new-relationship excitement on the cascading ballad Let's Get Lost, while I Hate Myself not only revels in drawling self-loathing ("I hate these perversions of the heart") but makes it sound appealing. Always a one-off, Hynde is magnificent here – unapologetic and deferring to no one.
AMERICAN FOOTBALL, American Football (CD/LP)
Few but a gaggle of devoted diehards noticed when American Football split up shortly after releasing their self-titled debut in 1999. In the years since, though, the album has proved a canonical text for anyone who was a fan of the wistful, technical sound of 90s emo, back before the genre was hijacked by the mascara-and-self-loathing crowd. Now the Illinois band are back with a follow-up that may as well come encased in amber, so redolent is it of that first work. Opener Where Are We Now? sets the scene with its twinkling, perambulating guitar lines and vocalist Mike Kinsella's cry of "We've been here before", while the excellent Desire Gets in the Way adopts the jazzy inflections of the band's most recognisable "hit", Never Meant. For the most part there is little interest in deviating from the tried and tested, but for anyone who felt the band were gone too soon in their first incarnation, this is a welcome trip into familiar territory.

ALEXANDRE DESPLAT, American Pastoral (OST), (CD)
Composer Alexandre Desplat is no stranger to cinematic adaptations of literary fiction and this comes hot on the heels of his outstanding score for The Light Between Oceans, one of his very best.  Not surprisingly, this is another earnest and very serious work, frequently rather downbeat but not without its moments of great beauty. The score opens with "Swede's Story", a noble horn theme (with McGregor himself apparently amongst the performers) serving as a brief prelude before the theme gets a more extended airing in the next cue, "Riots", the timpani heartbeat a trademark of the composer and giving a dramatic energy to the piece as the theme gradually falls apart.  An outstanding melody is then introduced in "Rita Cohen", a gossamer-thin piano tune over piercingly high strings – it sounds like the slightest breeze would shatter it apart.  It's beautiful but full of such sadness, a feeling explored further in "Meeting Rita" – the orchestration is fuller now, stronger and sturdier, but the piano still takes the lead, now performing the score's second main theme. Desplat closes his score with a fully-orchestrated version of the horn theme in "Kaddish for Seymour", and in many ways it sums the whole thing up: it's beautiful, multi-faceted, clever but  rarely easy listening.

BON JOVI, This House Is Not For Sale (CD/LP)
JIMMY EAT WORLD, Integrity Blues (CD/LP)
LADY GAGA, Joanne (CD)
SARAH MCLACHLAN, Wonderland (CD/LP)
PRETTY RECKLESS, Who You Selling For (CD/LP)
DAVID CROSBY, Lighthouse (CD/LP)
DEEN WEEN GROUP, Deaner Album (CD/LP)
MICHAEL STEIN & KYLE DIXON, Stranger Things Vol. 1 (CD/LP)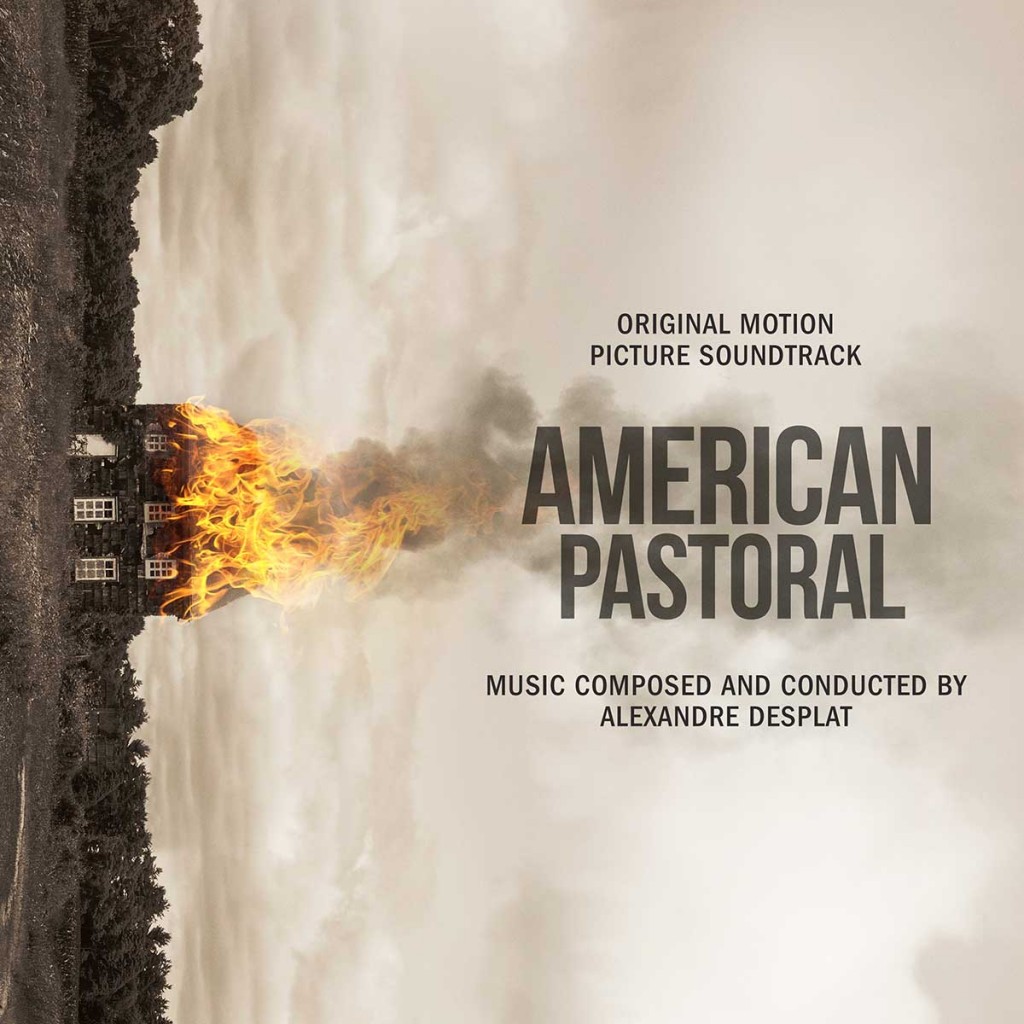 KILLER REISSUE OF THE WEEK:
OTIS REDDING, Live At The Whiskey A Go-Go:  The Complete Recordings (6xCD)
In chronological order, this collection presents the entirety of Otis Redding's legendary performances over three nights at the famed Whisky A Go Go, on LA's Sunset Strip. The seven sets, recorded Friday, April 8th, through Sunday, April 10th, feature the singer's popular songs of the time, including 'Respect,"I've Been Loving You Too Long' and his cover of The Rolling Stones' '(I Can t Get No) Satisfaction.' Several of these recordings -all remixed and remastered from the original analog tapes- will be released for the very first time. Rounding out the package is a poster, plus new liner notes from box set co-producer Bill Bentley and Los Angeles-based journalist Lynell George.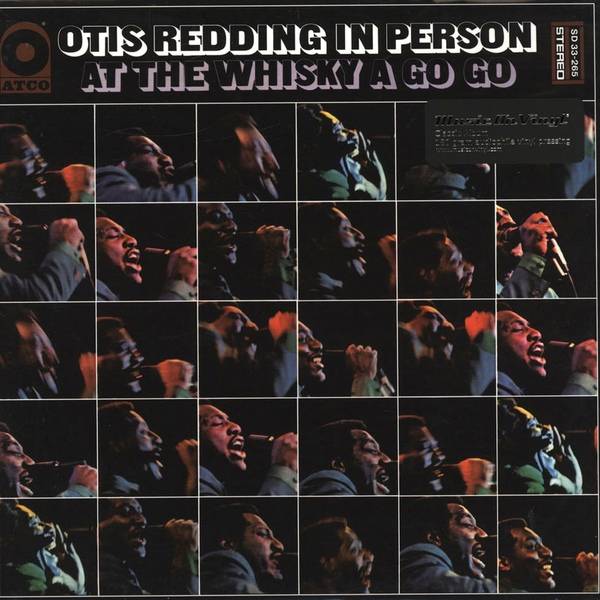 COMING SOON:
LOU BARLOW, Apocalypse Fetish (10/28)
KURT ELLING, Beautiful Day (10/28)
WAYNE HANCOCK, Slingin' Rhythm (10/28)
And don't forget these STILL-NEW platters that matter!
BLACKBERRY SMOKE, Like An Arrow (CD/LP)
Like An Arrow continues the trend of sonic exploration established on Blackberry Smoke's previous two releases, 2012's The Whippoorwill and 2015's chart-topping Holding All The Roses. It kicks off with the band's heaviest song to date and explores British Rock before moving on to musical stops in places like Macon, Woodstock, Muscle Shoals and Tulsa as Starr and his buddies follow the ramblin' examples of timeless, authentic acts like the Allman Brothers Band, J.J. Cale, the Band and others who define rock n' roll in all its many facets.
CONOR OBERST, Ruminations (CD/LP)
Conor Oberst's seventh LP is a refreshing renewal of the anxiety-ridden intimacy that marked his earliest work with Bright Eyes nearly 20 years ago – usually just Oberst accompanied by piano, a moody harmonica and some spare acoustic finger-picking. The stakes are getting high as he bites into midlife. "Counting Sheep" addresses a recent medical scare (the diagnosis of a cyst on his brain) and begs for a good night's rest: "Closing my eyes, counting the sheep/Gun in my mouth, trying to sleep/Everything ends, everything has to." The refusal of hope or respite in these songs often makes Ruminations feel like Oberst's Blood on the Tracks.
DAVID BROMBERG, The Blues, The Whole Blues, & Nothing But The Blues (CD/LP)
Among his many attributes, David Bromberg is a generous bandleader, and so the first guitar solo on his latest album is performed by sideman Mark Cosgrove. It's a doozy fittingly punctuated by a "Woo!" from Bromberg. There's plenty of room for the frontman to shine, too, on "The Blues, the Whole Blues and Nothing But the Blues." Bromberg has never sung better, his wise, warm warble enhanced by masterful timing and droll wit. His guitar still gets its licks in, too, whether it's an electric slide on the Chicago-style original "You Don't Have to Go," or an acoustic on Ray Charles' "A Fool for You." Maybe Bromberg is just trying to keep up with the rest of the cast. The album was recorded with his terrific band and produced by Larry Campbell, who plays acoustic slide guitar on a wonderful duet rendition of "Delia." Arrangements are tight and the mood is loose as the group covers material by Robert Johnson, Bessie Smith and Sonny Boy Williamson, among others. The liner notes include useful cut-by-cut commentary from Bromberg, who explains what Johnson meant referring to an ex-mate's "Elgin movements" in "Walkin' Blues."
DILLINGER ESCAPE PLAN, Dissociation (CD/LP)
After nearly 20 years spent pushing, pulling, coaxing, battering, tweaking and otherwise forcibly evolving the forms metal can take on, the Dillinger Escape Plan appear to be calling it a day. But, like they've done all along, they're doing it completely on their own terms. The attention to detail in the engineering and mixing is dizzying (sometimes literally) and has immense impact on the feel of the album. Dillinger are striving for, and achieving, overall sound artistry here as intentional and immersive as anything from the worlds of art-rock, pop or electronic music.
JONAS KAUFMANN, Dolce Vita (CD/LP)
On Dolce Vita, Jonas Kaufmann proves beyond doubt that he is today s finest interpreter of Italian operatic repertoire. Kaufmann may not have been born in Italy, but he is an adopted son and brings an authentic Italian spirit and understanding to the music with his own inimitable flair. Since his many childhood holidays in Italy, immersed in its history and southern temperament, Kaufmann feels very much at home in his adopted culture almost everything he brings to the opera stage stems from his passion and understanding of this Mediterranean land and its music. Dolce Vita is much broader than a Neapolitan album featuring a selection of songs drawn from Italian, Neapolitan and pop songs. The album includes the well-known classics Torna a Surriento, Volare, Core ngrato, Non ti scordar de me, Caruso and many more.
KINGS OF LEON, Walls (CD/LP)
Kings of Leon's career follows a familiar trajectory from music press-championed guitar-slinging upstarts to success towards gradual disillusion. However, the southern states boys' seventh album finds them successfully relocating their old vim and enthusiasm, and is packed with the sort of zippy verses and arena-sized choruses which resulted in Only By the Night's global domination in 2008. Opener Waste a Moment is a sibling of shoutalong signature anthem Sex on Fire, but no worse for that. Other tracks have a more Springsteenesque, storytelling feel, with occasional lyrical cliches: people are caught in traps, and told "Don't say it's over." No wheels are being reinvented here, but while much of Walls marks a return to the Kings sound of eight years ago, there is some experimentation. Reverend features an untypically pretty guitar line, and they are unusually wistful on Conversation Piece and the really lovely Muchacho, which includes the unexpected but mellifluous sound of a Kings of Leon whistling solo.
DR. JOHN, Musical Mojo Of Dr. John: A Celebration Of The Music Mac Rebennack (4xCD + DVD)
The Musical Mojo of Dr. John 4 disc CD/DVD/Blu-ray set captures a star-studded concert at New Orleans' Saenger Theatre, with Dr. John joined by a stunningly diverse assortment of notable guest artists, who perform 22 songs written, recorded and/or popularized by Dr. John during his prolific six-decade career, honoring his large and still-growing musical legacy. The performers include Bruce Springsteen, who duets with Dr. John on the 1973 smash 'Right Place Wrong Time'; Jason Isbell, who delivers a heartfelt 'Blow Wind Blow'; John Fogerty, who performs the raucous Crescent City anthem 'New Orleans'; Mavis Staples, who brings gospel fervor to 'Lay My Burden Down'; Widespread Panic, who lend musical muscle to 'Familiar Reality'; and Ryan Bingham, who delivers a haunting 'Back by the River.' Fittingly, The Musical Mojo of Dr. John also features memorable performances by several New Orleans legends, including Allen Toussaint, Irma Thomas, Terence Blanchard, John Boutté, Big Chief Monk Boudreaux, the Dirty Dozen Brass Band, George Porter Jr. and Zigaboo Modeliste of the Meters, and Aaron, Charles and Cyril Neville. Bassist Don Was served as the project's musical director, leading an all-star house band that also included Allman Brothers Band/Rolling Stones keyboardist Chuck Leavell, renowned NOLA pianist John Gros, Funky Meters guitarist Brian Stoltz and journeyman drummer Kenny Aronoff, as well as Dr. John's longstanding musical compatriot, trombonist Sarah Morrow.

VARIOUS ARTISTS, Studio One Radio Show (CD/LP)
For the first time on ever, these two rare shows originally recorded by Studio One for the Jamaica Broadcasting Corporation have been issued on CD. Winston "The Whip" Williams is your host as the sounds of 1977–78 Jamaica burst through your speakers via "Be a Man" Heptones, "Free" Burning Spear, "Great GuGu Muga" the Boss, "Oh Me Oh My" Jerry Jones, "Got to Be Sure" Horace Andy, "Peace Treaty" Sugar Minott, "I'll Be Waitin'" Alton Ellis, "Love Is All" Carlton & the Shoes and more! Studio One.

SUZANNE VEGA, Lover Beloved: Songs from An Evening with Carson McCullers(CD/LP)
A huge inspiration for Vega, author Carson McCullers explored issues of sexuality, race and mental illness in 1940s and 50s America. Her four novels and myriad short stories and plays, often center on societies downtrodden begotten characters, painting empathetic portraits of outcasts and the disenfranchised. Suzanne has recorded 10 songs inspired by McCullers work, co-written with Duncan Sheik.