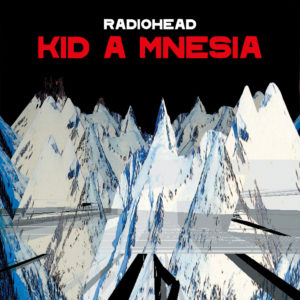 RADIOHEAD is celebrating their landmark, boundary-destroying albums KID A and AMNESIAC with a stunning three-volume collection, KID A MNESIA, out now on 3xLP, 3xCD and indie-store only red vinyl.
Pre-order your copy HERE.
For the first time, Kid A and Amnesiac are put back together as originally intended, with an additional disc of bonus material.
That's right; in addition to the 2000 and 2001 albums, the collection will include a third, 12-track disc entitled KID AMNESIAE, full of unreleased material from the band's Kid A and Amnesiac recording sessions. Previously unheard songs include, "If You Say The Word" and a new studio version of "Follow Me Around," along with different versions of "The Morning Bell, "Pulk/Pull," "Pyramid Song" and "How to Disappear Completely."
Kid Amnesiae also boasts a retooled version of "Fog" (a B-side that band was never completely happy with), a third, "In the Dark" take on "Morning Bell" (the link between the two albums, as Kid A and Amnesiac both feature different versions of the song), "Like Spinning Plates ('Why Us?' Version), a trio of mysterious "Untitled" songs, an alternate version of the B-side "Fast Track" and more.
"We humbly submit KID A MNESIA to you.⁠⁠ It's a coming of age for Kid A & Amnesiac and it's joined by a new album, Kid Amnesiae, a memory palace of half-remembered, half-forgotten sessions & unreleased material⁠⁠," the band wrote.
Kid A Mnesia is in-stock now 3xCD and 3xLP and in our webstore along with these other Radiohead releases!