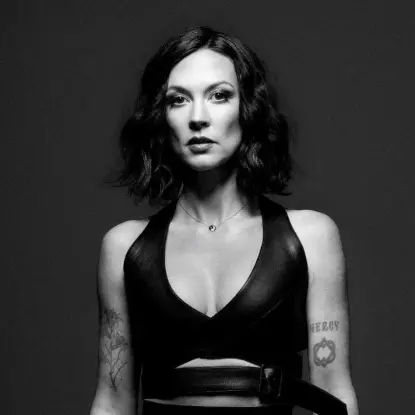 Grammy and Americana-award-winning singer-songwriter and violinist AMANDA SHIRES has pushed the reset button with TAKE IT LIKE A MAN, releasing a record that is so unlike anything she has ever recorded that you would be tempted to think it's her debut album instead of her seventh. Shires, who also plays in The Highwomen, worked with producer Lawrence Rothman (Angel Olsen, Kim Gordon) to make a fearless confessional, showing the world what turning 40 looks like in 10 emotionally raw tracks.
Get the album on white or red vinyl LP & CD HERE.
That pose that Amanda Shires strikes on the cover of Take It Like a Man — is it the look of allure, or alarm? Even after some time spent with the record therein, it still seems like it could be either. The singer-songwriter-violinist kicks off her seventh solo release with "Hawk for the Dove," about as broodingly carnal a track as you're going to hear this year. Shires then follows that sensual starter with nine more songs that are mostly about what happens after the thrill is gone. That kind of bracing writing can be a thrill unto itself, as it turns out.
It's an album about the midterms — the relationship midterms — and describing it as forthright scarcely begins to do it justice. Suffice it to say for starters that any couples currently in counseling could probably benefit from just bringing "Take It Like a Man'" into their next appointment and starting the session by letting it play out at full length, even if there wouldn't be a huge amount of time left for talking after its 37 minutes are up. Somebody's gonna feel heard when this record spins, and it's not just Amanda Shires.
Where all this confessional writing lands is somewhere within the country of country, although no one will mistake it for commercially inclined product, not even with as mainstream a star as Maren Morris sitting in on guest vocals. There are moments on the album that hark back a little to the countrypolitan side of classic Nashville, when a sweet piano gets paired up with some sad strings, and maybe Jason Isbell (her husband, if you hadn't heard, as well as her house guitarist) will lean into the baritone side of his instrument for a solo that digs deeper into the gut while every other musical element is tugging upwards at the heart.
On Side 2, where some of the cheerier-sounding songs reside, a horn section comes in to lend a very light R&B touch to the proceedings on a few deep tracks. Mostly, though, "Take It Like a Man" gives good brooding. Do a mental fade on Shires' lead vocals, if you can, and without that Edgy Dolly voice, you might almost imagine some of these tunes as part of the mature, late-period Springsteen catalog, as a reference point for sound and soul-searching.
Shires has indicated in interviews that she was experiencing some stasis in both her personal life and recording career a few years ago; changing partners in at least one of those was an option. Hence, the introduction here of a new producer and co-writer, Lawrence Rothman, a rising figure in the Americana world, who ironically — or purposefully — offers some fresh musical perspective for a record that's at least partly about its frontwoman feeling stuck. The success of their partnership here, as if they'd been commingling for years, is proof that Shires knows a good marriage when she intuits one.
"Take It Like a Man" isn't as sad an album as these excerpts might suggest it is. As previously mentioned, a lighter side of the record comes to the fore more in the second half, in a track like "Here He Comes," a sexier number that suggests the power of those pheromones to kick in even when not every emotional need is getting met. And if you put the album on repeat, it will always be kicking back to that deliciously, libidinously needy opening number, "Hawk for the Dove," where Shires paints herself nearly literally as a benign predator. It's like the seasoned woman's "I'm Gonna Getcha Good." And it's one of the few times on the albums where she busts out her trademark fiddle, not for finesse but nearly sawing away at it, in a culmination of the slow-burning tune's steamy ferocity.
But even in the album's most vulnerable moments, maybe especially in those moments, Shires is proving what a tough character she really is, exploring territory that singer-songwriters a little less sure of themselves would fear to tread. You'd just about have to have some of the cockiness that Shires' friends and fans know she has to sing this nakedly about about the uncertain moments. If there's any danger in letting both power and unguardedness fill her sails, well, she can take that like a catamaran.
Take It Like A Man is in-stock now at Horizon Records on white or red vinyl and CD, along with these other Amanda Shires releases!