Here's a little recipe for musical greatness for you: Take cello giant YO-YO MA, mandolin master CHRIS THILE, multi-instrumental wizard STUART DUNCAN on fiddle and guitar, and bass maestro EDGAR MEYER, and stir in wildly eclectic repertoire that mixes Appalachian, Chinese, Celtic, jazz and classical music.  You'll get the intoxicating brew known as THE GOAT RODEO, a once-in-a-lifetime ensemble that released their first album, the Grammy-winning THE GOAT RODEO SESSIONS, back in 2011.

Now the boys are back in town with a new release, NOT OUR FIRST GOAT RODEO, and if anything, this album, OUT NOW on LP and CD, is even wilder and more brilliant than the first.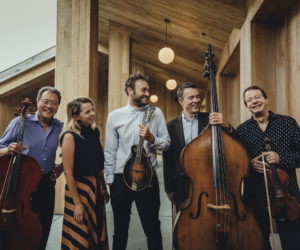 What we've got here is an astounding group of virtuoso musicians reuniting for the first time in nearly a decade for a one-of-a-kind album that combines blues, bluegrass and Bach. These exceptional artists create a singular sound that's part composed, part improvised—music so unorthodox that the group likens it to a "goat rodeo," an aviation term for an event that teeters on the edge of (yet successfully avoids) disaster. And as an added bonus,  the new recording also features the voice and artistry of singer-songwriter and fellow Grammy Award-winner Aoife O'Donovan, who rejoins the group as a guest on Not Our First Goat Rodeo after an appearance on their debut.
Tracklisting:
Your Coffee Is a Disaster
Waltz

Whitman

The Trappings (feat.

Aoife O'Donovan

)
Every Note a Pearl (feat.

Aoife O'Donovan

)
Not for Lack of Trying
Voila!
Scarcely Cricket
We Were Animals (feat.

Aoife O'Donovan

)
Nebbia
757 ml
The album's first single, "Scarcely Cricket," set the stage earlier this year, a quick-shifting tune that starts off with a bright, effervescent mandolin melody from Thile and a bouncy bassline from Meyer before delving into darker territory, with Thile's mandolin and Duncan's fiddle providing a percussive, propulsive backbone for Meyer's mournful bowed bass and Ma's twisting, effortlessly virtuosic solo.
This is boundary-free music not for the faint of heart; drop your preconceptions at the door and dive into the massive musical landscape of The Goat Rodeo on this new album.
Horizon Records will have Not Our First Goat Rodeo in-stock this Friday, along with their first album from 2011. Come by and pick up a copy or visit our webstore by clicking HERE.