Kinda slow on the ol' New Release front this week, but on the bright side, that means we can shine the spotlight on an amazing new album by Baaba Maal on +180 Records.
Once you've soaked that in, check out our kickin' list of Coming Soon titles, and we've finished out this week's update with some great news from our pals at Rhino Records.
BAABA MAAL, The Traveller (CD/LP)
Part spiritual healing, part rhythmic release, part electro-world-music hybrid, the Senegalese master-musician Baaba Maal's new album, The Traveller, is hypnotic and compelling. As its title suggests, the album, Maal's 11th, journeys through a series of ethereal soundscapes as big as the night sky and as precise as a pinprick. The sound is ancient modern, the traditional rhythms accented by electronic touches and buoyed by Maal's passionate, intensely emotional vocals. Backed by his six-piece road band (a smaller ensemble that usual), the sound is tight, exciting and truthful. The Traveller has arrived.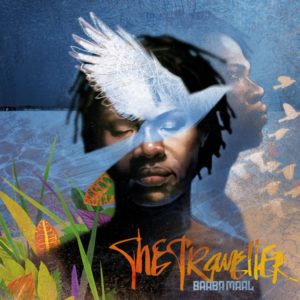 "Fulani Rock" begins at a roar and stays intense throughout, hitting a thoroughly absorbing, confrontational tone that's not sustained in the more reflective tracks that follow. The tune is a statement of identity: Maal comes from an inland area of Senegal where the language is Fulani, not the more prevalent Wolof, and he sounds fierce as he addresses his language and its connection to the daily life of his people. He's compelling when he reflects on his heritage, even though the maelstrom around him is a million miles from tradition. Elsewhere on The Traveller, West African identity is conveyed deliberately — check out the pensive electric guitar that provides counterpoint in the gorgeous title track, as well as the beautifully captured kalimba that deftly shadows his voice in "Gilli Men." Tom Moon, NPR
ALSO:
This Tuesday, January 19th, the kings of the reissue, RHINO RECORDS, will unleash a plethora of classic vinyl albums as part of their "Start Your Ear Off Right" sale. This 17-title juggernaut will feature:
BAD COMPANY, Rock & Roll Fantasy: The Very Best Of Bad Company (2xLP)
180g double-LP with 2 previously unreleased tracks.
THE CARS, The Cars (LP)
Limited edition 12″ blue vinyl.
DEVO, Freedom Of Choice (LP)
35th anniversary limited edition on red, white & blue vinyl.
THE REPLACEMENTS:
Sorry, Ma, Forgot To Take Out The Trash (LP)
Stink (LP)
Hootenanny (LP)
Let It Be (LP)
The Twin/Tone era LPs are available again after being out of print for over 20 years
VARIOUS ARTISTS, The Complete Stax/Volt Singles, 1959-68 (9 xCD)
9 discs and 244 tracks, back in print after being unavailable for over a decade!