The first couple duo of global banjo artistry and folk eclecticism co-bill a family effort.
You know BELA FLECK already. Master of the banjo. 13-time Grammy-winner. Conqueror of jazz, classical, bluegrass, progressive and world music. Teacher, student and all-around guru of his instrument.
You likely know ABIGAIL WASHBURN already, too. Wizard of clawhammer banjo, collaborator extrordinaire with old-time music maestros Uncle Earl, with John Paul Jones, The Duhks and many more, world traveler, producer and playwright. A musical force to be reckoned with on all fronts.
Bela Fleck & Abigail Washburn will play in Athens at the UGA Performing Arts Center on Weds., March 22nd. Show Info.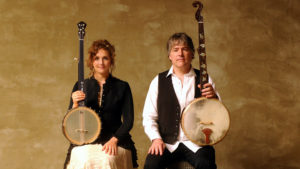 The team of Fleck and Washburn's first musical collaboration was in an unconventional string quartet comprised of two banjos, cello and violin and called The Sparrow Quartet, which they followed up with some touring as a duo.
After joining in holy matrimony,  they put out an amazing self-titled disc n 2014, which went on to garner a Grammy nomination for Best Folk Album. The album avoids self-indulgence and instead delivers 11 concise, thrilling tracks of intricate stringed conversation, dazzling ad-libbed jazz, cultural wanderlust and even a little blues. Washburn's intense, fiercely emotional vocals soar over these arrangements with a marvelous confidence, full of honey and vinegar. By the time it's over, you'll be dazzled by the sheer craft and creativity within.
Alive and in constant motion, the banjo duo discourse provides a wondrously open backdrop for Washburn's vocals. It takes some doing to revitalize a warhorse like "I've Been Working On The Railroad," but Washburn does it. She emphasizes the work-song cadence while glancing gently at the blues, and at the same time somehow conjures a wide-eyed sense of wanderlust – a feeling ported directly from that long-gone age when the railroad inspired reverence.
She's so uncontrived and uncomplicated and entirely believable, she could be from that era. She's believable when singing in a more modern folk idiom, too: In Fleck's dystopian "What'cha Gonna Do," her voice asks a hypothetical question about an end-times scenario in which the "land goes into the water." One minute she could be castigating corporate polluters, the next minute she sounds dismayed about humanity's chances, and the next she's singing with fierce yet intimate urgency, as if trying to rouse someone who's been sleeping for too long. The material on this self-titled set, recorded shortly after the birth of the couple's son Juno, covers an impressive range. There are wistful, singer-songwriterly originals (Washburn's "Ride To You") and old Appalachian classics ("Pretty Polly"), murder ballads and songs about the afterlife.