"Big Ears is one of the most quietly earth-shattering, subtly luminous festivals the world over," – Oxford American

"Tradition is not the worship of ashes, but the preservation of fire," – Gustav Mahler
Declared "one of the country's most audacious musical experiments" by Vice and "the classiest, most diverse festival in the country" by Rolling Stone, the Knoxville, TN Big Ears Festival is a dynamic, interactive experience that explores connections between musicians and artists, crossing all musical genres while interfacing with film, performance and the visual arts.
We're elated to remind you that the Big Ears lineup is out now, and tickets will be available Friday, November 3 at 10am ET via bigearsfestival.com.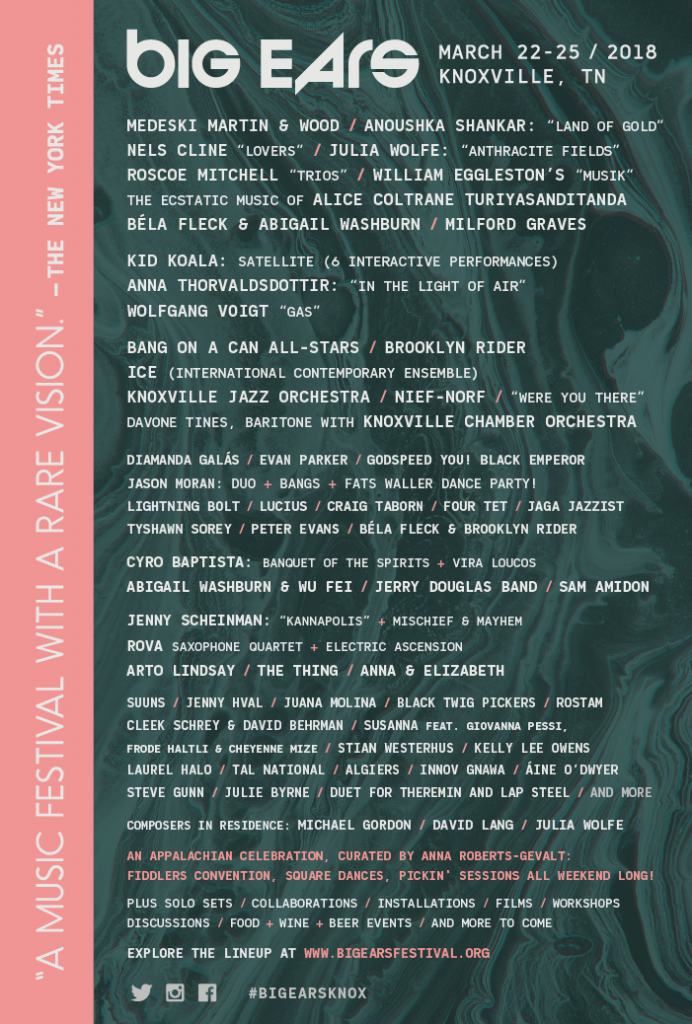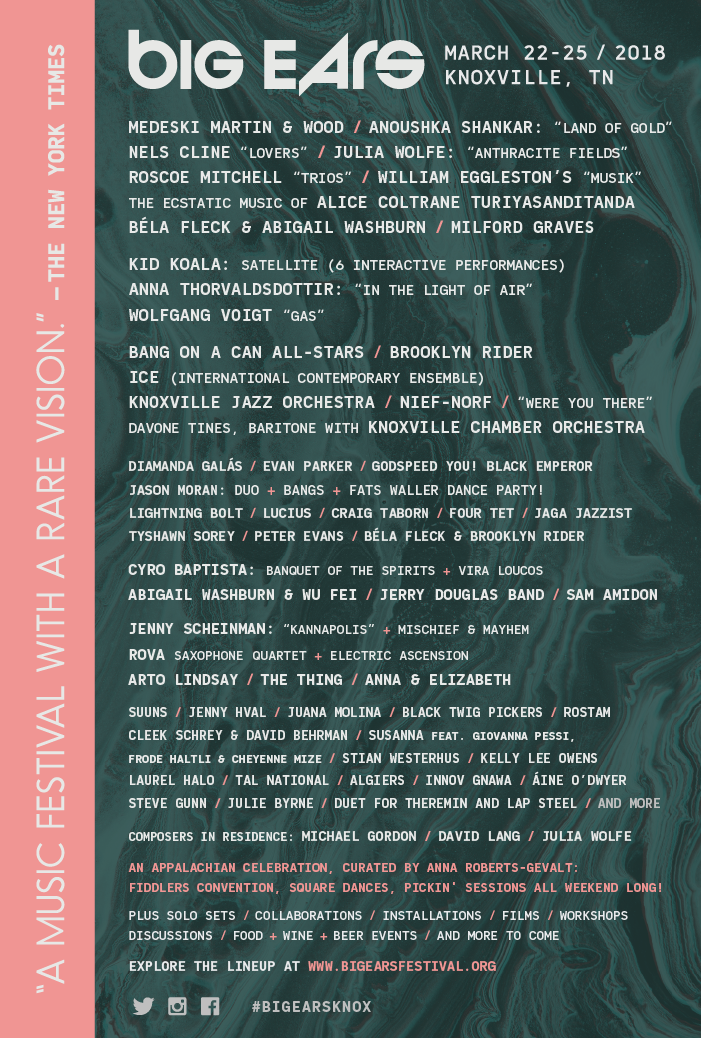 A letter from Big Ears founder and Artistic Director, Ashley Capps:
Dear Big Ears friends and supporters,
Summer has started to fade away and here we are – a mere 6 months from Big Ears 2018.
First of all, we want to thank all of you who attended Big Ears in 2017 and helped to make it such an inspiring and unforgettable occasion. We're especially appreciative to everyone who has taken time to share your experiences and feedback – and to respond to our annual survey. Your enthusiasm and suggestions are invaluable in helping us to continue to evolve the Big Ears experience.
We couldn't be more excited for 2018! For months now, the Big Ears team – and our growing family of co-conspirators and collaborators – have been shaping and curating a kaleidoscopic array of performances and experiences for the weekend of March 22-25. We can't wait to tell you what's in store. While our initial lineup announcement is only a very few weeks away – perhaps sooner – we can't help but start sharing some of what's in store – a few tantalizing hints and tidbits of information – between now and then.
So…as a Big Ears newsletter subscriber, this is your first tip for 2018 and we hope you'll continue to pay attention to things as they unfold on Big Ears' Facebook, Twitter, and Instagram. 
As always, we want to thank you for your enthusiasm, passion, curiosity, and support for Big Ears. It's your engagement and participation that make it all possible.
We're looking forward to seeing you again in the spring of 2018 as we join together in another border-crossing, boundary-erasing, surprise-filled cultural and social adventure in downtown Knoxville.
Peace – and happy listening,
Ashley Capps
Named for someone who is capable of discerning and perceptive listening, who has the ability to use the ears as a creative tool or who hears things many may miss, the Big Ears Festival is a weekend of world-class musical performances in beautiful historic theaters, clubs, galleries, and museums, combined with talks and discussions, interactive workshops, installations, exhibitions, film screenings, surprise collaborations and unexpected connections.  It celebrates the never-ending adventure of artistic creation and exploration.
From 100+ spellbinding performances to rare film screenings, artist discussions to explorations of poetry and literature, art exhibitions to secret shows and pop-ups, Big Ears 2017 was filled to the brim with unique experiences. Revisit highlights from the 2017 festival below, and join us in the spring of 2018 for another boundary-erasing cultural adventure in downtown Knoxville.