When AMERICAN AQUARIUM released Things Change in 2018, they probably had no idea how accurate their collection of fiery political outrage, personal introspection and rough-hewn alt-country would prove to be. In these unsettling times, songs like "The World Is On Fire" from that album are sadly more relevant than ever. So how does one follow up an album that we, and many others, thought to be one of the best of its time?
Well, American Aquarium decided to team up with producer SHOOTER JENNNINGS for LAMENTATIONS, the new album in-stock NOW at Horizon Records on CD, black vinyl LP and limited-edition indie-store-only gray vinyl, all available for curbside pickup and at our webstore.
Call us at 864-235-7922 or email info@horizonrecords.net to arrange curbside pickup, or visit our webstore by clicking HERE. On Lamentations, frontman BJ BARHAM offers hope and empathy through his songwriting, shining light through the shadows that attempt to divide rather than unite.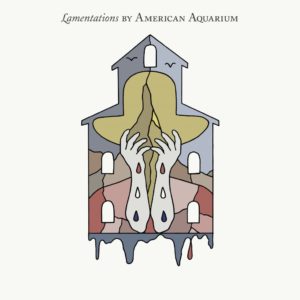 "As a songwriter, my number one job is to observe and then translate what I observe into a song, a story, a lesson," Barham says. "I'd be doing myself and the listener a huge disservice if I didn't talk about the things I see, which is a country, divided." Barham delves deeply into the honest conversations, those we too often are unwilling to have. The result is the strongest writing of Barham's career to date.
The powerful album opener "Me and Mine (Lamentations)" sets the tone for the album, featuring a protagonist who has given up on the American dream. The lyric "It seems like we don't matter" comes from the hard-working American who feels forgotten, as jobs are lost and opiod addiction flourishes. Barham humanizes those who, feeling left behind, saw a politician who showed up, promising to return jobs. He laments the loss of the American dream, while highlighting compassion and understanding rather than judgement.
The next track "Dogwood" is more upbeat, while still underlining the struggle of the workingman trying to stay afloat. With its catchy chorus, "Luckier You Get" is a lighthearted look at hard work and making your own way. "Better South" finds the narrator presenting great pride in their Southern upbringing, while also advocating for change.
Ultimately, Lamentations is a thrilling portrait of an artist and his band reaching new levels of skill, consciousness and potential after 20 years in the trenches. Unruly and sincere, Barham emerges as an important American voice––and an unlikely peacemaker.
"I've had to work really hard to carry water as a songwriter," he says. "It feels really good to be in my mid-30s, writing songs that I think matter. I think when you listen to this record, something is going to change in you. You're going to feel something. That's the most important part of songwriting: making someone feel."
Lamentations is in-stock now, and we've got the American Aquarium catalog in-stock at the ol' webstore, too!