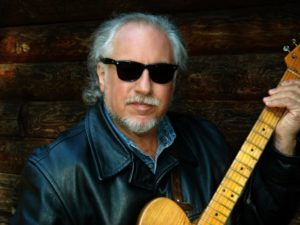 The Steady Rollin', No Controllin' BOB MARGOLIN is back, with an incredible album called "My Road," in-stock now on CD at Horizon Records. Equal parts biography, travelogue, soul-baring memoir and blues guitar showdown, "My Road" is the culmination of 50 years of playin' and singin' the blues around the world, both standing alongside Muddy Waters and leading his own band.
It's not so a much a "mature" work as it is "experienced." And it's a winner.
"MY ROAD" brings a fresh focus for Margolin – both musically and lyrically. "'My Road' reveals who I am today, musically and very personally. Each song takes a surprising turn from the others and my previous music. This breakthrough for me is informed by fifty years on bandstands, my Blues music heritage and credentials, and the drive to survive and thrive in today's pressurized world. 'My Road' is my ride through modern challenges, the ironies and lessons of aging, achieving true love, mourning, my band's distinctive signature sound, a childhood epiphany, my seven years in Muddy Waters' band, and exploring the darkest sides of life with friends who have been there."
The album was produced by Grammy-winning producer Michael Freeman and recorded at Fidelitorium Recordings in Kernersville, NC. Joining Margolin (guitar/vocals) in the studio are Chuck Cotton (drums/vocals) and Tad Walters (guitar/harp). The album features 6 new Margolin originals (plus 2 co-writes) and 4, written by friends, Margolin had long wanted to cover — Sean Costello's "Low Life Blues", bandmate Tad Walters' "Ask Me No Questions", Tex Rubinowitz' "Feelin' Right Tonight" and "Dancing With The Devil's Daughter" -D.B. Codd.