THIS JUST IN: Stop by HORIZON RECORDS today and enter to win two tickets to the genre-defying bluegrass masters STEEP CANYON RANGERS at the U.S. Cellular Center in Asheville on Saturday, Jan. 27th. We'll also be giving away a signed test-pressing of their new album "Out In The Open," which will be released on January 26th. The drawing will be on January 24th!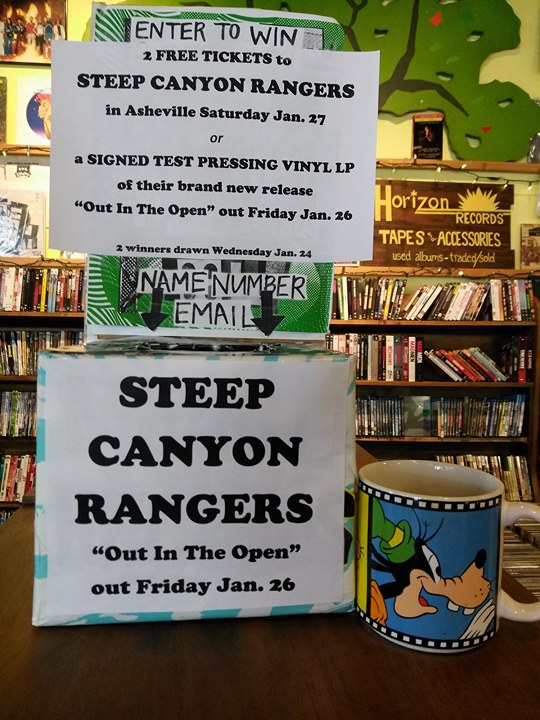 Though they've just released their second album with banjo-wielding comedy legend Steve Martin, the Grammy-award sextet STEEP CANYON RANGERS have gathered no moss. They've just wrapped sessions for their 10th album, to be released in early 2018, with JOE HENRY behind the boards.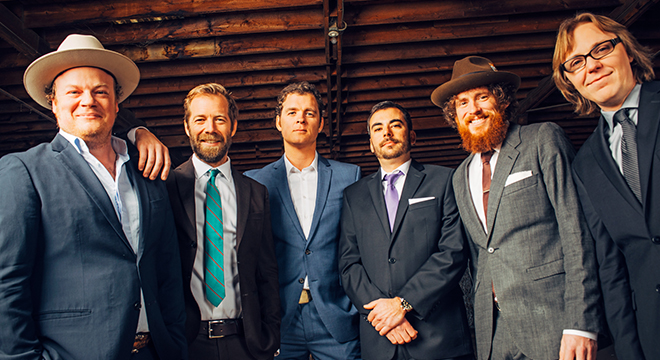 And they've also booked a one-of-a-kind performance at the U.S. Cellular Center in Asheville on SATURDAY, JANUARY 27th: A joint show with members of the ASHEVILLE SYMPHONY!
Get show and ticket info HERE
With OUT IN THE OPEN (Ramseur Records) Steep Canyon Rangers affirm their place as one of the most versatile and idiosyncratic bands in all of contemporary American music. The GRAMMY® Award-winning, North Carolina-based sextet has spent nearly two decades bending and shaping the bluegrass aesthetic, wedding it to elements of pop, country, folk rock, and more to create something original and all their own. OUT IN THE OPEN is perhaps Steep Canyon Rangers' bravest excursion thus far, transcending bluegrass while in many ways getting closest to the genre's true form thanks to producer Joe Henry's very traditional approach toward recording.
Steep Canyon Rangers have been expanding the parameters of bluegrass since coming together in 2000. Since then, the band has developed a remarkable catalogue of original music – predominantly co- written by Sharp and bassist Charles R. Humphrey III – that links them to the past while at the same time, demonstrates their ambitious intent to bring string-based music into contemporary relevance.
With that goal in mind, Steep Canyon Rangers have in recent years begun collaborating with some of Americana's most distinctive producers, working with top studio hands like Larry Campbell (2013's TELL THE ONES I LOVE) and Jerry Douglas (2015's RADIO) to take newfangled routes in crafting their ever- evolving approach. OUT IN THE OPEN sees the band teaming up with Joe Henry, an accomplished singer-songwriter as well as a 3x GRAMMY® Award-winning producer (Solomon Burke, Ramblin' Jack Elliott, Carolina Chocolate Drops) with a particular affinity for American roots music.
In July 2017, Steep Canyon Rangers arrived at Fidelitorium Recordings in Kernersville, NC, an intimate studio facility built, owned, and operated by legendary producer Mitch Easter (R.E.M., Let's Active).
Having not previously discussed Henry's plans, the band was surprised to discover that their producer – with the invaluable help of engineer/mixer Jason Richmond – intended to record in classic fashion, with all six members singing and playing in a room with no overdubs. Though Steep Canyon Rangers had some trepidation, they promptly rose to the challenge.
In addition to the highly anticipated release of OUT IN THE OPEN, 2018 will also see Steep Canyon Rangers uniting with their local Asheville Symphony for the recording of yet another new album, once again pushing their increasingly distinctive music into unexpected terrain.
OUT IN THE OPEN is an undeniable milestone on Steep Canyon Rangers' ongoing creative journey, its spirited, eclectic approach recasting the myriad sounds of string-based American music in their own unique image. As they fast approach their second decade, Steep Canyon Rangers are still moving forward, as ever searching for new horizons and musical vistas.

When they aren't in the studio, the Steep Canyon Rangers maintain a rigorous touring schedule with shows all over the U.S. (both with Steve Martin as well as headlining dates). They also appeared on "A Prairie Home Companion" with Steve Martin last December.
"We're just getting started," guitarist/lead vocalist Woody Platt exudes. "It's almost daunting, to think about how much more there is that we want to accomplish as the Steep Canyon Rangers. Each time I get off stage, I ask myself, 'Was that fun? Did that feed your soul?' That's how we go about it, and more times than not, the answer is a rounding 'Yes.' We're totally committed."
Until Out In The Open comes out early next year, tide yourself over with these Steep Canyon titles, in-stock now at Horizon!