We weren't quite sure what to expect when we opened the doors at 9am last Saturday for RSD's special "Drop" event, but you showed up and showed out, diving into the stacks of limited-edition vinyl and other goodies, not to mention our tons of new and pre-loved LPs and CDs. The whole weekend went incredibly well, and we thank you from the very bottom of our hearts for your continued support of our humble brick-and-mortar indie store.
We've still got some great RSD stuff waiting for you in the house, along with plenty of other releases hitting the racks all day, every day. Come on by and check it out!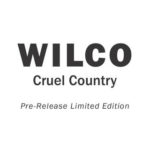 WILCO, Cruel Country Pre-Release Limited Edition (2xCD)
SPECIAL RSD PRE-RELEASE LIMITED WHITE LABEL edition of Wilco's Cruel Country. Wilco has been releasing genre bending albums since their debut in 1995. Their latest effort comes in the form of a full-blown country project. This version features a RSD exclusive album artwork, an essential for any fan of Wilco and collectors in general.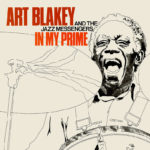 ART BLAKEY & THE JAZZ MESSENGERS, In My Prime (2xLP 180g vinyl)
Tidal Waves Music now proudly presents the much-needed vinyl reissue of Art Blakey and The Jazz Messengers' In My Prime which contains the complete NYC sessions recorded at the CI Recording Studios (New York) on December 29, 1977.This unique album comes as a deluxe 180g DOUBLE vinyl edition (strictly limited to 2000 copies worldwide) with obi strip and is packaged in a gatefold jacket featuring the original artworks and session shots from Mark Bug Zester, Don Diesveld & Hans Harzheim (known for their work with artists such as Sun Ra, Chet Baker and Pharoah Sanders). To top it all off, this release also includes the original liner notes written by renowned author and producer Chip Stern (Ginger Baker, Thelonious Monk and Miles Davis). Released exclusively for Record Store Day 2022.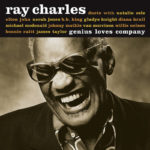 RAY CHARLES, Genius Loves Company (2xLP)
One of the most the most popular and commercially successful albums of Ray Charles' illustrious career, Genius Loves Company reached #1 on the Billboard 200, and won 8 Grammy Awards including Album of the Year and Record of the Year in 2005.  It sold over 200,000 copies in the US alone during it's first week of release and went on to Triple Platinum status.  This duet album features collaborations with some of the biggest names in music like Norah Jones, James Taylor, BB King, Van Morrison, Willie Nelson, Bonnie Raitt and more.  It is also notable, and fitting, as the final album Ray Charles ever recorded.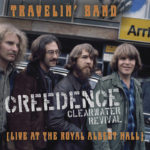 CREEDENCE CLEARWATER REVIVAL, Travelin' Band (Live At The Royal Albert Hall 1970) (7″ vinyl)
Featuring a previously unreleased live version of the all-time classic song, recorded at Royal Albert Hall in 1970.  The b-side is a live version of the classic "Who'll Stop the Rain" recorded in Oakland in 1970.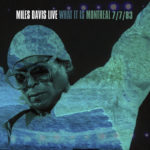 MILES DAVIS, What It Is: Montreal 7/7/83 (2xLP)
This double LP release features one of Miles Davis' final great bands: John Scofield on guitar, Bill "The Other Bill Evans" Evans on saxophones, flute and electric piano, Darryl Jones on bass, Al Foster on drums, and percussionist Mino Cinelu. Miles was back in amazing form ("incandescent and iridescent as ever," critic Greg Tate noted), when he mounted the stage at the Theatre St-Denis during the Festival International De Jazz De Montreal in July 1983, and this revelatory performance has been lovingly mixed and mastered for its first ever release, on vinyl for Record Store Day 2022. (A CD will be part of the next edition of the Miles Davis Bootleg Series, focusing on the 1981-1985 period, later in the year.) What It Is includes tracks from that year's release Star People, the Marcus Miller tune "Hopscotch" and the song "Jean-Pierre" that appeared on 1982's We Want Miles. The recordings of "What It Is" and "That's What Happened" were so well thought of by Miles that he utilized them for his 1984 release Decoy, but in heavily edited form and this release would include the first release of them in complete form. Packaged in beautiful gatefold packaging, the album features liner notes penned by the incomparable music journalist Greg Tate and represent some of his final writing.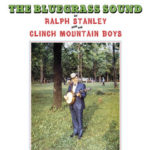 RALPH STANLEY & THE CLINCH MOUNTAIN BOYS, The Bluegrass Sound (180g grass-green colored vinyl LP)
Hasn't been re-issued since original press in 1968. Never been on colour vinyl. Originally released in 1968 on the Jalyn Records label – pioneers of American bluegrass roots. This is the first official reissue in over five decades! Ralph Stanley dedicated this record to his late brother Carter Stanley. The Stanley Brothers are a true staple for any mountain music collection. Pressed on 180g heavyweight grass green colored virgin vinyl in grass green color with individual hand-numbering.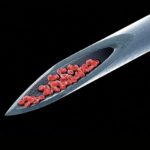 PETER GABRIEL, Live Blood (3xLP blood red vinyl)
Recorded at the Hammersmith Apollo, London, 23 & 24 March 2011 and originally released the following year, Live Blood is exactly what its name suggests – the live incarnation of Peter Gabriel's New Blood project where he reworked a chunk of his back catalogue for a 46-piece orchestra. "I was determined that it shouldn't be just a sort of 'Hits goes to the Orchestra'. So we did two things different: one was to try to choose songs that were more textural, more journey songs, more evocative, ambient pieces and less the obviously structured pop songs, and the second thing we did was, we threw away the rock band; most people when they do orchestral projects keep the rock band and add orchestra, but we took away guitar, we took away bass, we took away drum kit, and in a way that meant that we were more committed and had only to use the colours of the palette of the orchestra."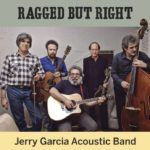 JERRY GARCIA BAND, Ragged But Right (2xLP 180g vinyl)
Released in 2010, Ragged But Right features live recordings from the Jerry Garcia Acoustic Band's fall 1987 tour stops at the Lunt-Fontanne Theatre in New York City, Wiltern Theatre in Los Angeles, and the Warfield Theatre in San Francisco. Jerry Garcia Acoustic Band consists of Jerry Garcia (guitar, vocals), John Kahn (string bass), David Kemper (snare drum), Kenny Kosek (fiddle), David Nelson (guitar, vocals), and Sandy Rothman (mandolin, dobro, banjo, vocals). Available for the first time on vinyl, this 2 LP set is pressed on 180-gram vinyl and housed in a gatefold jacket.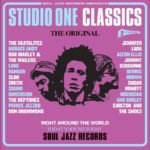 VARIOUS ARTISTS, Soul Jazz Records Presents STUDIO ONE CLASSICS (2xLP)
Studio One Classics features a non-stop selection of stone-cold classic Studio One killers! Spanning 40 years of the legendary label, this album is a celebration of the music of Studio One Records and features a who's who of Jamaican Reggae: Bob Marley, The Heptones, Horace Andy, Sugar Minott, Don Drummond, Prince Jazzbo & more. This collection contains numerous legendary tracks, including Bob Marley and the Wailers' 'Simmer Down'," "Love Me Forever" by Carlton & His Shoes, Slim Smith's "Rougher Yet," Horace Andy's "Fever,", Alton Ellis's 'I'm Just A Guy', The Skatalites' blazing 'Confucious' and loads more. Timeless stuff ' every track here is indeed a classic!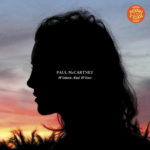 PAUL MCCARTNEY/ST. VINCENT, "Women & Wives" (12″ vinyl)
Limited edition exclusive 12" vinyl celebrating the 2022 Record Store Day Song of the Year "Women and Wives". Featuring Paul McCartney's original version of the song from the #1 album McCartney III on side A, and St. Vincent's reimagined version from McCartney III Imagined on side B. One-time worldwide run of 3000 numbered copies.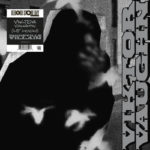 VIKTOR VAUGHN (MF DOOM), Vaudeville Villain (2xLP)
For 2003's Vaudeville Villain MF DOOM took on yet another pseudonym. Where MF DOOM drew from Doctor Doom, Viktor Vaughn drew from the Doctor's government name, Victor von Doom. The influence of superheros and supervillians however goes much deeper than the nom de plume, the sci-fi vibe is present, musically, throughout Vaudeville Villain. Long out of print on vinyl, Get On Down presents this landmark of MF DOOM's career as a double gatefold LP for RSD 2022.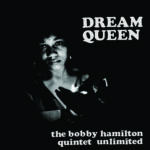 THE BOBBY HAMILTON QUINTET UNLIMITED, Dream Queen (LP)
Bobby Hamilton founded the band Anubis in Syracuse, NY and they put out their awesome "Ecology" single on Charles Bazen's Salt City imprint. It's a highlight on the 2012 Soul-Cal anthology Now-Again,something akin to Terry Callier and Gil Scott Heron's most soulful works. Shortly after issuing that single, Bobby put together the Bobby Hamilton Quintet Unlimited and recorded and issued Dream Queen in 1972. The last clean copy Bobby Hamilton had, he sold to the musician Jamie XX in 2021 for a princely sum. Few originals will ever surface again – its original run of 500 units having disappeared into the ether decades ago. This is your chance to hear a masterwork of deep, spiritual jazz lacquered directly from its original master tape in an all analog transfer by the legendary Bernie Grundman. Dream Queen's story is told for the first time in extensive liner notes by Torii McAdams. Dig deeper and expand.

PEARL JAM, Live On Two Legs (2xLP crystal clear vinyl)
Originally released in 1998, Live On Two Legs documents that year's US summer tour in support of the Yield album. Sixteen tracks on crystal clear vinyl, in double LP gatefold packaging.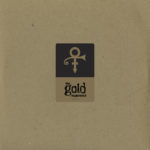 PRINCE, The Gold Experience (2xLP translucent gold vinyl)
The Gold Experience was the first full-length Prince album to be credited to his unpronounceable symbol, and was released at the most public, heated stage of his battle with the major label industrial complex. With the word "SLAVE" written on one cheek, Prince shined on the opulent ballads "The Most Beautiful Girl in the World" and "Gold" and the defiant single "Eye Hate U," and the album earned widespread critical acclaim. The Record Store Day 2022 re-release of The Gold Experience is an homage to the rare US-only promo version of the album released in 1995. The two-LP set is pressed onto translucent gold vinyl with a bonus suite of "Eye Hate U" remixes on Side D.