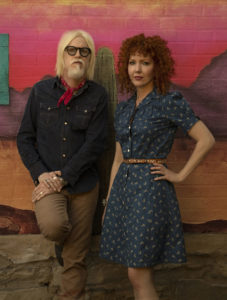 Get your tickets HERE for THE MASTERSONS & THE WHITMORE SISTERS at THE SPINNING JENNY this SATURDAY, MARCH 26th!
The Mastersons are singer-songwriters/multi-instrumentalists Chris Masterson and Eleanor Whitmore. When they're not touring the world as valued longtime members of Steve Earle's band the Dukes, the musical and marital twosome make inspired albums of their own emotionally vivid, deeply humanistic songs.
Prior to launching their recording partnership, Chris played with Son Volt, Jack Ingram and others, while Eleanor lent her talents to projects by Regina Spektor and Angus & Julia Stone. In 2008, Chris stepped out with his self-released solo album The Late Great Chris Masterson, while Eleanor made her solo move with the D.I.Y. effort Airplanes. In 2012, they released their first collaborative effort, Birds Fly South. That album won widespread critical acclaim, with Esquire magazine designating the Mastersons as one of the "Bands You Need To Know Right Now."
Two years later, they followed up their debut with Good Luck Charm, which the Austin Chronicle praised for the duo's "spunky wit and rare emotional maturity." Good Luck Charm earned the Mastersons slots on NPR's Mountain Stage and at high-profile festivals around the world. 2017's Transient Lullaby explored new musical and lyrical territory, demonstrating how much the pair's songwriting and performing skills had evolved with time, travel and experience.
With their most recent album, No Time For Love Songs, the duo celebrated the tenth anniversary of their partnership and continue their creative journey, crafting a collection of songs that could easily serve as the soundtrack to our lives—or at least one version of it.
And don't miss the first act of the evening, THE WHITMORE SISTERS, featuring Eleanor and her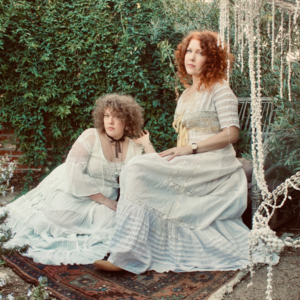 sister BONNIE WHITMORE.
The sisters grew up in a musical family – their mother is an opera singer and their father is a folk singer – and the sisters' closeness and unconventional upbringing, not to mention their melodic sensibility and pure blood harmonies, come together on Ghost Stories – their first proper joint outing together – to create something truly remarkable.
Eleanor and Chris Masterson were no strangers to recording with Bonnie – often appearing in some way on her records, providing backing vocals, guitars, violins and pedal steel, but their forthcoming album Ghost Stories is the first time the two sisters have shared top billing at the same time.
"We're both seasoned musicians," Eleanor says. "We've made so many records on our own, for ourselves and with other artists. I'm classically trained. When we come together, we understand each other, because we have so much shared musical vocabulary."
When live music evaporated during the pandemic and people were isolated from each other, Bonnie decided to join her sister and Masterson in Los Angeles for a break during quarantine. Chris saw the visit as an opportunity to issue a practical mandate: if Bonnie was coming, it was time for the sisters to make an album. Not just an album, but "the album" — the musical inevitability that's been simmering since a 22-year-old Eleanor was protecting her curly headed 15-year-old sister at gigs in local bars.
Masterson produced Ghost Stories, which includes nine new compositions along with two covers — a song by their pal Aaron Lee Tasjan ('Big Heart Sick Mind') and 'On the Wings of a Nightingale', written by Paul McCartney for iconic siblings The Everly Brothers – in an album that places death, distance and grief at its center.
Make sure to check out The Mastersons & The Whitmore Sisters LIVE at The Spinning Jenny this Saturday, and pick up their albums at Horizon Records too!