"Lang Lang's playing is so sensitive and so deeply human. You hear him play, and he never ceases to touch your heart." – Herbie Hancock

Here's the powerhouse program Lang Lang will be offering us, It includes the monumental Liszt B minor sonata, and the second half is loaded with a scintillating all  Spanish tour de force!! This program from an artist such as Lang Lang is the stuff of legend!
CLAUDE DEBUSSY (1862-1918) – Ballade
FRANZ LISZT (1811-1886) – Piano Sonata in B minor S. 178
-Intermission-
ISAAC ALBENIZ (1860-1909) – from Suite espanola op. 47:
1. Granada (Serenada)
3. Sevilla (Sevillanas)
2. Catalina (Courante)
4. Cadiz (Saeta)
5. Asturias (Leyenda)
8. Cuba (Notturno)
ENRIQUE GRANADOS (1867-1916)  – from Goyescas, op. 11
3. El Fandango de Cadil
4. Quejas, o La Maja y el ruisenor
MANUEL DE FALLA (1876-1946) – Danza ritual del fuego

Click HERE for ticket info or call 864-467-3000!
If one word applies to Lang Lang, to the musician, to the man, to his worldview, to those who come into contact with him, it is "inspiration". It resounds like a musical motif through his life and career. He inspires millions with his open-hearted, emotive playing, whether it be in intimate recitals or on the grandest of stages – such as the 2014 World Cup concert in Rio, with Placido Domingo, to celebrate the final game; the 56th and 57th GRAMMY Award two years in a row, where he performed with Metallica and Pharrell Williams; the Opening Ceremony of the 2008 Beijing Olympics, where more than four billion people around the world viewed his performance; the Last Night of the Proms at London's Royal Albert Hall, or the Liszt 200th birthday concert with the Philadelphia Orchestra and Charles Dutoit which was broadcast live in more than 300 movie theaters around the United States and 200 cinemas across Europe (the first classical music cinema cast to be headlined by a solo artist).
He forms enduring musical partnerships with the world's greatest artists, from conductors such as Daniel Barenboim, Gustavo Dudamel and Sir Simon Rattle, to artists from outside of classical music – among them dubstep dancer Marquese "nonstop" Scott, king of the crooners Julio Inglesias and jazz titan Herbie Hancock. He even builds relationships with corporations who will help him get classical music to ever-more people – And he builds cultural bridges between East and West, frequently introducing Chinese music to Western audiences, and vice versa.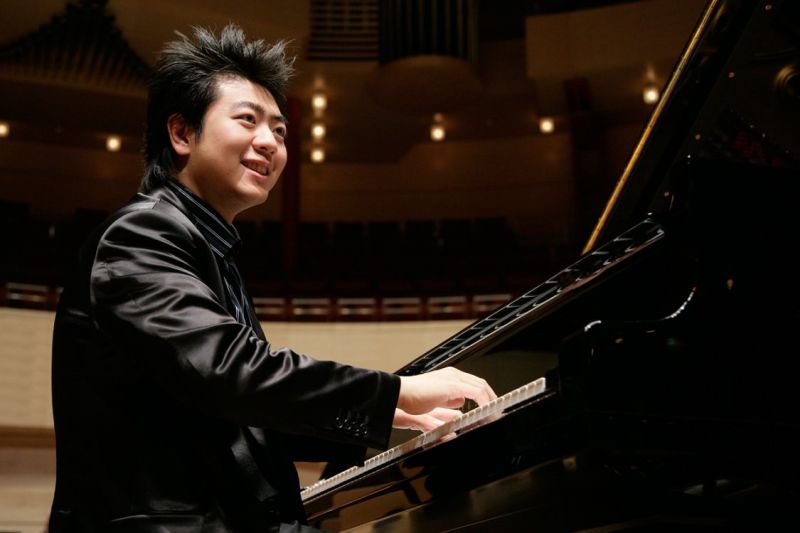 Yet he never forgets what first inspired, and continues to inspire him. Great artists, above all the great composers – Liszt, Chopin and the others – whose music he now delights in bringing to others. Even that famous old Tom and Jerry cartoon "The Cat Concerto" which introduced him, as a delighted child, to the music of Liszt – and that childlike excitement at the discovery of music now surely stays with him and propels him to what he calls "his second career", bringing music into the lives of children around the world, both through his work for the United Nations and through his own Lang Lang International Music Foundation.
Today, his resume reads like a bestseller (and indeed his auto biography, Journey of a Thousand Miles, has been published by Random House in eleven languages, and was released to critical acclaim – and as part of his commitment to the education of children, he released a version specifically for younger readers, entitled Playing with Flying Keys). He has been heralded as the "hottest artist on the classical music planet" by the New York Times, has played sold out concerts in every major city in the world and is the first Chinese pianist to be engaged by the Vienna Philharmonic, Berlin Philharmonic and the New York Philharmonic orchestras.
Time Magazine has included Lang Lang in the "Time 100", the magazine's annual list of the 100 Most Influential People in the World, naming him as a symbol of the youth of China, and its future. Lang Lang is the cultural ambassador of the cities of Shenzhen and Shenyang. And if the Chinese passion for piano isn't solely due to him, he has played no small part as a role model to encourage more than 40 million Chinese children to learn to play the instrument – a phenomenon coined by The Today Show as "the Lang Lang effect." Steinway Pianos, for the first time in their century-and-a-half-long history, named a piano model after a single artist when they introduced "The Lang Lang Piano" to China. That piano, specially designed for early music education, is now on its fifth iteration.
He is one of the world's most prolific and highest-profile recording artists. Featured soloist on the Golden Globe® winning score for the film The Painted Veil, composed by Alexandre Desplat, he can also be heard on the soundtracks of The Banquet, composed by Tan Dun, and of My Week With Marilyn. All of his albums have entered the top classical charts as well as many pop charts around the globe. In 2007, he was nominated for a Grammy® Award, becoming the first Chinese artist to be nominated for Best Instrumental Soloist.