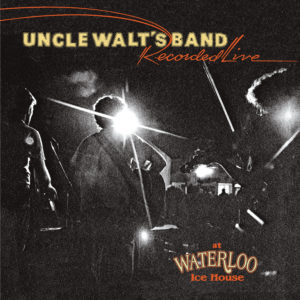 "The best band in town was Uncle Walt's Band," – Jimmie Dale Gilmore 
"I would go see Uncle Walt's Band at the Waterloo Ice House, drink scotch and soda, listen to Walter sing 'Ruby,' and everything was all right," – Jerry Jeff Walker
For most of us fans of CHAMP HOOD, WALTER HYATT and DAVID BALL, aka UNCLE WALT'S BAND, we had to live with the legend of what they sounded like live and onstage. We'd have to hear stories or read about it. Until now, that is, thanks to a new and expanded version of the band's own privately-pressed live album Recorded Live, now a 21-track album called RECORDED LIVE AT WATERLOO ICE HOUSE, in-stock at NOW at Horizon Records and in our webstore; get your copy HERE.
THE ALBUM
Originally released as a private pressing in 1982 on the band's own Lespedeza label, Recorded Live was a document of their legendary shows at Waterloo Ice House in Austin, Texas. While those shows began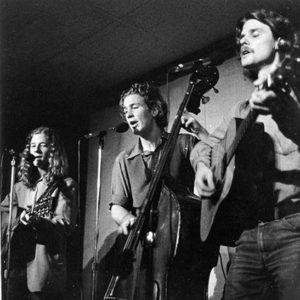 around 9:30 p.m. and often continued past 2 a.m., only 14 tracks recorded over four nights were made available to share the magic of the three virtuoso singers and players.
The re-imagined version of Recorded Live—now titled Recorded Live At Waterloo Ice House—has been expanded to 21 tracks, with seven songs from the original release, four previously unissued alternate takes, and a whopping ten previously unissued performances. The new package features photos, ephemera, new liner notes from Peter Blackstock (music writer for the Austin American-Statesman), and restoration and mastering from Grammy®-winning engineer Michael Graves.
Recorded Live At Waterloo Ice House helps paint a bigger, wider picture of Uncle Walt's Band in their prime, and certainly in their element. Tracks from this collection have been performed/recorded by Shelby Lynne, Twang Twang Shockaboom, Kelly Willis/Bruce Robison, Shawn Colvin, Christine Albert, Gary P. Nunn, Jimmie Dale Gilmore, Junior Brown, and Jimmy LaFave.
Rush Evans, DJ with Austin's KOOP-FM, says of the band, "Sitting front row center for these shows changed my life." Longtime fan Terry Tammadge remarks, "I think of the electricity in the air at those gigs at the original Waterloo Ice House… I imagine it to be what one would have experienced at the Cavern Club seeing the Beatles." Producer Fletcher Clark, who recorded the four weekend shows which form the foundation of this release notes of the Ice House years, "Most people sensed that they were in a very historical moment. A lot of times, you look back and go, 'Gosh, that was the best time.' But people realized it then."
With Recorded Live At Waterloo Ice House, you can be there with Uncle Walt's Band now.

The Songs:
1. If I Don't Stop Crying
2. Mock, Mock, Mockingbird
3. Love Has Laid Me Down
4. Stagger Lee
5. Since I Fell For You
6. Honest Papas Love Their Mamas Better
7. Bye, Bye Baby
8. Motor City Man
9. The More I See You
10. Desiree
11. I Gotta Know
12. What Have You Done With My Love
13. I'm Going To Break My Heart In Two
14. Snowing Me Under
15. Country Boy
16. Lose Me Baby
17. Eddie's Girl
18. Georgia Rose
19. Diggaroo
20. Just A Little Understanding
21. Early Morning Love
Recorded Live At Waterloo Ice House is in-stock at Horizon Records and available in our webstore. And we have these other great Uncle Walt's Band titles, too!