There's nothing that warms our cold winter hearts here at Horizon like some seriously tasty, guitar-heavy fusion jazz, and that's exactly what we've discovered in the Chicago-by-way-of-Israel quartet known as Marbin. When Dani Rabin (guitar), Blake Jiracek (drums), Danny Markovitch (saxophone) and Jon Nadel (bass) take flight, these guys hit that sweet spot between prog-rock and straight-ahead jazz. Think Soft Machine-meets-Return To Forever-meets-John McLaughlin: Soaring guitar, mellifluous sax and propulsive, complex rhythms, four instrumental voices dogfighting and swirling around one another in feverish inspiration.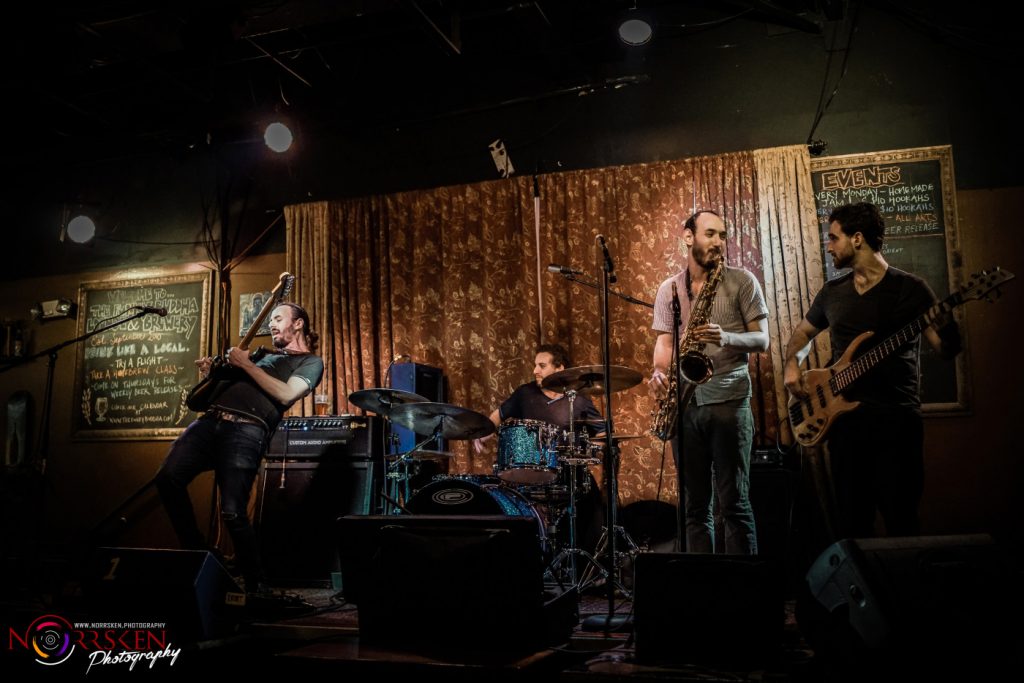 But can they swing, you ask? You bet. Over their six self-released albums, the most recent of which is Goatman and the House of the Dead, they can flow as smooth as you please from contemplative, picturesque ballads to rough-and-tumble sax vs. guitar workouts. The bio stuff is below, but just know that these dudes are the real deal.
How real? Well, in addition to their regular schedule, Marbin has toured with Allan Holdsworth's trio with Yellow Jackets' bassist Jimmy Haslip and drummer Virgil Donati of Planet X, as well as Scott Henderson's trio, which included Mike Clark and Jeff Berlin. They've also recorded and performed with drummer Paul Wertico, (Pat Metheny Group), bassist Steve Rodby (Pat Metheny Group), percussionist Jamey Haddad (Paul Simon), Wayne Krantz, and more.
Their gig at Greenville's new Firmament venue on March 29th can be considered must-see.
In 2007, Marbin was founded by saxophonist Danny Markovitch and guitarist Dani Rabin in Israel. Markovitch and Rabin met shortly after Markovitch completed his military service as an infantry sergeant and Rabin had graduated from Berklee College of Music in Boston. After moving to Chicago, they released their first album in 2009. They were asked to join a band led by Paul Wertico, a drummer from Chicago who had been a member of the Pat Metheny Group. They recorded Impressions of a City (Chicago Sessions, 2009) as Paul Wertico's Mid-East/Mid-West Alliance. Markovitch, Ravin, and Wertico then formed Marbin with bassist Steve Rodby, who had also been a member of the Pat Metheny Group, and recorded Breaking the Cycle (Moonjune, 2011). Wertico and Rodby appeared as guests on Marbin's next album, Last Chapter of Dreaming (Moonjune, 2013), which was recorded by Markovitch, Rabin, Jae Gentile, and Justyn Lawrence. The same members released a live album, The Third Set (Moonjune, 2014), but the membership changed for Aggressive Hippies (Moonjune, 2014), with Markovitch and Rabin joined by Greg Essig and John Lauler.
Drop by Horizon and check out some of Marbin's catalog, which we'll have on-hand ahead of their show!