ECM Records has long been the gold standard for those who love all kinds of obscure or esoteric music, and their slate of new releases, which ranges from soothing jazz to Bach suites to instrumental tangents and beyond, is a groovy batch of titles that are scratching Mr. Gene's every musical itch! Here a sample of some of the stuff that's out now, and coming soon!
VIJAY IYER SEXTET, Far From Over (Out N0w)
Keyboardist-composer Vijay Iyer's energized sequence of ECM releases has garnered copious international praise. Yet his fifth for the label since 2014 – Far From Over, featuring his dynamically commanding sextet – finds Iyer reaching a new peak, furthering an artistry that led The Guardian to call him "one of the world's most inventive new-generation jazz pianists" and The New Yorker to describe him as "extravagantly gifted… brilliantly eclectic." Far From Over features this sextet of virtuoso improvisers – with horn players Graham Haynes, Steve Lehman and Mark Shim alongside rhythm partners Stephan Crump and Tyshawn Sorey – leveraging a wealth of jazz history even as it pushes boldly forward. The music ranges from the thrillingly explosive ("Down to the Wire," "Good on the Ground") to the cathartically elegiac ("For Amiri Baraka," "Threnody"), with melodic hooks, entrancing atmosphere, rhythmic muscle and an elemental spirit all part of the allure. "This group has a lot of fire in it, but also a lot of earth, because the tones are so deep, the timbres and textures," Iyer says. "There's also air and water – the music moves."
JOHN POTTER, Secret History: Sacred Music By Josquin & Victoria (Out Now)
Josquin Desprez  and Tomás Luis de Victoria lived and worked, for the most part, in different countries and perhaps shared little in terms of abstract compositional style. Yet throughout Europe, generations of musicians came to recognize them as kindred spirits, and tablature versions of their masses and motets circulated amongst lutenists. For John Potter, this is "the secret life of the music – in historical terms its real life." In this characteristically creative project, Potter explores "what happens to music after it is composed." As John Potter explains in the liner notes: "We don't usually think of Josquin being a major influence on Victoria, and for most modern listeners and performers, one is 'early renaissance' and the other is 'late'. But the musicians of four hundred years ago made no such distinction: for them a new choral work by a great master was another source of inspirational material to add to the stream of music from many previous generations which they constantly re-invented. The music of their past was also the music of their present. The original manuscripts, commissioned for purely vocal performance in church, were quickly transformed by lute players into instrumental and vocal pieces that then took on a life of their own, constantly re-worked over many generations. (…) Time and geography meant very little to singers or players who could make the music their own in the moment." The project developed out of an idea by Potter and Ariel Abramovich to perform pared-down duet versions of Josquin's motets, "in keeping with our belief that the pristine 'early music' a cappella performance of Franco-Flemish polyphony has misrepresented the way the music was mostly performed. This then evolved into a plan to use two vihuelas and two voices, so we asked Anna Maria Friman and Lee Santana." Viola da gamba player Hille Perle attended the Josquin sessions in St Gerold, contributing to two pieces. For a session devoted to the music of Victoria, Jacob Heringman, another outstanding lutenist, was drafted in. Heringman also contributes five improvised preludes to the program. The quartet with Friman, Abramovich and Heringman subsequently became Potter's new group, recording the album Amores Pasados in 2014, "bridging the gap between art song and pop song" and incorporating new lute songs written by John Paul Jones, Tony Banks and Sting, alongside pieces by Campion, Moeran and Peter Warlock. Press reactions were very positive, with The Arts Desk praising both the "sublime lute playing" of Ariel Abramovich and Jacob Heringman and the "pure, unaffected singing styles, perfectly matched" of John Potter and Anna Maria Friman. Potter himself – in an interview at website Jazz Views – has called this group "probably the most perfect ensemble I've worked with. We just breathe each other's music."
THOMAS DEMENGA/JOHANN SEBASTIAN BACH, Suiten für Violoncello (Out Now)
Swiss cellist Thomas Demenga returns to Bach's Suiten für Violoncello, masterpieces of music. "To me, Bach is the greatest musical genius who has ever lived," says Demenga. "His music is pure, sublime… It possesses something divine and each musician has a lifetime in which to discover new ways of interpreting it." The present recording, made at the Hans Huber Saal in Basel, is Demenga's second reckoning with the cello suites on ECM. He previously recorded them between 1986 and 2002, juxtaposing them with contemporary composition (by Elliott Carter, Heinz Holliger, Sandor Veress, B.A. Zimmermann, Toshio Hosokawa and Isang Yun) in a series of albums which count as milestones in the early history of the New Series. (Elliott Carter wrote that he had "never heard the Bach C Major suite played so understandingly and so convincingly.") With Bach, the committed interpreter must always approach the music's challenges anew: "I think I'm speaking for most musicians when I say, that especially with such monumental works as the Bach Suites, there is always a desire to do better, to do justice to the content of the music: to present the preludes ever more simply and clearly, and to make the dances more dancelike and more graceful. The eternal search…" Many years of playing and studying every aspect of the pieces, from source manuscripts to different tempos, embellishments, fingerings and bowings, have brought Demenga to the heart of the music – which Bach himself described as the only goal. The quality of tone production is crucial of course and, for Demenga, this is also a tactile issue: "To interpret Bach's works as truthfully as possible," he feels, "it is essential to play with gut strings and a baroque bow. The cello does not have to be rebuilt in the baroque manner – a modern instrument is able to capture the sound just as well. Playing on bare gut strings, however, goes a step further. The tone quality of a baroque string has something 'wooden' and archaic: even the bowing of open strings presents a whole new sound world. I always get the feeling that Bach is gazing over my shoulder with his kind, yet strict expression."
GARY PEACOCK TRIO, Tangents (Out Now)
Some of Gary Peacock's finest music has been made in piano trios. Early in his musical life, Peacock established a fresh role for the bass as an independent melodic voice, a concept carried forward in the history-making groups he's played with – from Paul Bley's Bill Evans's trios to Keith Jarrett's. As a bandleader he has also been influential: Tangents is the second release from the great bassist's trio with Marc Copland and Joey Baron and draws on years of shared playing in diverse contexts. All three band members contribute compositions, Peacock's including "December Greenwings", revisiting a piece Gary introduced on his ECM recording December Poems. Repertoire includes five tunes from Peacock, two from Baron, one from Copland, and an outstanding group improvisation, "Empty Forest". The trio also plays Miles Davis's "Blue In Green" and, perhaps surprisingly, Alex North's theme for the film Spartacus, which also proves a fine vehicle for improvising.
DANISH STRING QUARTET, Last Leaf (Out Now)
The Danish String Quartet are widely recognized as the most exciting young string quartet of the present moment, bringing new insights to contemporary composition and core classical repertoire. In parallel, they have also made surprising and impressive forays into the world of Nordic folk music. Their 2014 album Wood Works (Dacapo Records) was a left-field hit, and audiences around the world have been delighted by concert performances of the music. Now the Danish String Quartet bring their folk project to ECM with a stirring new recording. Fästan takes off from an unusual Christmas hymn, "Now found is the fairest of roses", published in 1732 by Danish theologian and poet H.A. Brorson. The hymn is set to a mysterious, dark melody: Brorson had chosen an old Lutheran funeral choral to accompany his Christmas hymn, elegantly showing how life and death are always connected. "From here we embark on a travel through the rich fauna of Nordic folk melodies until returning to Brorson in the end," say the DSQ. "It is a journey that could have been made in many different ways, but we believe that we returned with some nice souvenirs. In these old melodies, we find immense beauty and depth, and we can't help but sing them through the medium of our string quartet. Brorson found the fairest of roses, we found a bunch of amazing tunes – and we hope you will enjoy what we did to them."
GUIDI/PETRELLA/SCLAVIS/CLEAVER, Ida Lupino (Out Now)
Pianist Giovanni Guidi and trombonist Gianluca Petrella, key figures in what some are hailing as a "golden age" of Italian jazz, found their strong improvisational rapport inside Enrico Rava's band (see for instance the 2010 ECM album Tribe) and, keen to play more, formed a duo, giving many concerts in which they are intermittently joined by guests. For this studio recording, producer Manfred Eicher brought the duo together with US drummer Gerald Cleaver and French clarinetist Louis Sclavis, for an outgoing set of music which includes lyrical free improvising and tunes composed by Giovanni and Gianluca. The piece called "Gato!" tips the hat to Mr Barbieri, and title track "Ida Lupino" serves double duty as a salute to composer Carla Bley in her 80th year (Petrella once played in a big band under Carla's direction) and as a tribute to Paul Bley, who popularized the tune and influenced so many improvisers (not least Giovanni Guidi).
GIOVANNI GUIDI TRIO, This Is The Day (Out Now)
The Giovanni Guidi Trio plays jazz of uncommon originality and reflective depth. On their second ECM album, Italian pianist Guidi, US bassist Morgan, and Portuguese drummer Lobo continue the work begun on the 2011 recording City of Broken Dreams, with pensive, abstract ballads which shimmer with inner tension. Each of the players has a strong sense for the dialectics of sound and silence. The repertoire is mostly from Guidi's pen, but also includes the standard "I'm Through With Love", Cuban songwriter Osvaldo Farrés' "Quizás, quizás, quizás" (familiar to jazz listeners through, above all, Nat King Cole's version), and "Baiiia" by João Lobo.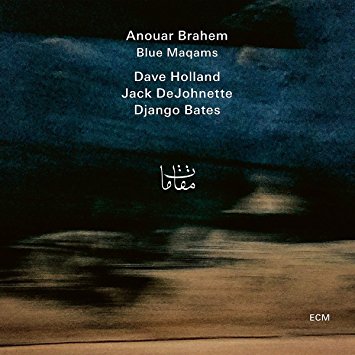 ANOUAR BRAHEM, w/ DAVE HOLLAND, JACK DEJOHNETTE & DJANGO BATES, Blue Maqams (Out 10/13)
Released on the occasion of Anouar Brahem's 60th birthday, Blue Maqams offers many reasons to celebrate. Recorded in New York's Avatar Studios in May 2017 and produced by Manfred Eicher, it brings the Tunisian oud master together with three brilliant improvisers, Django Bates, Dave Holland and Jack DeJohnette. The Maqams of the title refers to the Arabic modal music system, rendered kind of blue by the jazz players. For Anouar Brahem and renowned bassist Dave Holland the album marks a reunion: they first collaborated 20 years ago on the very widely-acclaimed Thimar album. Brahem meets Jack DeJohnette for the first time here, but Holland and DeJohnette have been frequent musical partners over the last half-century beginning with ground-breaking work with Miles Davis their collaborations are legendary. British pianist Django Bates also rises superbly to the challenge of Brahem's compositions. And Anouar in turn is inspired to some of his most outgoing playing.