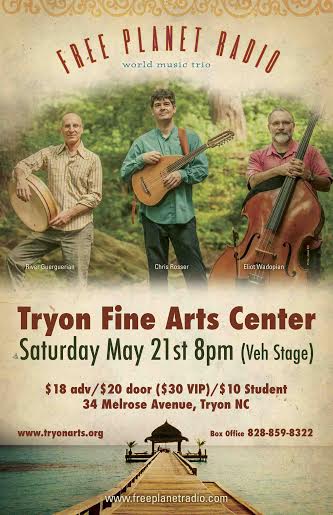 Join world music supergroup Free Planet Radio in concert at the Tryon Fine Arts Center,  34 Melrose Ave.  Tryon, NC on Saturday, May 21 at 8:00pm!
For over a decade, Free Planet Radio has brought its exciting and innovative world-jazz-classical music blend to both concert stages and classrooms.  Based in Asheville NC, this musical partnership began as the shared vision of three multi-instrumentalists exploring the infinite and seamless relationships between musical cultures through the universal language of sound. Their performances expertly weave the improvisatory element of jazz, and the subtleties and harmonic vocabulary of Western classical music, with Middle Eastern, Indian and North African melodic and rhythmic structures.  Performing mostly original compositions, even while playing extremely complex melodies and time signatures, the trio always maintains a sense of accessibility, spontaneity and easy engagement with the audience.
Free Planet Radio consists of two-time Grammy winner Eliot Wadopian  moving effortlessly between rhythm and melody on electric and string basses, River Guerguerian on an extensive array of percussion instruments gathered from his travels around the globe, and Chris Rosser exploring melody on the 17-stringed Indian dotar, Turkish cumbus oud, guitar, piano and melodica.  For this concert, Chris will play a very special guitar, handmade by Lichty Guitars in Tryon, NC, who have generously donated this exquisite instrument for the annual Lichty guitar raffle for LEAF Community Arts. Raffle tickets will be for sale at the Tryon concert. The winner will be announced at the October LEAF Festival.
The band will be joined on stage by Tom Boots, a WNC visual artist, who will put brush to canvas as he creates a painting to the music. Tom originally began to paint while living in the Middle East and now blends techniques learned there with modern and contemporary styles.
We got the Free Planet Radio discography in-stock now!