"Ever since 1995 when I first heard the first track on BRAD MEHLDAU's first CD Introducing Brad Mehldauand forward 20 years to this release he has consistently been one of my all-time favorite musicians (and composer, band leader, improviser, jazz and classical thinker). It's my belief that he is one of the greatest, most amazing and visionary artists currently living amongst us. His playing on this extraordinary new 4CD live compilation, 10 Years Solo Live, only fuels the fire in my brain; hours of uncompromising, delightful, startling, exciting, unspeakable sonic beauty drawn from a concert piano.
Whether it's the touching slow familiar refrain intro of his epic 16 minute version of Beatles "And I Love Her" or in the darkly droning density it evolves into before the finish, it's all Mehldau. thank God! This release is another jewel in his long catalogue of must have CDs, for me anyway. His brilliant and magical jazz improvising and obvious enchantment with Chopin-esque and Brahms-ian classical beauty only makes things worse for me. I love this music like I love JS Bach, strong black coffee and the colors of autumn. Thank you Brad Mehldau."  – gene berger.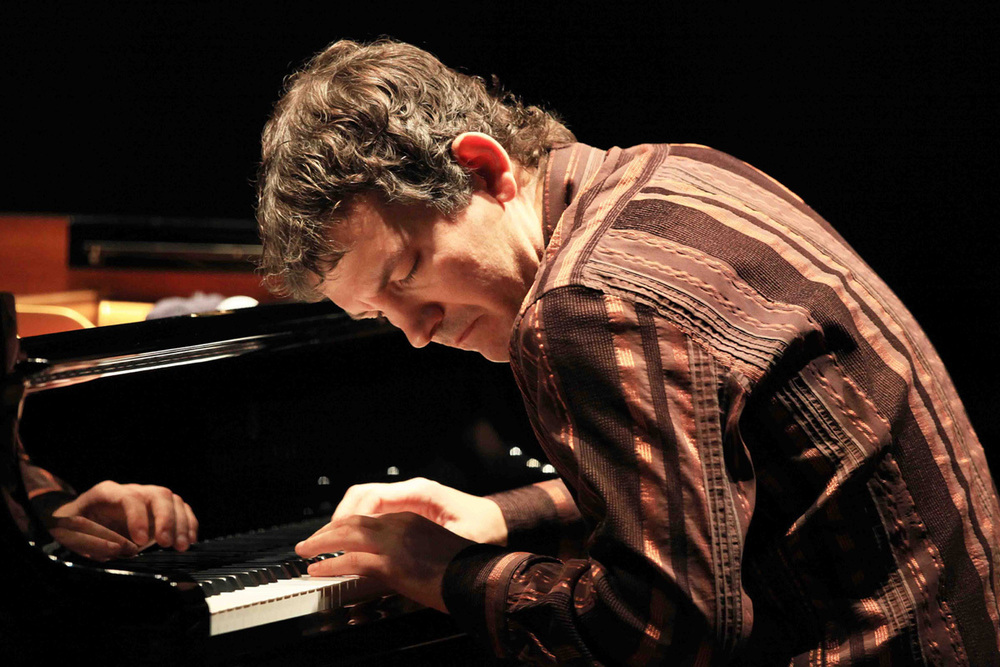 Hear the complete NPR review of 1o Years Solo Live here. 
"To say that these moments capture Mehldau in a vulnerable light is misleading. That gives the impression that he doesn't have a strong command over what's happening. But all you have to do it take a step back and realize that he has total control. Over the course of 31 different songs recorded over a ten year stretch and totaling over 300 minutes, Mehldau maintains his focus on the music and never allows ego to do any dictation. You can think of this box set's music as a fountain. It's not there to show off the designer's intellect and it's not there to remind you of mechanics or hydrodynamics. It's a spring for your enjoyment. And like the most effortlessly beautiful cascades around, 10 Years Solo Live can easily spellbind you." – John Garratt, popmatters.com
"Reflective melodies are in abundance, and Mehldau dissects them with a conscious precision and concentration that lets his fingers cut down to the marrow of a softly translated "My Favorite Things" and contemplative "I'm Old Fashioned." Where Tatum is Titian Blue Rococo, Hines is smoky gin joint and Jarrett is rhapsodic, Mehldau is introspective. The fact that he is able to communicate through his inward journeys is commendable, and it makes this marathon able to be absorbed with appreciation."– George W. Harris, jazzweekly.com
Brad Mehldau's 4xCD-set "10 Years Solo Live" is in-stock now at Horizon Records!