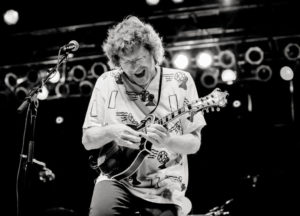 It's old news, but worth retelling every now and then how far back the Sam Bush/Horizon Records connection goes, and how super-proud of his achievements we are, and how exhilarated we are for his return to the area on SATURDAY, OCT. 16th at the TWICHELL AUDITORIUM at CONVERSE COLLEGE in Spartanburg.
We at Horizon Records encourage you to drop by and check out some of Sam's tunes, and pick up your tickets for Twichell Auditorium show HERE.
The voice of Sam Bush is a unique and now instantly familiar thread that is woven through an unprecedented amount and variety of great American Roots music. Starting with the genre-expanding work he did as founder/leader of the truly legendary New Grass Revival in the 1970s and 80s and all during that and onward his signature fiery fiddle and virtuosic mandolin and Kentucky inflected vocals have been on stage and adorned the recordings of an ridiculous list of artists; to name just a paltry few- Emmylou Harris, Lyle Lovett, Guy Clark, Tony Rice, Leon Russell, Yonder Mountain String Band, Bela Fleck, Jerry Douglas, Joshua Bell.
His forward looking acoustic instrumental flourishes and new grass inclinations are as strong as his  legit and traditional bluegrass roots are deep. But let's put bluegrass aside for a moment; if you're a fan of good music in general, you need to see Sam Bush live and in-person.
We've got these mando-tastic Sam Bush releases in-stock now!