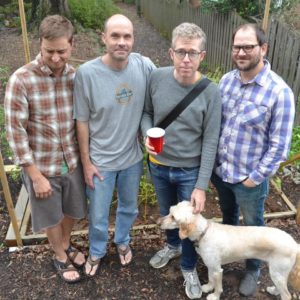 Our beloved EXCONS will be playing at Piedmont Natural Gas DOWNTOWN ALIVE this THURSDAY, AUGUST 18th at NOMA SQUARE in downtown Greenville!
Get show info HERE.
Excons are a four-piece band from Greenville, SC playing roots based, indie rock blending classic sounds and creative textures to tell modern fables. Many of the songs use allegory to reimagine the thoughts and concerns that swirl around the minds of these four middle-aged guys. They have been labeled by some as provayers of "Dadrock" which really couldn't be more accurate. They literally all have multiple kids currently attending Greenville County schools but they also embrace a dadish perspective of what the good life looks like; a blend of enjoying relationships, trying to do right inside and out of their communities, and not giving two shits about much else. It's kinda a punk rock attitude but looks a little different because they wear socks with their sandals if they feel like it.
All four have played in other bands, but John played in the quasi-known indie-rock band the Fruit Bats when he lived in Chicago. The Excons played their first gig at Horizon Records in 2014, supporting EDJ (Eric from Fruit Bats) as he toured through the south. They have changed a great deal since then; they wrote a bunch of songs, released cds and played around the upstate of SC and NC. Their most recent release "Sea Shanties" was released in 2019 on vinyl LP, CD and online (Spotify, Apple Music, Amazon, etc). During the pandemic they only played a handful of live shows but have been working on new material and are expecting a new release in Fall, 2022.