Quickly becoming a staple of summer experiences in the Greenville community, GLOW Lyric Theatre (the only professional non-profit opera company in the state of South Carolina) is known for mounting beautiful, artistic productions of operas, operettas and music theatre while creating a conversation about our area's social and political climate.

This year GLOW is tackling the theme "Question Authority". So join us in our season as we perform Robert Ward's eerie and powerful opera adaptation of The Crucible, the witty and hilariously irreverent political satire of Gilbert and Sullivan in The Gondoliers, and the rock musical and hippie protest classic, HAIR!
Tickets available HERE.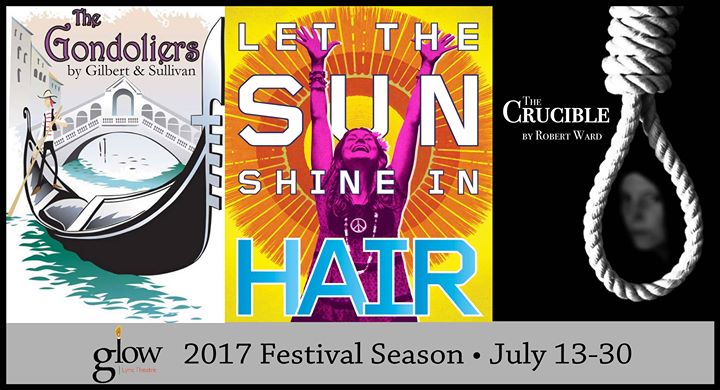 The 2017 season begins on Thursday, July 13th at the FINE ARTS CENTER with THE CRUCIBLE.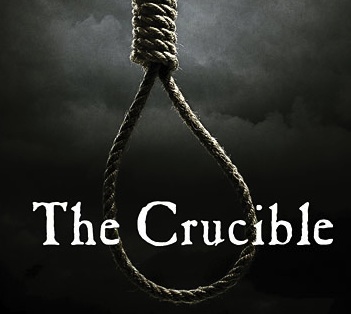 Based on the Salem Witch Trials, and originally conceived as an allegory about Mccarthyism in the 1950's, "The Crucible" is an English language opera written by Robert Ward based on the play of the same name by Arthur Miller. It won both the 1962 Pulitzer Prize for Music and the New York Music Critics Circle Citation.
GLOW's production of HAIR begins on Friday, July 14th.
Set in an East Village park in 1967, Hair is the musical story of a group of hippies who celebrate peace and love in the shadow of the Vietnam War. The loose plotline centers on Berger, the charismatic leader of the "tribe," and Claude, a sweet-natured guy from Queens who's about to be drafted. But the real star of Hair is the rocking score, which includes such classic hits as "Let the Sun Shine In," "Aquarius" and "The Flesh Failures."

The final performance of the 2017 season, THE GONDOLIERS, begins Friday, July 21st.
The twelfth collaboration between composer Arthur Sullivan and librettist W.S. Gilbert, The Gondoliers (or The King of Barataria) tells the story of two charming Venetian gondoliers, Giuseppe and Marco, who are informed that due to an error of identity when they were young boys, one of them is the heir to the throne of Barataria…but which one? Wackiness ensues, and no political position is left un-skewered in this delightfully hilarious operetta.